Abstract

Abstraction is considered an essential aspect of computational thinking. Primary schools are starting to include computational thinking into the curriculum. However, in order to guide their support, teachers need to know how to recognize abstraction. In this paper, we present how we can observe abstraction in young children tasked with solving an algorithmic assignment. In order to operationalize abstraction, we have used the layers of abstraction (LOA) model by Perrenet, Groote and Kaasenbrood. This model was originally used in the field of computer science and describes programming behavior at the level of software development, but has since been extended for use in primary education. We have operationalized this model for use with 5 to 6 year old students tasked with programming an educational robot. Their behavior has been related to each of the four layers of abstraction.

Students were individually instructed with programming Cubetto, an educational robot, to reach a number of destinations, increasing in the level of algorithmic complexity. We analyzed audio and video recordings of the students interacting with Cubetto and a teacher. Verbal and non-verbal behavior were categorized by two researchers and resulted in an observation schema.

We conclude that our operationalization of the LOA model is promising for characterizing young students' abstraction. Future research is needed to operationalize abstraction for older primary school students.
Keywords
Computational thinking

Abstraction

Algorithmic thinking

Educational robots
H. Faber and J. I. Koning—These authors contributed equally to this paper.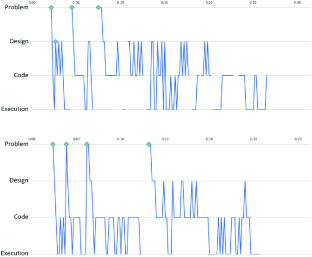 References
Armoni, M.: On teaching abstraction in computer science to novices. J. Comput. Math. Sci. Teach. 32(3), 265–284 (2013)

Faber, H.H., van der Ven, J.S., Wierdsma, M.D.: Teaching computational thinking to 8-year-olds through ScratchJr. In: Proceedings of the 2017 ACM Conference on Innovation and Technology in Computer Science Education - ITiCSE 2017, p. 359. ACM Press, New York (2017). https://doi.org/10.1145/3059009.3072986

Faber, H.H., Wierdsma, M.D.M., Doornbos, R.P., van der Ven, J.S., de Vette, K.: Teaching computational thinking to primary school students via unplugged programming lessons. J. Eur. Teach. Educ. Netw. 12, 13–24 (2017)

Hazzan, O.: How students attempt to reduce abstraction in the learning of mathematics and in the learning of computer science. Comput. Sci. Educ. 13(2), 95–122 (2003). https://doi.org/10.1076/csed.13.2.95.14202

Kalas, I., Blaho, A., Moravcik, M.: Exploring control in early computing education. In: Pozdniakov, S.N., Dagienė, V. (eds.) ISSEP 2018. LNCS, vol. 11169, pp. 3–16. Springer, Cham (2018). https://doi.org/10.1007/978-3-030-02750-6_1

Koning, J.I., Faber, H.H., Wierdsma, M.D.M.: Introducing computational thinking to 5 and 6 year old students in dutch primary schools. In: Proceedings of the 17th Koli Calling Conference on Computing Education Research - Koli Calling 2017, pp. 189–190. ACM Press, New York (2017). https://doi.org/10.1145/3141880.3141908

Lister, R.: Concrete and other neo-Piagetian forms of reasoning in the novice programmer. In: Conferences in Research and Practice in Information Technology, p. 10 (2011)

Liukas, L.: Hello Ruby: Adventures in Coding. R. R. Donnelley & Sons Company, Crawfordsville (2015)

Marinus, E., Powell, Z., Thornton, R., McArthur, G., Crain, S.: Unravelling the Cognition of Coding in 3-to-6-year Olds: The development of an assessment tool and the relation between coding ability and cognitive compiling of syntax in natural language. In: Proceedings of the 2018 ACM Conference on International Computing Education Research - ICER 2018, Espoo, Finland, pp. 133–141. ACM Press (2018). https://doi.org/10.1145/3230977.3230984

Perrenet, J., Groote, J.F., Kaasenbrood, E.: Exploring students' understanding of the concept of algorithm. ACM SIGCSE Bull. 37(3), 64 (2005). https://doi.org/10.1145/1151954.1067467

Perrenet, J., Kaasenbrood, E.: Levels of abstraction in students' understanding of the concept of algorithm: the qualitative perspective. In: Proceedings of the 11th Annual SIGCSE Conference on Innovation and Technology in Computer Science Education - ITICSE 2006, Bologna, Italy, p. 270. ACM Press (2006). https://doi.org/10.1145/1140124.1140196

Rijke, W.J., Bollen, L., Eysink, T.H.S., Tolboom, J.L.J.: Computational thinking in primary school: an examination of abstraction and decomposition in different age groups. Inform. Educ. 17(1), 77–92 (2018). https://doi.org/10.15388/infedu.2018.05

Statter, D., Armoni, M.: Teaching abstract thinking in introduction to computer science for 7th graders. In: Proceedings of the 11th Workshop in Primary and Secondary Computing Education - WiPSCE 2016, pp. 80–83. ACM Press, New York (2016). https://doi.org/10.1145/2978249.2978261

Swidan, A., Hermans, F.: Programming education to preschoolers: reflections and observations from a field study. In: PPIG 2017 Proceedings, p. 10 (2017)

van der Steen, S., Steenbeek, H., den Hartigh, J., van Geert, P.: The link between micro-development and long-term learning trajectories in science learning. Human Development (in press)

Waite, J.L., Curzon, P., Marsh, W., Sentance, S., Hadwen-Bennett, A.: Abstraction in action: K-5 teachers' uses of levels of abstraction, particularly the design level, in teaching programming. Int. J. Comput. Sci. Educ. Sch. 2(1) (2018). https://doi.org/10.21585/ijcses.v2i1.23

Wing, J.M.: Computational thinking and thinking about computing. Philos. Trans. Ser. A Math. Phys. Eng. Sci. 366(1881), 3717–3725 (2008). https://doi.org/10.1098/rsta.2008.0118
Copyright information

© 2019 Springer Nature Switzerland AG
About this paper
Cite this paper
Faber, H.H., Koning, J.I., Wierdsma, M.D.M., Steenbeek, H.W., Barendsen, E. (2019). Observing Abstraction in Young Children Solving Algorithmic Tasks. In: Pozdniakov, S., Dagienė, V. (eds) Informatics in Schools. New Ideas in School Informatics. ISSEP 2019. Lecture Notes in Computer Science(), vol 11913. Springer, Cham. https://doi.org/10.1007/978-3-030-33759-9_8
DOI: https://doi.org/10.1007/978-3-030-33759-9_8

Published:

Publisher Name: Springer, Cham

Print ISBN: 978-3-030-33758-2

Online ISBN: 978-3-030-33759-9

eBook Packages: EducationEducation (R0)