Abstract

Concrete is one of the most widely used construction materials. The materials used in the preparation of concrete mix have harmful effects on the earth's environment. For instance, each ton of cement produces 709 kg of CO2 in the middle east. UAE produced 40.7 million tons of cement in 2014. On the other hand, the high demand for aggregate in concrete (48.3 billion tons in 2015) due to the increase in buildings causes a reduction in natural resources. Moreover, the growth of the demolition landfills is a serious problem that needs a solution as well. Therefore, the main aim of this research is to check the efficiency of using the demolition waste within the concrete mix and produce environmentally friendly concrete which has a cost efficiency as well. In this study, replacement of cement and the natural aggregates used in concrete by Recycled Coarse Aggregate (RCA) and Ceramic Waste Powder (CWP) took a place. It is worth mentioning that these recycled materials are produced daily in UAE. An experimental test was conducted to produce a new concrete product of 100% RCA as replacement of coarse aggregate, 20% CWP as replacement of cement and 20% CWP as replacement of fine aggregate. Then, the mechanical properties together with the cost of the new product were estimated. It was confirmed by this research that the demolition waste generated in the UAE can be efficiently used to obtain high strength, low cost, and green concrete.
Keywords
Concrete mix

Recycled Coarse Aggregate

Ceramic Waste Powder

Sustainability

Mechanical properties

Cost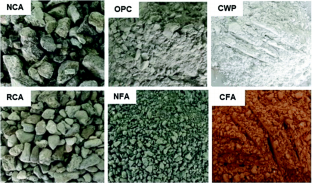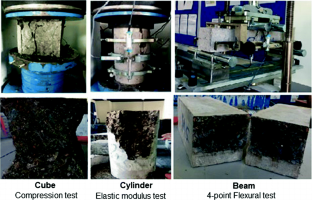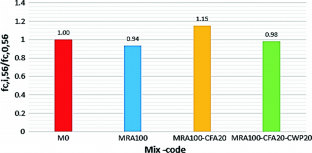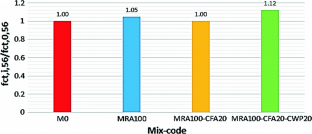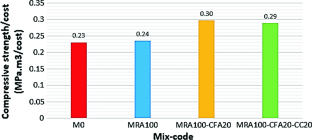 References
ACI 209.2R-08. (2008). Guide for modeling and calculating shrinkage and creep in hardened concrete. USA: American Concrete Institute.

Agrela, F., Alaejos, P. De, & Juan, M. S. (2013). Properties of concrete with recycled aggregates. In F. Pacheco-Torgal, V. W. Y. Tam, J. A. Labrincha, Y. Ding, & J. de Brito (Eds.), Handbook of recycled concrete and demolition waste. UK: Woodhead Publishing Limited.

De Brito, J., & Saikia, N. (2013). Recycled aggregate in concrete: Use of industrial, construction and demolition waste. London: Green Energy and Technology, Springer.

Dubai Statistics Center, Government of Dubai. Retrieved August 21, 2018, from https://www.dsc.gov.ae/en-us/Themes/Pages/Prices.aspx?Theme=25&year=2017#DSC_Tab1.

Fisher, C., & Werge, M. (2009). EU as a recycling society, present recycling levels of municipal waste and construction & demolition waste in the EU. Copenhagen, Denmark: European Environment Agency.

Kannan, D. M., Aboubakr, S. H., EL-Dieb, A. S., & Taha, M. M. R. (2017). High performance concrete incorporating ceramic waste powder as large partial replacement of Portland cement. Construction and Building Materials, 144, 35–41.

Kett, I. (2010). Engineered concrete: Mix design and test methods (2nd ed.). USA: CRC Press.

PAC Technologies LLC. Retrieved August 21, 2018, from http://www.pactechnologies-ae.com/templates/pac/downloads/pdf/PDF%20FILE-%20ADMIXTURE/precast-concrete/PC%20400.pdf.

Siddique, S., Shrivastava, S., & Chaudhary, S. (2018). Durability properties of bone china ceramic fine aggregate concrete. Construction and Building Materials, 173, 323–333.

Statistics Center. (2016). Waste statistics. Abu Dhabi, UAE.
Acknowledgements

The authors would like to gratefully acknowledge the financial support for this project by EXPO Dubai 2020 through the University Innovation Program. Also, the authors would like to appreciate the assistance of Eng. Mohammad Jaradat from Bee'ah company, Mr. Matthew Mycock from Heriot-Watt University, Ms. Fatma Ibrahim from EXPO 2020, Prof. Amr S. El-Dieb from UAE University and Mr. Elyas Mohammed Sha and Mr. Ajesh from the Geoscience Lab Test.
Copyright information

© 2020 Springer Nature Switzerland AG
About this paper
Cite this paper
Ali, S.T.M., Batikha, M. (2020). Producing Green Concrete by Using Recycled Materials in UAE. In: Mateev, M., Nightingale, J. (eds) Sustainable Development and Social Responsibility—Volume 1. Advances in Science, Technology & Innovation. Springer, Cham. https://doi.org/10.1007/978-3-030-32922-8_14
DOI: https://doi.org/10.1007/978-3-030-32922-8_14

Published:

Publisher Name: Springer, Cham

Print ISBN: 978-3-030-32921-1

Online ISBN: 978-3-030-32922-8