Abstract

The article presents information on the development of reference materials for enriched isotopic composition. The possibility of using reference materials for isotopic composition in the implementation of isotope dilution mass spectrometry is considered. The authors show the capabilities of inductively coupled plasma mass spectrometry in measuring the isotopic composition of various elements.
Keywords
Mass spectrometry

Inductively coupled plasma mass spectrometry

Isotopic dilution mass spectrometry

Certified reference material

GSO CRM registration number in the National Register of the Russian Federation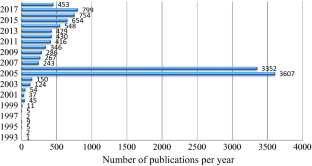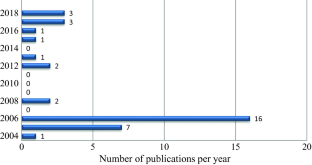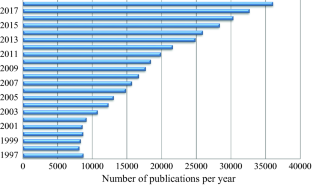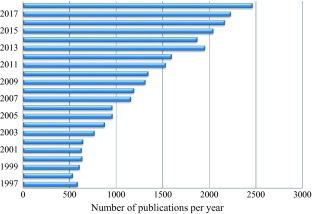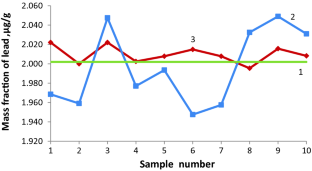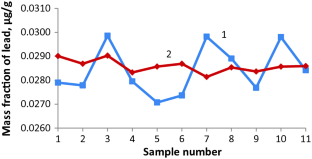 Notes
1.

State Service of Reference Materials for Composition and Properties of Substances and Materials.
References
Minutes from the fifth meeting (1998) of the Consultative Committee on the Quantity of Material (CCQM) of the Bureau International des Poids et Mesures (BIPM), Sèvres, France (1998)

Milman B, Konopelko LA (2006) Modern mass spectrometry: proportions of development. Mass Spectrom 3(4):271–276

Pupyshev AA, Sermyagin BA (2006) Mass discrimination of ions in isotope analysis using inductively coupled plasma-mass spectrometry. USTU, Yekaterinburg (in Russ.)

Marketing research of mass spectrometers. Techart.Research, 2011. Available via http://research-techart.ru/report/mass-spectrometer-market.htm. Accessed 30 Oct 2018

Scientific electronic library eLIBRARY.RU. Available via https://elibrary.ru/. Accessed 30 Oct 2018

ScienceDirect database. Available via https://www.sciencedirect.com. Accessed 12 Feb 2019

Becker JS, Dietze HJ (1998) Ultratrace and precise isotope analysis by double-focusing sector field inductively coupled plasma mass spectrometry. J Anal At Spectrom 13:1057–1063

Barnes R (1996) Analytical plasma source mass spectrometry in biomedical research. Fresenius J Anal Chem 355:433–441

Lambertsson L, Lundberg E, Nilsson M, Frech W (2001) Applications of enriched stable isotope tracers in combination with isotope dilution GC-ICP-MS to study mercury species transformation in sea sediments during in situ ethylation and determination. J Anal At Spectrom 16(11):1296–1301

Lee KH, Jiang SJ, Liu HW (1998) Determination of mercury in urine by electrothermal vaporization isotope dilution inductively coupled plasma mass. J Anal At Spectrom 13(11):1227–1231

Lee KH, Liu SH, Jiang SJ (1998) Determination of cadmium and lead in urine by electrothermal vaporization isotope dilution inductively coupled plasma mass spectrometry. Analyst 7:1557–1560

Nobrega JA, Gelinas Y, Krushevska A, Barnes RM (1997) Determination of elements in biological and botanical materials by inductively coupled plasma atomic emission and mass spectrometry after extraction with a tertiary amine reagent. J Anal At Spectrom 12(10):1239–1242

Sermyagin BA, Skorikov AI, Sycheva LYu, Borodin ES (2003) Isotopic analysis of isotopically-enriched substances using inductively coupled plasma mass spectrometry. In: Conference proceedings of the 16th ural conference on spectroscopy (9–12 Sept 2003, Novouralsk), Ekaterinburg, pp 121–139 (in Russ.)

Sermyagin BA, Kokareva LYu, Ermakova OV (2005) Analysis of the isotopic composition of isotope-enriched substances using inductively coupled plasma mass spectrometry. In: Conference proceedings of the 17th ural conference on spectroscopy (12–15 Sept 2005, Novouralsk), Ekaterinburg, pp 84–85 (in Russ.)

Sermyagin BA, Skorikov AI, Cherepanov LN (2002) Experience of a mass-spectrometry laboratory in the quality control of stable isotopes produced by electromagnetic method. Analytics Control 6(3):285–288 (in Russ.)

Kashcheev NA, Dergachev VA (1989) Electromagnetic separation of isotopes and isotope analysis. Energoatomizdat, Moscow, 166 p (in Russ.)

Kovalev ID, Potapov AM (2000) High-purity isotopically-enriched substances and problems of their analytical control. Partners Competitors 11:23–28 (in Russ.)

Kovalev ID, Potapov AM, Suchkov AI (2003) Laser mass-spectrometric isotope analysis of isotope enriched substances. In: Programme and abstracts of the scientific contributions at 2003 European winter conference on plasma spectrochemistry, Garmisch-Partenkirchen, Germany, 12–17 Jan 2003, p 357

Kovalev ID, Malyshev KN, Potapov AM, Sushkov AI (2001) Isotopic analysis of silicon enriched with 28Si using laser mass spectrometry. J Anal Chem 56(5):437–442 (in Russ.)

Kokareva LYu, Sermyagin BA (2005) Analysis of the isotopic composition of enriched barium isotopes using inductively coupled plasma mass spectrometry. In: Conference proceedings of the 17th ural conference on spectroscopy (12–15 Sept 2005, Novouralsk), Ekaterinburg, pp 85–87 (in Russ.)

Ermakova OV, Kokareva LYu, Sermyagin BA (2005) Analysis of the isotopic composition of enriched calcium isotopes via inductively coupled plasma mass spectrometry using cold plasma and a synthetic standard for isotopic composition to correct mass bias. In: Conference proceedings of the 17th ural conference on spectroscopy (12–15 Sep 2005, Novouralsk), Ekaterinburg, pp 87–88. (in Russ.)

Ermakova OV, Kokareva LYu, Sermyagin BA (2005) Analysis of the isotopic composition of enriched palladium isotopes. In: Conference proceedings of the 17th ural conference on spectroscopy (12–15 Sept 2005, Novouralsk), Ekaterinburg, pp 89–90 (in Russ.)

Kramchaninov AJu, Chernyshev IV, Shatagin KN (2012) Isotope analysis of strontium by multi-collector inductively-coupled plasma mass spectrometry: high-precision combined measurement of 88Sr/86Sr and 87Sr/86Sr isotope ratios. Mass Spectrom 9(2):129–138 (in Russ.)

Saprygin AV, Elistratov OV, Kalashnikov VA, Kulik IS, Rodichev IA (2011) Mass spectrometry determination of the isotopic composition of uranium hexafluoride. Mass Spectrom 8(1):20–26 (in Russ.)

De Laeter JR, Bohlke JK, De Bievre P, Hidaka H, Peiser HS, Rosman KJR, Taylor PDP (2003) Atomic weights of the elements: review 2000. Pure Appl Chem 75(6):683–800

Bacon JR, Crain JS, Van Vaeck L, Williams JG (2001) Atomic spectrometry update. Atomic mass spectrometry. J Anal At Spectrom 16(6):879–915

Zoriy MV, Rashad A, Pickhardt C, Mohsen HT, Forstel H, Helal AI, Zahran NF, Becker JS (2003) Routine method for 87Sr/86sr isotope ratio measurements in biological and geological samples after trace matrix separation by ICP-MS. At Spectrosc 24(6):195–200

Report on work performed within the state contract No. 120-177 of 01.06.2011. "Development of high-precision reference materials of solid inorganic and organic substances (materials) on the basis of primary methods (coulometry, gravimetry, mass spectrometry)", Yekaterinburg, 2011 (in Russ.)
Copyright information

© 2020 Springer Nature Switzerland AG
About this paper
Cite this paper
Kremleva, O.N., Tabatchikova, T.N. (2020). Reference Materials for Isotopic Composition Used in Implementing Isotope Dilution Mass Spectrometry. In: Medvedevskikh, S., Kremleva, O., Vasil'eva, I., Sobina, E. (eds) Reference Materials in Measurement and Technology. RMMT 2018. Springer, Cham. https://doi.org/10.1007/978-3-030-32534-3_22
DOI: https://doi.org/10.1007/978-3-030-32534-3_22

Published:

Publisher Name: Springer, Cham

Print ISBN: 978-3-030-32533-6

Online ISBN: 978-3-030-32534-3