Abstract

This paper presents the results of a series of studies aimed at investigating the reference material (RM) of a multicomponent solution. An algorithm for estimating the uncertainty induced by the chemical element content in the RM is proposed taking into account the mass of the measurand in each component of the mixture. The results calculated according to the preparation procedure using the proposed algorithm were confirmed by the Monte Carlo method, while the elemental content in the mixture was confirmed via inductively coupled plasma optical emission spectroscopy. The applicability of weighted mean estimates for characterizing an RM of a multicomponent solution is shown.
Keywords
Multicomponent reference material

Uncertainty

Pure substances

Traceability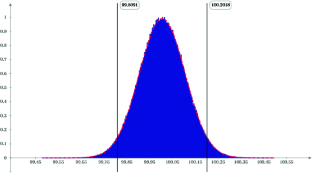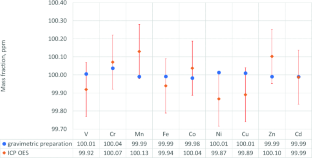 Abbreviations
RM:

Reference material

GUM:

Guide to the expression of uncertainty in measurement

ICP-MS:

Inductively coupled plasma mass spectrometry

CGHE:

Carrier gas hot extraction

MMC:

Monte Carlo method

ICP OES:

Inductively coupled plasma optical emission spectrometry
References
Database "Reference standards in the form of high-purity substances". Ural Research Institute for Metrology, Ekaterinburg. https://www.uniim.ru/db_etalons_ref

Medvedevskih SV, Sobina EP, Migal PV, Goryaeva LI, Gorbunova EM, Tabatchikova TN, Sobina AV, Firsanov VA, Medvedevskikh MYu, Krasheninina MP (2014) On the use of pure inorganic substances in metrology of analytical measurements. Ref Mater 3:58–67 (in Russ)

Matschat R, Czerwensky M, Pattberg S, Heinrich HJ, Tutschku S (2002) High purity metals as primary calibration materials for elemental analysis—their importance and their certification. Mater Trans 43(2):90–97. https://doi.org/10.2320/matertrans.43.90

Kipphardt H, Matschat R, Vogl J, Gusarova T, Czerwensky M, Heinrich HJ, Hioki A, Konopelko LA, Methven B, Miura T et al (2010) Purity determination as needed for the realization of primary standards for elemental determination—status of international comparability. Accred Qual Assur 15(1):29–37. https://doi.org/10.1007/s00769-009-0557-0

Vogl J et al (2018) Establishing comparability and compatibility in the purity assessment of high purity zinc as demonstrated by the CCQM-P149 intercomparison. Metrologia 211–221. https://doi.org/10.1088/1681-7575/aaa677

Salit ML, Turk GC, Lindstrom AP, Butler TA, Beck CM II, Norman B (2001) Single-element solution comparisons with a high-performance inductively coupled plasma optical emission spectrometric method. Anal Chem 73:4821–4829. https://doi.org/10.1021/ac0155097

ISO Guide 35:2017 Reference materials—guidance for characterization and assessment of homogeneity and stability

JCGM 100:2008 Evaluation of measurement data—guide to the expression of uncertainty in measurement

Medvedevskih SV, Firsanov VA (2018) Determination of the integral content of the components of substances in the control, recording, and monitoring of production and generation of waste products in industrial quantities. Meas Tech 61:182–191. https://doi.org/10.1007/s11018-018-1407-4

JCGM 101:2008. Evaluation of measurement data—supplement 1 to the "Guide to the expression of uncertainty in measurement"—propagation of distributions using a Monte Carlo method

Standard reference materials. Spectrometry, single element standard solutions: NIST. https://www.nist.gov/srmors/viewTable.cfm?tableid=39

NIST (2000) NIST Special Publication 260-136. https://www.nist.gov/sites/default/files/documents/srm/SP260-136.PDF
Acknowledgements

We are grateful to Tatiana N. Tabatchikova, the leading engineer of UNIIM, for providing measurement results obtained using the ICP MS method.
Author Contribution Statement
Migal P. V.: Identification of the paper concept and metrology, data analysis, collection of literature data, obtainment of experimental data, preparation of the manuscript draft, computer manuscript preparation, preparation of the final manuscript.
Medvedevskikh S. V.: Concept and initiation of the research, methodological support, critical analysis and text processing.
Firsanov V. A.: Methodical and mathematical support for the works described in the article.
Conflict of Interest
One of the authors is a member of the Editorial Board of these proceedings.
Copyright information

© 2020 Springer Nature Switzerland AG
About this paper
Cite this paper
Migal, P.V., Medvedevskikh, S.V., Firsanov, V.A. (2020). A Method for Estimating the Certified Value Uncertainty of a Multicomponent Reference Material. In: Medvedevskikh, S., Kremleva, O., Vasil'eva, I., Sobina, E. (eds) Reference Materials in Measurement and Technology. RMMT 2018. Springer, Cham. https://doi.org/10.1007/978-3-030-32534-3_17
DOI: https://doi.org/10.1007/978-3-030-32534-3_17

Published:

Publisher Name: Springer, Cham

Print ISBN: 978-3-030-32533-6

Online ISBN: 978-3-030-32534-3