Abstract

The two case studies in this book found significant syntactic differences in between FRANTEXT and the Digital Parisian Stage corpus, with large effect sizes. Are these differences due to social biases in the choice of theatrical texts for FRANTEXT, or the lack of availability of certain texts in the Digital Parisian Stage sample? When examined with one-way analysis of variation (ANOVA), differences in negation proved to have a significant relationship to both the genre of the play and the theater where it premièred. No significant relationship was found between differences in dislocation frequency and genre or theater, or between any of the linguistic variables and factors like gender, age and social class. A larger sample may indicate such relationships beyond the possibility of sampling error.
Keywords
Genre; Theater; French; Negation; Dislocation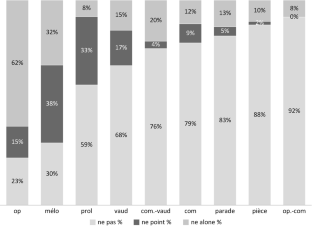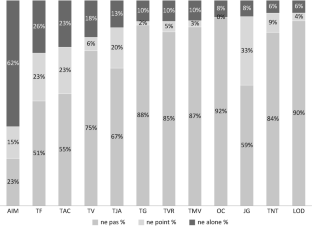 References
Carlson, Marvin. 1972. The French Stage in the Nineteenth Century. Metuchen: Scarecrow.

Fisher, Ronald. 1921. On the "Probable Error" of a Coefficient of Correlation Deduced from a Small Sample. Metron 1 (1): 3–32.

Giles, Howard, and Philip Smith. 1979. Accommodation Theory: Optimal Levels of Convergence. In Language and Social Psychology, ed. Howard Giles and Robert N. St. Clair. Baltimore: Basil Blackwell.

Labov, William. 1963. The Social Motivation of a Sound Change. WORD 19 (3): 273–309.

———. 1966. The Social Stratification of English in New York City. Washington, DC: Center for Applied Linguistics.

Lodge, Anthony. 1991. Molière's Peasants and the Norms of Spoken French. Neuphilologische Mitteilungen 92: 485–499.

Trudgill, Peter. 1972. Sex, Covert Prestige and Linguistic Change in the Urban British English of Norwich. Language in Society 1: 2.

Wicks, Charles Beaumont. 1950, 1953, 1961, 1967, 1979. The Parisian Stage. Tuscaloosa: University of Alabama.
About this chapter
Cite this chapter
Grieve-Smith, A. (2019). Social Factors in Building a Theater Corpus. In: Building a Representative Theater Corpus. Palgrave Pivot, Cham. https://doi.org/10.1007/978-3-030-32402-5_7
DOI: https://doi.org/10.1007/978-3-030-32402-5_7

Published:

Publisher Name: Palgrave Pivot, Cham

Print ISBN: 978-3-030-32401-8

Online ISBN: 978-3-030-32402-5