Abstract

Mobility is a major source of greenhouse gas emissions. At the same time, urban air pollution is a major public health issue in both North and South countries. This project aims to show the synergies between short-term public health issues related to pollution and the reduction of greenhouse gas emissions. MobilAir, in a fundamentally interdisciplinary approach, aims to identify specific measures to significantly reduce urban air pollution and its impacts. Building on the multidisciplinary richness of the Grenoble campus, MobilAir will develop an integrated approach in the Grenoble urban area, a relevant pilot area. MobilAir aims to develop methods and tools that can be replicated in other cities in France or abroad. Specifically, MobilAir has three main objectives: (1) A better comprehension of the population's exposure to pollution; (2) A detailed understanding of the determinants of mobility behaviour and (3) Support for public decision-making.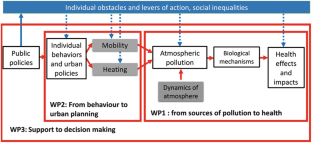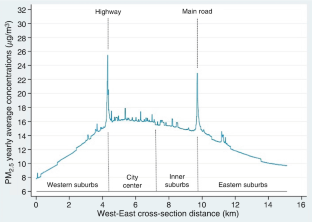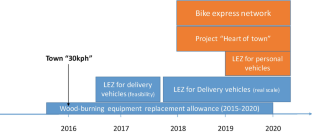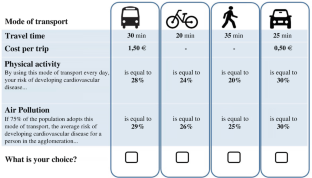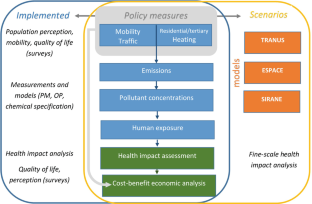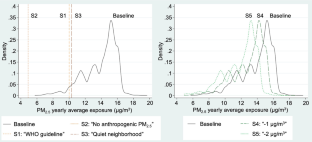 Notes
1.

The self-determination theory posits that there are two main types of motivation—intrinsic and extrinsic—and that they are both powerful forces in shaping who individuals are and how they act. Intrinsic motivation is endogenous to the individual and depends on the personal values, interest or sense of morality. Extrinsic motivation is a drive to behave in ways that comes from external incitation and results in external rewards (e.g. evaluations and admiration of others).

2.

Behavioural intervention is an action aimed at changing behaviour.
References
ADEME (2017) Zones à faibles émissions (Low Emission Zones – LEZ) à travers l'Europe (Les). ADEME. [En ligne]. Disponible sur: http://www.ademe.fr/zones-a-faibles-emissions-low-emission-zones-lez-a-travers-leurope. Consulté le: 09-Sept-2017

Ajzen I (1991) The theory of planned behavior. Org Behav Hum Decis Process 50(2):179–211

Altemeyer-Bartscher M, Markandya A, Rübbelke D (2014) International side-payments to improve global public good provision when transfers are refinanced through a tax on local and global externalities. Int Econ J 28(1):71–93

Aunan K, Mestl HE, Seip HM, Fang J, DO'Connor DC, Vennemo H, Zhai F (2003) Co-benefits of CO2-reducing policies in China-a matter of scale? Int J Global Environ Issues 3(3):287–304

Bamberg S, Schmidt P (2003) Incentives, morality, or habit? predicting students' car use for university routes with the models of ajzen, schwartz, and triandis. Environ Behav 35(2):264–285

Bamberg S, Ajzen I, Schmidt P (2003) Choice of travel mode in the theory of planned behavior: the roles of past behavior, habit, and reasoned action. Basic Appl Soc Psychol 25(3):175–187

BCG & Ipsos (2017) Du lundi au vendredi, les Français passent en moyenne 7h12 à se déplacer selon une étude Ipsos/BCG. Observatoire Européen des Mobilités, 1. Repéré à http://www.unionroutiere.fr/wp-content/uploads/2017/04/2017-04-26-BCG-IPSOS-Observatoire_europeen_des_mobilites_France.pdf

Bouscasse H (2017) Essays on travel mode choice modeling: a discrete choice approach to the interactions between economic and behavioral theories. Doctoral dissertation, Université Louis Lumière-Lyon II

Bouscasse H (2018) Integrated choice and latent variable models: a literature review on mode choice. Working paper

Brög W, Erl E, Ker I, Ryle J, Wall R (2009) Evaluation of voluntary travel behaviour change: experiences from three continents. Transp Policy 16:281–292

Cesaroni G, Boogaard H, Jonkers S, Porta D, Badaloni C, Cattani G, Forastiere F, Hoek G (2012) Health benefits of traffic-related air pollution reduction in different socioeconomic groups: the effect of low-emission zoning in Rome. Occup Environ Med 69(2):133–139

Chen CF, Chao WH (2011) Habitual or reasoned? Using the theory of planned behavior, technology acceptance model, and habit to examine switching intentions toward public transit. Transport Res F: Traffic Psychol Behav 14(2):128–137

Chillon P, Evenson KR, Vaughn A, Ward DS (2011) A systematic review of interventions for promoting active transportation to school. Int J Behav Nutr Phys Act 8(1):10

Clancy L, Goodman P, Sinclair H, Dockery DW (2002) Effect of air-pollution control on death rates in Dublin, Ireland: an intervention study. Lancet 360(9341):1210–1214

Cyrys J, Peters A, Soentgen J, Wichmann H-E (2014) Low emission zones reduce PM10 mass concentrations and diesel soot in German cities. J Air Waste Manag Assoc 64(4):481–487

De Bruijn GJ (2010) Understanding college students' fruit consumption. Integrating habit strength in the theory of planned behaviour. Appetite 54(1):16–22

De Hartog J, Boogaard H, Nijland H, Hoek G (2010) Do the health benefits of cycling outweigh the risks? Environ Health Perspect 118:1109–1116

Deci EL, Ryan RM (2002) Handbook of self-determination research. University Rochester Press, Rochester, NY

Ekins P (1996) The secondary benefits of CO2 abatement: how much emission reduction do they justify? Ecol Econ 16(1):13–24

Ettema D, Gärling T, Eriksson L, Friman M, Olsson LE, Fujii S (2011) Satisfaction with travel and subjective well-being: development and test of a measurement tool. Transport Res F: Traffic Psychol Behav 14(3):167–175

Fensterer V et al (2014) Evaluation of the impact of low emission zone and heavy traffic ban in Munich (Germany) on the reduction of PM10 in ambient air. Int J Environ Res Public Health 11(5):5094–5112

Fiore AM, Naik V, Leibensperger EM (2015) Air quality and climate connections. J Air Waste Manag Assoc 65(6):645–685

Fujii S, Kitamura R (2003) What does a one-month free bus ticket do to habitual drivers? An experimental analysis of habit and attitude change. Transportation 30(1):81–95

Gardner B (2009) Modelling motivation and habit in stable travel mode contexts. Transport Res F: Traffic Psychol Behav 12(1):68–76

Gifford R, Steg L, Reser JP (2011) Environmental psychology, pages 440–470. Wiley Online Library

Goldberg LR (1990) An alternative "description of personality": the big-five factor structure. J Pers Soc Psychol 59(6):1216

Graham-Rowe E, Skippon S, Gardner B, Abraham C (2011) Can we reduce car use and, if so, how? A review of available evidence. Transp Res A Policy Pract 45(5):401–418

Hallal PC, Andersen LB, Bull FC, Guthold R, Haskell W, Ekelund U (2012) Global physical activity levels: surveillance progress, pitfalls, and prospects. Lancet 380:247–257

Hamra GB, Guha N, Cohen A, Laden F, Raaschou-Nielsen O, Samet JM et al (2014) Outdoor particulate matter exposure and lung cancer: a systematic review and meta-analysis. Environ Health Perspect 122(9):906–911

Hara K, Homma J, Tamura K, Inoue M, Karita K, Yano E (2013) Decreasing trends of suspended particulate matter and PM2. 5 concentrations in Tokyo, 1990–2010. J Air Waste Manag Assoc 63(6):737–748

Harlan SL, Ruddell DM (2011) Climate change and health in cities: impacts of heat and air pollution and potential co-benefits from mitigation and adaptation. Curr Opin Environ Sustain 3(3):126–134

Jack DW, Kinney PL (2010) Health co-benefits of climate mitigation in urban areas. Curr Opin Environ Sustain 2(3):172–177

Kaufmann V, Tabaka K, Louvet N, Guidez J (2010) Et si les Français n'avaient plus seulement une voiture dans la tête ? Évolution de l'image des modes de transport (à partir de l'analyse de 19 Enquêtes Ménages Déplacements), CERTU, Coll. Dossiers

Kotabe HP, Hofmann W (2015) On integrating the components of self-control. Perspect Psychol Sci 10(5):618–638

Krupnick A, Burtraw D, Markandya A (2000) The ancillary benefits and costs of climate change mitigation: a conceptual framework. In: Ancillary benefits and costs of greenhouse gas mitigation, pp 53–93

Lanzini P, Khan SA (2017) Shedding light on the psychological and behavioral determinants of travel mode choice: a meta-analysis. Transport Res F: Traffic Psychol Behav 48:13–27

Lelieveld J, Evans JS, Fnais M, Giannadaki D, Pozzer A (2015) The contribution of outdoor air pollution sources to premature mortality on a global scale. Nature 525(7569):367–371

Longo A, Hoyos D, Markandya A (2012) Willingness to pay for ancillary benefits of climate change mitigation. Environ Resour Econ 51(1):119–140

Morelli X, Rieux C, Cyrys J, Forsberg B, Slama R (2016) Air pollution, health and social deprivation: a fine-scale risk assessment. Environ Res 147(p):59–70

Morelli X, Gabet S, Rieux C, Bouscasse H, Mathy S, Slama R (2019) Which decreases in air pollution should be targeted to bring health and economic benefits and improve environmental justice? Environ Int 129(August):538–550

Morton BJ, Rodríguez DA, Song Y, Cho EJ (2008) Using TRANUS to construct a land use-transportation-emissions model of Charlotte, North Carolina. In: Transportation land use, planning, and air quality, pp 206–218

Nemet GF, Holloway T, Meier P (2010) Implications of incorporating air-quality co-benefits into climate change policymaking. Environ Res Lett 5(1):014007

Nyborg K (2018) Social norms and the environment. Ann Rev Resour Econ 10:405–423

Nyborg K, Anderies JM, Dannenberg A, Lindahl T, Schill C, Schlüter M et al (2016) Social norms as solutions. Science 354(6308):42–43

OECD (2014) The cost of air pollution: health impacts of road transport, Éditions OECD, Paris. https://doi.org/10.1787/9789264210448-en

Ogilvie D, Foster CE, Rothnie H, Cavill N, Hamilton V, Fitzsimons CF et al (2007) Interventions to promote walking: systematic review. Br Med J 334:1204

Pascal M, de Crouy Chanel P, Wagner V, Corso M, Tillier C, Bentayeb M et al (2016) The mortality impacts of fine particles in France. Sci Total Environ 571:416–425

Pedersen M, Giorgis-Allemand L, Bernard C, Aguilera I, Andersen AMN, Ballester F, et al (2013) Ambient air pollution and low birthweight: a European cohort study (ESCAPE). Lancet Respir Med 1(9):695–704

Sallis JF, Cervero RB, Ascher W, Henderson KA, Kraft MK, Kerr J (2006) An ecological approach to creating active living communities. Annu Rev Public Health 27:297–322

Scheepers CE, Wendel-Vos GCW, Den Broeder JM, Van Kempen EEMM, Van Wesemael PJV, Schwarzer R, Lippke S, Ziegelmann JP (2008) Health action process approach: a research agenda at the Freie Universität Berlin to examine and promote health behavior change. Zeitschrift für Gesundheitspsychologie 16(3):157–160

Schwartz SH (1977) Normative influences on altruism. Adv Exp Soc Psychol 10:221–279

Schwarzer R (2008) Modeling health behavior change: how to predict and modify the adoption and maintenance of health behaviors. Appl Psychol 57(1):1–29

Sheeran P (2002) Intention—behavior relations: a conceptual and empirical review. Eur Rev Soc Psychol 12(1):1–36

Sottile E, Cherchi E, Meloni I (2015a) Measuring soft measures within a stated preference survey: the effect of pollution and traffic stress on mode choice. Transp Res Procedia 11:434–451

Sottile E, Meloni I, Cherchi E (2015b) A hybrid discrete choice model to assess the effect of awareness and attitude towards environmentally friendly travel modes. Transp Res Procedia 5:44–55

Soulhac L, Salizzoni P, Cierco F-X, Perkins R (2011) The model SIRANE for atmospheric urban pollutant dispersion; part I, presentation of the model. Atmos Environ 45(39):7379–7395

Soulhac L, Salizzoni P, Mejean P, Didier D, Rios I (2012) The model SIRANE for atmospheric urban pollutant dispersion; PART II, validation of the model on a real case study. Atmos Environ 49:320–337

Stern PC, Dietz T, Abel TD, Guagnano GA, Kalof L (1999) A value-belief-norm theory of support for social movements: the case of environmentalism. Hum Ecol Rev 6(2):81–97

Triandis HC (1977) Interpersonal behavior. Brooks, Cole, Monterey

Vandyck T, Keramidas K, Kitous A, Spadaro JV, Van Dingenen R, Holland M, Saveyn B (2018) Air quality co-benefits for human health and agriculture counterbalance costs to meet Paris Agreement pledges. Nat Commun 9(1):4939

Verplanken B, Walker I, Davis A, Jurasek M (2008) Context change and travel mode choice: combining the habit discontinuity and self-activation hypotheses. J Environ Psychol 28(2):121–127

Walker JL (2001) Extended discrete choice models: integrated framework, flexible error structures, and latent variables. Doctoral dissertation, Massachusetts Institute of Technology

World Health Organization (2016) Ambient air pollution: a global assessment of exposure and burden of disease. World Health Organization

Yang L, Sahlqvist S, McMinn A, Griffin SJ, Ogilvie D (2010) Interventions to promote cycling: systematic review. BMJ 341:c5293

Zenghelis D (2017) Climate policy: equity and national mitigation. Nat Clim Chang 7(1):9
Copyright information

© 2020 Springer Nature Switzerland AG
About this chapter
Cite this chapter
Mathy, S. et al. (2020). Protocol of an Interdisciplinary and Multidimensional Assessment of Pollution Reduction Measures in Urban Areas: MobilAir Project. In: Buchholz, W., Markandya, A., Rübbelke, D., Vögele, S. (eds) Ancillary Benefits of Climate Policy. Springer Climate. Springer, Cham. https://doi.org/10.1007/978-3-030-30978-7_18
DOI: https://doi.org/10.1007/978-3-030-30978-7_18

Published:

Publisher Name: Springer, Cham

Print ISBN: 978-3-030-30977-0

Online ISBN: 978-3-030-30978-7