Abstract

Digital forwarders are a rather new phenomenon in the logistics market. They claim benefits for shippers and freight carriers alike and threaten established players in the market. As a lot of digital forwarders are still situated in a start-up phase, the phenomenon has not yet arrived thoroughly in scientific discussions. Digital forwarders are not necessarily alike each other but try to cover various market segments. To enable a profound analysis of digital forwarders, this paper presents an empirically based taxonomy to serve as a starting point for both theoretical and practical discussions. The taxonomy was created through an iterative process by analyzing major digital forwarders in the market. The taxonomy consists of three major types within the digital forwarding market, being international full service, direct contract trucking and niche digital forwarder.
Keywords
Digitization

Freight forwarder

Taxonomy

Platform

Logistics

Disruptive innovation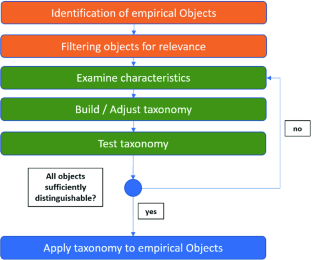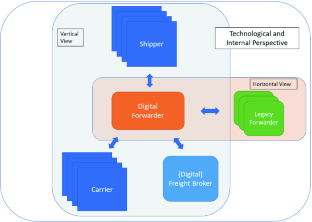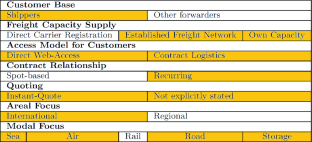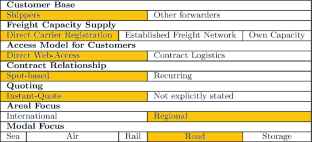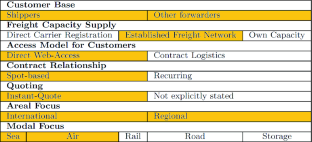 Notes
1.

The corresponding legal framework and definitions can be found in §453-466 HGB for the German market and Title 49 U.S.C. §13102 for the US market.
References
Bengtsson, M., Kock, S.: Coopetition in business networks-to cooperate and compete simultaneously. Industr. Market. Manag. 29(5), 411–426 (2000). ISSN: 0019-8501

Bierwirth, C., Schneider, S., Kopfer, H.: Elektronische Transportmärkte Aufgaben, Entwicklungsstand und Gestaltungsoptionen. Wirtschaftsinformatik 44(4), 335–344 (2002). ISSN: 1861-8936

Bohács, G., Frikker, I., Kovács, G.: Intermodal logistics processes supported by electronic freight and warehouse exchanges. Transp. Telecommun. 14(3), 206–213 (2013)

Boston Consulting Group. The digital imperative in freight forwarding. https://www.bcg.com/de-de/publications/2018/digital-imperative-freight-orwarding.aspx. Accessed 29 May 2019

Bundesvereinigung Logistik (BVL): Positionspapier Digitalisierung. https://www.bcg.com/de-de/publications/2018/digital-imperative-freight-forwarding.aspx. Accessed 29 May 2019

Caplice, C.: Electronic markets for truckload transportation. Prod. Oper. Manage. 16(4), 423–436 (2007)

Chesbrough, H.: Business model innovation: opportunities and barriers. Long Range Plan. 43(2–3), 354–363 (2010)

Convoy. https://convoy.com/. Accessed 29 May 2019

Crunchbase - List of top Logistics Startups. https://www.crunchbase.com/hub/logistics-startups. Accessed 29 May 2019

Dietrich, A., Fiege, F.: Digitale Transformation des Speditionsgeschäfts umfasst mehr als Spedition 4.0. Wirtschaftsinformatik Manage. 9(3), 36–45 (2017)

DVZ - Digitale Forwarder brauchen langen Atem. https://www.dvz.de/rubriken/logistik/detail/news/digital-forwarders-brauchen-langen-atem.html. Accessed 29 May 2019

FlexPort. https://de.flexport.com/. Accessed 29 May 2019

FreightHub. https://freighthub.com/de/. Accessed 29 May 2019

Gimpel, H., Rau, D., Röglinger, M.: Understanding in-Tech start-ups - a taxonomy of consumer-oriented service offerings. Electron. Markets 28(3), 245–264 (2018). ISSN: 1422-8890

Gregor, S.: The nature of theory in information systems. MIS Q. 30(3), 611–642 (2006). ISSN: 02767783

Hartmann, P.M., et al.: Capturing value from big data-a taxonomy of data-driven business models used by start-up firms. Int. J. Oper. Prod. Manag. 36(10), 1382–1406 (2016)

Hofmann, E., Osterwalder, F.: Third-party logistics providers in the digital age: towards a new competitive arena? Logistics 1(2) (2017). ISSN: 2305-6290

Kille, C., et al.: Digitalisierungswerkzeuge in der Logistik: Einsatzpotenziale, Reifegrad und Wertbeitrag, September 2018. ISBN: 9783736998797

Knowler, G.: Downplaying digital disruption: established forwarders confident they have what it takes to keep customers happy. J. Commer. 19(9), 15–16 (2018). ISSN: 15423867

Kovács, G.: The structure, modules, services, and operational process of modern electronic freight and warehouse exchanges. Periodica Polytechnica Transp. Eng. 37(1–2), 33–38 (2009)

Kurpjuweit, S., Wagner, S., Greil, T.: The rise of logistics startups and their impact on the logistics industry. In: 2018 25th EurOMA Conference (Budapest, Hungary), June 2018

Lai, F., Zhao, X., Wang, Q.: Taxonomy of information technology strategy and its impact on the performance of third-party logistics (3PL) in China. Int. J. Prod. Res. 45(10), 2195–2218 (2007)

Lai, K.-h., Cheng, T.C.E., Yeung, A.C.L.: An empirical taxonomy for logistics service providers. Maritime Econ. Logist. 6(3), 199–219 (2004). ISSN: 1479-294X

McKinsey and Company - Air-freight forwarders move forward into a digital future. https://www.mckinsey.com/industries/traveltransport-and-logistics/our-insights/air-freightforwarders-move-forward-into-a-digital-future. Accessed 29 May 2019

Nickerson, R.C., Varshney, U., Muntermann, J.: A method for taxonomy development and its application in information systems. Eur. J. Inf. Syst. 22(3), 336–359 (2013)

Nickerson, R., et al.: Taxonomy development in information systems: developing a taxonomy of mobile applications. In: HAL, Working Papers, January 2009

Nuzzolo, A., Coppola, P., Comi, A.: Freight transport modeling: review and future challenges. Int. J. Transp. Econ./Rivista internazionale di economia dei trasporti 40(2), 151–181 (2013). ISSN: 03035247

Oláh, J., et al.: Information technology developments of logistics service providers in Hungary. Int. J. Logist. Res. Appl. 21(3), 332–344 (2018)

Wyman, O.: Start-Ups rollen die Logistikbranche auf. https://www.oliverwyman.de/media-center/2017/ Start-ups-rollen-Logistikbranche-auf.html. Accessed 29 May 2019

Pfohl, H.-C.: Logistiksysteme. Springer, Heidelberg (2018)

Pope, D.J., Thomchick, E.A.: U.S. Foreign freight forwarders and NVOCCs. Transp. J. 24(3), 26–36 (1985). ISSN: 00411612, 2157328X

Produktion - Wie die Logistikbranche die Digitalisierung verschläft. https://www.produktion.de/trends- innovationen/wie-dielogistikbranchedie-digitalisierung-verschlaeft-103.html. Accessed 29 May 2019

Saladoo. https://www.saloodo.com/de/. Accessed 29 May 2019

Walker Smith, J.: The Uber-all economy of the future. Independent Rev. 20(3), 383–390 (2016)

Sorescu, A.: Data-driven business model innovation. J. Prod. Innov. Manage. 34(5), 691–696 (2017). ISSN: 07376782

Startup Region OWL - Alle 5 Tage wird ein Logistik Startup gegründet. https://www.startupregionowl.de/alle-5-tage-wirdein-logistik-startup-gegruendet/. Accessed 29 May 2019

Stuart, I., et al.: Effective case research in operations management: a process perspective. J. Oper. Manage. 20(5), 419–433 (2002)

Uber Freight Inc. http://www.uberfreight.com. Accessed 29 May 2019

Waller, M.A., Fawcett, S.E.: Data science, predictive analytics, and big data: a revolution that will transform supply chain design and management. J. Bus. Logist. 34(2), 77–84 (2013)

Weare, C., Lin, W.-Y.: Content analysis of the world wide web: opportunities and challenges. Soc. Sci. Comput. Rev. 18(3), 272–292 (2000)

Wen, C.-H., Tsai, M.-C., Lin, C.-H.: Classification and competition analysis of air cargo logistics providers: the case of Taiwan's high-technology industry. J. Air Transp. Manage. 17(2), 106–109 (2011). ISSN: 0969-6997
Appendix
Appendix
See Table 2.
Copyright information

© 2019 Springer Nature Switzerland AG
About this paper
Cite this paper
Elbert, R., Gleser, M. (2019). Digital Forwarders. In: Bierwirth, C., Kirschstein, T., Sackmann, D. (eds) Logistics Management. Lecture Notes in Logistics. Springer, Cham. https://doi.org/10.1007/978-3-030-29821-0_2