Abstract
Swallowing is a complex and dynamic process, involving coordination between multiple sensorimotor systems. Anatomy relevant to swallowing and changes during typical development is reviewed. Swallowing is separated into four phases: (1) oral preparatory, (2) oral transport, (3) pharyngeal, and (4) esophageal, with both voluntary and reflex control. Finally, coordination between swallowing and respiration is briefly described. The intricate nature of swallowing allows for multiple disease processes and injuries to affect function, thus leading to dysphagia.
Keywords
Swallowing

Feeding

Aerodigestive tract

Anatomy of swallowing

Physiology of swallowing

Swallowing-respiratory coordination

Deglutition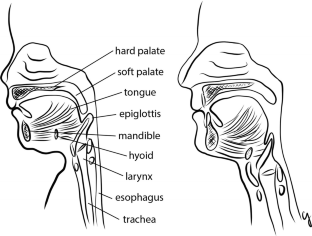 References
Dodds WJ, Stewart ET, Logemann JA. Physiology and radiology of the normal oral and pharyngeal phases of swallowing. Am J Roentgenol. 1990;154(5):953–63.

Matsuo K, Palmer JB. Anatomy and physiology of feeding and swallowing: normal and abnormal. Phys Med Rehabil Clin N Am. 2008;19(4):691–707.. vii

Chung CJ, Fordham LA, Mukherji SK. The pediatric airway: a review of differential diagnosis by anatomy and pathology. Neuroimaging Clin N Am. 2000;10(1):161–80.. ix

Arvedson JC, Brodsky L. Pediatric swallowing and feeding. 2nd ed. Clifton Park: Delmar Cengage Learning; 2002.

Stevenson RD, Allaire JH. The development of normal feeding and swallowing. Pediatr Clin N Am. 1991;38(6):1439–53.

Derkay CS, Schechter GL. Anatomy and physiology of pediatric swallowing disorders. Otolaryngol Clin N Am. 1998;31(3):397–404.

Logemann JA. Evaluation and treatment of swallowing disorders. 2nd ed. Austin: Pro-Ed; 1998.

Shah S, Garritano F. Pediatric oral anatomy. Oper Tech Otolaryngol. 2015;26(1):2–7.

Laitman JT, Reidenberg JS. Specializations of the human upper respiratory and upper digestive systems as seen through comparative and developmental anatomy. Dysphagia. 1993;8(4):318–25.

Adewale L. Anatomy and assessment of the pediatric airway. Paediatr Anaesth. 2009;19(Suppl 1):1–8.

Bosma JF. Postnatal ontogeny of performances of the pharynx, larynx, and mouth. Am Rev Respir Dis. 1985;131(5):S10–5.

Barlow SM. Central pattern generation involved in oral and respiratory control for feeding in the term infant. Curr Opin Otolaryngol Head Neck Surg. 2009;17(3):187–93.

Lau C. Development of suck and swallow mechanisms in infants. Ann Nutr Metab. 2015;66(Suppl 5):7–14.

Geddes DT, Chooi K, Nancarrow K, Hepworth AR, Gardner H, Simmer K. Characterisation of sucking dynamics of breastfeeding preterm infants: a cross sectional study. BMC Pregnancy Childbirth. 2017;17(1):386.

Geddes DT, Kent JC, Mitoulas LR, Hartmann PE. Tongue movement and intra-oral vacuum in breastfeeding infants. Early Hum Dev. 2008;84(7):471–7.

Belo LR, Gomes NA, Coriolano M, de Souza ES, Moura DA, Asano AG, et al. The relationship between limit of Dysphagia and average volume per swallow in patients with Parkinson's disease. Dysphagia. 2014;29(4):419–24.

Qureshi MA, Vice FL, Taciak VL, Bosma JF, Gewolb IH. Changes in rhythmic suckle feeding patterns in term infants in the first month of life. Dev Med Child Neurol. 2002;44(1):34–9.

da Costa SP, van der Schans CP, Boelema SR, van der Meij E, Boerman MA, Bos AF. Sucking patterns in fullterm infants between birth and 10 weeks of age. Infant Behav Dev. 2010;33(1):61–7.

Barlow SM. Oral and respiratory control for preterm feeding. Curr Opin Otolaryngol Head Neck Surg. 2009;17(3):179–86.

Lau C. Oral feeding in the preterm infant. NeoReviews. 2006;7(1):e19–27.

Delaney AL, Arvedson JC. Development of swallowing and feeding: prenatal through first year of life. Dev Disabil Res Rev. 2008;14(2):105–17.

Gewolb IH, Vice FL, Schwietzer-Kenney EL, Taciak VL, Bosma JF. Developmental patterns of rhythmic suck and swallow in preterm infants. Dev Med Child Neurol. 2001;43(1):22–7.

Fucile S, McFarland DH, Gisel EG, Lau C. Oral and nonoral sensorimotor interventions facilitate suck-swallow-respiration functions and their coordination in preterm infants. Early Hum Dev. 2012;88(6):345–50.

Cichero JAY. Unlocking opportunities in food design for infants, children, and the elderly: understanding milestones in chewing and swallowing across the lifespan for new innovations. J Texture Stud. 2017;48(4):271–9.

Vose A, Humbert I. "Hidden in plain sight": a descriptive review of laryngeal vestibule closure. Dysphagia. 2018; https://doi.org/10.1007/s00455-018-9928-1.

Cook IJ, Dodds WJ, Dantas RO, Massey B, Kern MK, Lang IM, et al. Opening mechanisms of the human upper esophageal sphincter. Am J Physiol. 1989;257(5):G748–G59.

Jacob P, Kahrilas PJ, Logemann JA, Shah V, Ha T. Upper esophageal sphincter opening and modulation during swallowing. Gastroenterology. 1989;97(6):1469–78.

Kahrilas PJ, Dodds WJ, Dent J, Logemann JA, Shaker R. Upper esophageal sphincter function during deglutition. Gastroenterology. 1988;95(1):52–62.

Martin-Harris B, Brodsky MB, Michel Y, Castell DO, Schleicher M, Sandidge J, et al. MBS measurement tool for swallow impairment-MBSImp: establishing a standard. Dysphagia. 2008;23(4):392–405.

McConnel FMS, Cerenko D, Mendelsohn MS. Manofluorographic analysis of swallowing. Otolaryngol Clin N Am. 1988;21(4):625–35.

Rosen SP, Abdelhalim SM, Jones CA, McCulloch TM. Effect of body position on pharyngeal swallowing pressures using high-resolution manometry. Dysphagia. 2018;33(3):389–98.

Miralles R, Palazzi C, Ormeno G, Giannini R, Verdugo F, Valenzuela S, et al. Body position effects on EMG activity of sternocleidomastoid and masseter muscles in healthy subjects. Cranio-J Craniomandibular Pract. 1998;16(2):90–9.

Riley A, Miles A, Steele CM. An exploratory study of hyoid visibility, position, and swallowing-related displacement in a pediatric population. Dysphagia. 2019;34(2):248–56.

Weckmueller J, Easterling C, Arvedson J. Preliminary temporal measurement analysis of normal oropharyngeal swallowing in infants and young children. Dysphagia. 2011;26(2):135–43.

Gewolb I, Vice F. Maturational changes in the rhythms, patterning, and coordination of respiration and swallow during feeding in preterm and term infants. Dev Med Child Neurol. 2006;48(7):589–94.

Lau C, Smith EO, Schanler RJ. Coordination of suck-swallow and swallow respiration in preterm infants. Acta Paediatr. 2003;92(6):721–7.

Hiss SG, Strauss M, Treole K, Stuart A, Boutilier S. Effects of age, gender, bolus volume, bolus viscosity, and gustation on swallowing apnea onset relative to lingual bolus propulsion onset in normal adults. J Speech Lang Hear Res. 2004;47(3):572–83.

Martin-Harris B, Brodsky MB, Price CC, Michel Y, Walters B. Temporal coordination of pharyngeal and laryngeal dynamics with breathing during swallowing: single liquid swallows. J Appl Physiol. 2003;94(5):1735–43.

Paydarfar D, Gilbert RJ, Poppel CS, Nassab PF. Respiratory phase resetting and airflow changes induced by swallowing in humans. J Physiol. 1995;483(1):273–88.
Copyright information
© 2020 Springer Nature Switzerland AG
About this chapter
Cite this chapter
Jones, C.A. (2020). Physiology of Normal Swallow. In: McMurray, J., Hoffman, M., Braden, M. (eds) Multidisciplinary Management of Pediatric Voice and Swallowing Disorders. Springer, Cham. https://doi.org/10.1007/978-3-030-26191-7_15
DOI: https://doi.org/10.1007/978-3-030-26191-7_15

Published:

Publisher Name: Springer, Cham

Print ISBN: 978-3-030-26190-0

Online ISBN: 978-3-030-26191-7

eBook Packages: MedicineMedicine (R0)