Abstract

The focus on precision health in healthcare fits well with the recent shift from a traditional illness-focused model to a positive health approach. Precision health seeks to tailor treatment and supportive care to characteristics of individual patients in order to attain the best clinical outcome for that person. In order to achieve increasingly positive outcomes, it is helpful to understand why some patients and families thrive despite adversity, while others struggle. Therefore, resilience is receiving increased attention in research and clinical care. The science and understanding of resilience specifically in pediatric oncology is emerging with research efforts aimed at understanding and intervening with patients and families to promote health in the face of illness. Challenges remain, including the need for a single, agreed upon definition of resilience among healthcare professionals.
Keywords
Resilience

Positive health

Strengths-based approach

Precision health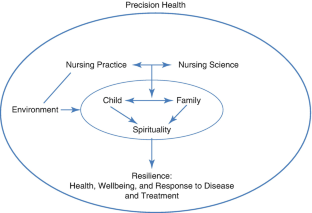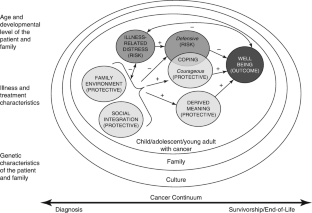 References
Galli SJ. Toward precision medicine and health: opportunities and challenges in allergic diseases. J Allergy Clin Immunol. 2016;137(5):1289–300. https://doi.org/10.1016/j.jaci.2016.03.006.

Singer B, Ryff CD. New horizons in health: an integrative approach. Washington, DC: National Academy Press; 2001.

Founds S. Systems biology for nursing in the era of big data and precision health. Nurs Outlook. 2018;66:283–92.

Haase JE, Phillips CR. Resilience. In: Peterson SJ, Bredow TS, editors. Middle range theories: application to nursing research and practice. 5th ed. Philadelphia: Wolters Kluwer; 2013.

Haase JE, Kintner EK, Robb SL, et al. The resilience in illness model part 2: confirmatory evaluation in adolescents and young adults with cancer. Cancer Nurs. 2017;40(6):454–63. https://doi.org/10.1097/NCC.0000000000000450.

Haase JE, Heiney SP, Ruccione KS, Stutzer C. Research triangulation to derive meaning-based quality-of-life theory: adolescent resilience model and instrument development. Int J Cancer. 1999;83(S12):125–31.

Haase JE. The adolescent resilience model as a guide to interventions. J Pediatr Oncol Nurs. 2004;21:289–99. https://doi.org/10.1016/S0197-2456(97)00024-X.

Landier W, Leonard M, Ruccione KS. Children's oncology Group's 2013 blueprint for research: nursing discipline. Pediatr Blood Cancer. 2013;60(6):1031–6.

Wright MOD, Masten AS, Narayan AJ. Resilience processes in development: four waves of research on positive adaptation in the context of adversity. In: Goldstein S, Brooks RB, editors. Handbook of resilience in children. Boston: Springer; 2013. p. 15–37.

Rutter M. Resilience in the face of adversity: protective factors and resistance to psychiatric disorders. Br J Psychiatry. 1985;147:598–611.

Rutter M. Psychosocial resilience and protective mechanisms. Am J Orthopsychiatry. 1987;57:316–31.

Mullins LL, Molzon ES, Suorsa KI, Tackett AP, Pai ALH, Chaney JM. Models of resilience: developing psychosocial interventions for parents of children with chronic health conditions. Fam Relat. 2015;64(1):176–89. https://doi.org/10.1111/fare.12104.

Masten AS. Ordinary magic: resilience in development. New York: The Guilford Press; 2014.

Rutter M. Resilience concepts and findings: implications for family therapy. J Fam Ther. 1999;21(2):119–44.

Winders SJ. From extraordinary invulnerability to ordinary magic: a literature review of resilience. J Eur Psychol Stud. 2014;5(1):3–9. https://doi.org/10.5334/jeps.bk.

Ungar M, Ghazinour M, Richter J. Annual research review: what is resilience within the social ecology of human development? J Child Psychol Psychiatry. 2013;54(4):348–66.

Windle G, Bennett KM, Noyes J. A methodological review of resilience measurement scales. Health Qual Life Outcomes. 2011;9:8.

Haase JE, Kintner EK, Monahan PO, Robb SL. The resilience in illness model, part 1: exploratory evaluation in adolescents and young adults with cancer. Cancer Nurs. 2014;37(3):E1–E12.

Haase JE. Components of courage in chronically ill adolescents: a phenomenological study. Adv Nurs Sci. 1987;9(2):64–80.

Haase JE, Britt T, Coward DD, Leidy NK, Penn PE. Simultaneous concept analysis of spiritual perspective, hope, acceptance and self-transcendence. J Nurs Scholarsh. 1992;24(2):141–7.

Haase JE, Phillips CR. The adolescent/young adult experience. J Pediatr Oncol Nurs. 2004;21(3):145–9.

Howard Sharp KM, Willard VW, Okado Y, et al. Profiles of connectedness: processes of resilience and growth in children with cancer. J Pediatr Psychol. 2015;40(9):904–13. https://doi.org/10.1093/jpepsy/jsv036.

Orbuch TL, Parry C, Chesler M, Fritz J, Repetto P. Parent-child relationships and quality of life: resilience among childhood cancer survivors. Fam Relat. 2005;54(2):171–83. https://doi.org/10.1111/j.0197-6664.2005.00014.x.

Phillips CR, Haase JE. A connectedness primer for healthcare providers: adolescents/young adult cancer survivors' perspectives on behaviors that foster connectedness during cancer treatment and the resulting positive outcomes. J Adolesc Young Adult Oncol. 2018;7(2):174–80. https://doi.org/10.1089/jayao.2017.0056.

Bernat DH, Resnick MD. Connectedness in the lives of adolescents. In: DiClemente RJ, Santelli JS, Crosby RA, editors. Adolescent health: understanding and preventing risk behaviors. San Francisco: Jossey-Bass; 2009. p. 375–89.

Kelly KP, Hooke MC, Ruccione K, Landier W, Haase J. Developing an organizing framework to guide nursing research in the Children's oncology group. Semin Oncol Nurs. 2014;30(1):17–25.

Cosco TD, Kaushal A, Hardy R, Richards M, Kuh D, Stafford M. Operationalising resilience in longitudinal studies: a systematic review of methodological approaches. J Epidemiol Community Health. 2017;71:98–104. https://doi.org/10.1136/jech-2015-206980.

Cai L. Latent variable modeling. Shanghai Arch Psychiatry. 2012;24(2):118–20. https://doi.org/10.3969/j.issn.1002-0829.2012.02.101.

Rosenberg AR, Wolfe J, Bradford MC, et al. Resilience and psychosocial outcomes in parents of children with cancer. Pediatr Blood Cancer. 2014;61:552–7. https://doi.org/10.1002/pbc.24854.

Connor KM, Davidson JRT. Development of a new resilience scale: the Connor-Davidson resilience scale (CD-RISC). Depress Anxiety. 2003;18:76–82.

Naglieri JA, LeBuffle PA. Measuring resilience in children. In: Goldstein S, Brooks RB, editors. Handbook of resilience in children. New York: Springer; 2005. p. 107–21.

Donnon T, Hammond W, Charles G. Youth resiliency: assessing students' capacity for success at school. Teach Learn. 2003;1(2):23–8.

Donnon T, Hammond W. A psychometric assessment of the self-reported youth resiliency: assessing developmental strengths questionnaire. Psychol Rep. 2007;100(3):963–78.

Ungar M, Liebenberg L. Assessing resilience across cultures using mixed methods: construction of the child and youth resilience measure. J Mixed Methods Res. 2011;5(2):126–49.

Wagnild G, Young H. Development and psychometric evaluation of the resilience scale. J Nurs Meas. 1993;1(2):165–78.

Kim DH, Yoo IY. Factors associated with resilience of school age children with cancer. J Paediatr Child Health. 2010;46:431–6. https://doi.org/10.1111/j.1440-1754.2010.01749.x.

Masten AS, Barnes AJ. Resilience in children: developmental perspectives. Children. 2018;5:98. https://doi.org/10.3390/children5070098.

Varni JW, Limbers CA, Burwinkle TM. Parent proxy-report of their children's health-related quality of life: an analysis of 13,878 parents' reliability and validity across age subgroups using the PedsQL™ 4.0 generic Core scales. Health Qual Life Outcomes. 2007;5:2. https://doi.org/10.1186/1477-7525-5-2.

Husson O, Zebrack BJ, Block R, et al. Health-related quality of life in adolescent and young adult patients with cancer: a longitudinal study. J Clin Oncol. 2017;35(6):652–9. https://doi.org/10.1200/JCO.2016.69.7946.

Jones B. Guest editorial for special edition—challenges and opportunities for social work in pediatric palliative and end-of-life care. J Soc Work End Life Palliat Care. 2012;8(4):278–80.

Zamora ER, Yi J, Ackter J, Kim J, Warner EL, Kirchhoff AC. 'Having cancer was awful but also something good came out': post-traumatic growth among adult survivors of pediatric and adolescent cancer. Eur J Oncol Nurs. 2017;28:21–7. https://doi.org/10.1016/j.ejon.2017.02.001.

Rosenberg AR, Baker S, Syrjala KL, Back AL, Wolfe J. Promoting resilience among parents and caregivers of children with cancer. J Palliat Med. 2013;16:645–52. https://doi.org/10.1089/jpm.2012.0494.

Ye ZJ, Qiu HZ, Li PF, Liang MZ, Wang SN, Quan XM. Resilience model for parents of children with cancer in mainland China—an exploratory study. Eur J Oncol Nurs. 2017;27:9–16. https://doi.org/10.1016/j.ejon.2017.01.002.

Van Schoors M, Caes L, Verhofstadt LL, Goubert L, Alderfer MA. Systematic review: family resilience after pediatric cancer diagnosis. J Pediatr Psychol. 2015;40(9):856–68. https://doi.org/10.1093/jpepsy/jsv055.

Armstrong MI, Birnie-Lefcovitch S, Ungar MT. Pathways between social support, family well being, quality of parenting, and child resilience: what we know. J Child Fam Stud. 2005;14(2):269–81.

Benzies K, Mychasiuk R. Fostering family resiliency: a review of the key protective factors. Child Family Soc Work. 2009;14:103–14. https://doi.org/10.1111/j.1365-2206.2008.00586.x.

Fuemmeler BF, Brown RT, Williams L, Barredo J. Adjustment of children with cancer and their caregivers: moderating influences of family functioning. Fam Syst Health. 2003;21(3):263–76.

Luthar SS, Cicchetti D. The construct of resilience: implications for interventions and social policies. Dev Psychopathol. 2000;12(4):857–85.

Patterson J. Integrating family resilience and family stress theory. J Marriage Fam. 2002;64:349–60.

Walsh F. Normal family processes: growing diversity and complexity. 4th ed. New York, NY: Guilford; 2011.

Ozbay F, Fitterling H, Charney D, Southwick S. Social support and resilience to stress across the life span: a neurobiologic framework. Curr Psychiatry Rep. 2008;10:304.

Yehuda R, Flory JD, Southwick S, Charney DS. Developing an agenda for translational studies of resilience and vulnerability following trauma exposure. Ann N Y Acad Sci. 2006;1071:379–96.

Charney DS. Psychobiological mechanisms of resilience and vulnerability: implications for successful adaptation to extreme stress. Am J Psychiatr. 2004;161(2):195–216.

Simeon D, Yehuda R, Cunill R, Knutelska M, Putnam FW, Smith LE. Factors associated with resilience in healthy adults. Psychoneuroendocrinology. 2007;32(8–10):1149–52.

Heinrichs M, Domes G. Neuropeptides and social behaviour: effects of oxytocin and vasopressin in humans. Prog Brain Res. 2008;170:337–50. https://doi.org/10.1016/S0079-6123(08)00428-7.

Masten AS. Global perspectives on resilience in children and youth. Child Dev. 2014;85(1):6–20. https://doi.org/10.1111/cdev.12205.

Luo H, Hu X, Liu X, et al. Hair cortisol level as a biomarker for altered hypothalamic-pituitary-adrenal activity in female adolescents with posttraumatic stress disorder after the 2008 Wenchuan earthquake. Biol Psychiatry. 2012;72(1):65–9.

Li H, Martin AJ, Armstrong D, Walker R. Risk, protection, and resilience in Chinese adolescents: a psychosocial study. Asian J Soc Psychol. 2011;14(4):269–82. https://doi.org/10.1111/j.1467-839X.2011.01356.x.

Ungar M. Resilience across cultures. Br J Soc Work. 2008;38(2):218–35.

Ungar M, Brown M, Liebenberg L, et al. Unique pathways to resilience across cultures. Adolescence. 2007;42:287–310.

Shek DT. Chinese cultural beliefs about adversity: its relationship to psychological Well-being, school adjustment and problem behaviour in Hong Kong adolescents with and without economic disadvantage. Childhood. 2004;11(1):63–80.

Clauss-Ehlers CS. Cultural resilience. In: Clauss-Ehlers CS, editor. Encyclopedia of cross-cultural school psychology. Boston, MA: Springer; 2010. p. 324–6.

Gray WN, Szulczewski LJ, Regan SM, Williams JA, Pai AL. Cultural influences in pediatric cancer: from diagnosis to cure/end of life. J Pediatr Oncol Nurs. 2014;31(5):252–71.

Lee TY, Shek DTL, Kwong WM. Chinese approaches to understanding and building resilience in at-risk children and adolescents. Child Adolesc Psychiatr Clin. 2007;16(2):377–92. https://doi.org/10.1016/j.chc.2006.12.001.

Li H, Bottrell D, Armstrong D. Understanding the pathways to resilience: voices from Chinese adolescents. Young. 2018;26(2):126–44.

Stout C, Badaracco JC, Jean-Charles W, et al. Human strengths and resilience: developmental, cross-cultural, and international perspectives. Lanham, MD: Lexington Books; 2017.

Martinson I, Zhong B, Liang Y. The reaction of Chinese parents to a terminally ill child with cancer. Cancer Nurs. 1994;17(1):72–6.

Hatano Y, Yamada M, Fukui K. Shades of truth: cultural and psychological factors affecting communication in pediatric palliative care. J Pain Symptom Manag. 2011;41(2):491–5. https://doi.org/10.1016/j.jpainsymman.2010.12.002.

Wong MYF, Chan SWC. The qualitative experience of Chinese parents with children diagnosed of cancer. J Clin Nurs. 2006;15(6):710–7. https://doi.org/10.1111/j.1365-2702.2006.01297.x.

Wong G. Resilience in the Asian context. In: Clauss-Ehlers CS, Weist MD, editors. Community planning to foster resilience in children. Boston, MA: Springer; 2004. p. 99–111.

Ni H, Li C, Zhao J. Cultural consideration of resilience for Chinese immigrant children and adolescents. N Am J Med Sci. 2014;7(3):112–7. https://doi.org/10.7156/najms.2014.0703112.

Robb SL, Burns DS, Stegenga KA, et al. Randomized clinical trial of therapeutic music video intervention for resilience outcomes in adolescents/young adults undergoing hematopoietic stem cell transplant: a report from the children's oncology group. Cancer. 2014;120(6):909–17. https://doi.org/10.1002/cncr.28355.
Copyright information

© 2020 Springer Nature Switzerland AG
About this chapter
Cite this chapter
Stegenga, K., Liu, Q., Haase, J. (2020). Resilience in Pediatric Oncology. In: Hinds, P., Linder, L. (eds) Pediatric Oncology Nursing. Pediatric Oncology. Springer, Cham. https://doi.org/10.1007/978-3-030-25804-7_4
DOI: https://doi.org/10.1007/978-3-030-25804-7_4

Published:

Publisher Name: Springer, Cham

Print ISBN: 978-3-030-25803-0

Online ISBN: 978-3-030-25804-7

eBook Packages: MedicineMedicine (R0)