Abstract
The GeoCapabilities approach has been explored and developed through empirical studies. The curriculum development project 'Engaging Places' and the author's own Master's research into the teaching of postmodern urban geography sought innovative ways to help pupils engage with environments. This was followed by internationally funded research projects: GeoCapabilities 1 (2012–2013) compared school geographical knowledge requirements between the UK, USA and Finland; GeoCapabilities 2 (2013–2017) developed free web-based teacher training materials about powerful knowledge and capabilities. A third project (from 2018) explored GeoCapabilities and social justice. The author's own Doctoral research used a case study approach to explore the potential of the capability approach to envision a Future 3 geography curriculum. This research, along with conference presentations and workshops, has developed the concept of GeoCapabilities. Future avenues of research include broadening the empirical base, engaging students, and exploring the capability approach to other subjects.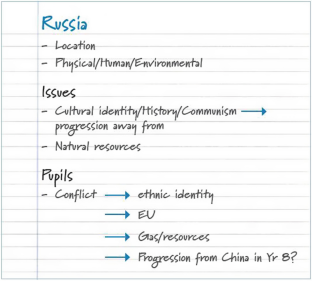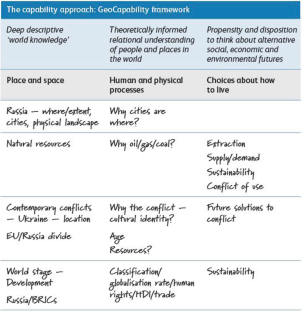 References
Bernstein, B. (2000). Pedagogy, Symbolic Control and Identity: Theory, Research and Critique (Rev. ed.). London: Taylor and Francis.

Bustin, R. (2011a). The Living City: Thirdspace and the Contemporary Geography Curriculum. Geography, 96(2), 61–62.

Bustin, R. (2011b). Thirdspace: Exploring the 'Lived Space' of Cultural 'Others. Teaching Geography, 36(2), 55–57.

Bustin, R. (2017). An Investigation into GeoCapability and Future 3 Curriculum Thinking in Geography. Unpublished doctoral thesis, UCL Institute of Education.

Bustin, R. (2019). Investigating Lived Space: Ideas for Fieldwork. Teaching Geography, 44(1), 17–19.

Bustin, R., Butler, K., & Hawley, D. (2017). GeoCapabilities: Teachers as Curriculum Leaders. Teaching Geography, 42(1), 18–22.

Geocapabilities.org Website. Retrieved January 2019, from http://www.geocapabilities.org

Gibson, W. (2013). Qualitative Data Analysis: Thematic Analysis. Course Notes from Doctoral Studies Methodology Course, UCL Institute of Education.

Hinchliffe, G. (2006). Beyond Key Skills: Exploring Capabilities. Presentation Given on 16 June 2006 to Networking Day for Humanities Careers Advisers in London. Retrieved September 2010, from http://www.google.co.uk/url?sa=t&rct=j&q=&esrc=s&source=web&cd=1&cts=1330791142639&ved=0CCYQFjAA&url=http%3A%2F%2Fwww.english.heacademy.ac.uk%2Fadmin%2Fevents%2FfileUploads%2FBeyond%2520Key%2520Skills%2520-%2520Exploring%2520Capabilities%2520(HUM).ppt&ei=2UJST5mPMdTY8QPO-b3yBQ&usg=AFQjCNFb2r8hw4htPWDWiZEADCclXF3yJA

Lambert, D., & Morgan, J. (2010). Teaching Geography 11–18: A Conceptual Approach. Maidenhead: OUP.

Lambert, D., Solem, M., & Tani, S. (2015). Achieving Human Potential through Geography Education: A Capabilities Approach to Curriculum Making in Schools. Annals of the Association of American Geographers, 105(4), 723–735.

Nussbaum, M. (2000). Women and Human Development: The Capabilities Approach. Cambridge, UK: Cambridge University Press.

Powerful Geography Website. Retrieved January 2019, from powerfulgeography.org

Roberts, M. (2010). Where's the Geography? Reflections on Being an External Examiner. Teaching Geography, 35(3), 112–113.

Roberts, M. (2014). Powerful Knowledge and Geographical Education. The Curriculum Journal, 25(2), 187–209.

Sen, A. (1980). Equality of What? The Tanner Lecture on Human Values Delivered at Stanford University May 22, 1979. Retrieved November 2015, from http://tannerlectures.utah.edu/_documents/a-to-z/s/sen80.pdf

Soja, E. (1996). Thirdspace. Oxford: Blackwell.

Soja, E. (2000). Postmetropolis. Oxford: Blackwell.

Solem, M., Lambert, D., & Tani, S. (2013). Geocapabilities: Toward an International Framework for Researching the Purposes and Values of Geography Education. Review of International Geographical Education, 3 (3). Retrieved December 2013, from http://www.rigeo.org/vol3no3/RIGEO-V3-N3-1.pdf

Young, M. (2008). Bringing Knowledge Back In: From Social Constructivism to Social Realism in the Sociology of Education. Abingdon: Routledge.
About this chapter
Cite this chapter
Bustin, R. (2019). Developing GeoCapabilities: The Role of Research. In: Geography Education's Potential and the Capability Approach. Palgrave Macmillan, Cham. https://doi.org/10.1007/978-3-030-25642-5_5
DOI: https://doi.org/10.1007/978-3-030-25642-5_5

Published:

Publisher Name: Palgrave Macmillan, Cham

Print ISBN: 978-3-030-25641-8

Online ISBN: 978-3-030-25642-5

eBook Packages: EducationEducation (R0)