Abstract

Resuscitative endovascular balloon occlusion of the aorta (REBOA)-induced ischemia-reperfusion injury (IRI) represents a complex pathophysiologic process involving dysfunction of intracellular and extracellular components responsible for metabolic, thrombotic, and inflammatory signaling and cellular function. Mitigation strategies following repair and re-establishment of end-organ perfusion include surgical and pharmacologic considerations and adjuncts. Currently, there is a paucity of clinical data concerning the incidence and associated clinical ramifications of IRI following REBOA deployment. Given this limitation, this chapter aims to review IRI as a result of REBOA and discuss the current literature on REBOA-associated IRI mitigation strategies.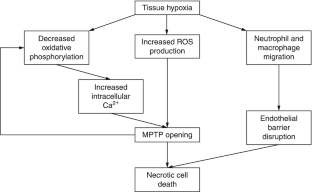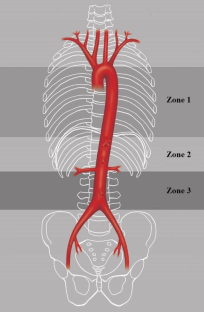 References
Morrison JJ. Noncompressible torso hemorrhage. Crit Care Clin. 2017;33(1):37–54.

Eastridge BJ, Mabry RL, Seguin P, Cantrell J, Tops T, Uribe P, Mallett O, Zubko T, Oetjen-Gerdes L, Rasmussen TE, Butler FK, Kotwal RS, Holcomb JB, Wade C, Champion H, Lawnick M, Moores L, Blackbourne LH. Death on the battlefield (2001-2011): implications for the future of combat casualty care. J Trauma Acute Care Surg. 2012;73(6 Suppl 5):S431–7.

DeBakey ME, Simeone FA. Battle injuries of the arteries in World War II. Ann Surg. 1946;123:534–79.

Hughes CW. The primary repair of wounds of major arteries; an analysis of experience in Korea in 1953. Ann Surg. 1955;141:297–303.

Hughes CW. Acute vascular trauma in Korean War casualties; an analysis of 180 cases. Surg Gynecol Obstet. 1954;99:91–100.

Rich NM, Hughes CW. Vietnam vascular registry: a preliminary report. Surgery. 1969;65:218–26.

Rich NM, Baugh JH, Hughes CW. Acute arterial injuries in Vietnam: 1,000 cases. J Trauma. 1970;10:359–69.

White JM, Stannard A, Burkhardt GE, Eastridge BJ, Blackbourne LH, Rasmussen TE. The epidemiology of vascular injury in the wars in Iraq and Afghanistan. Ann Surg. 2011;253(6):1184–9.

Patel JA, White JM, White PW, Rich NM, Rasmussen TE. A contemporary, 7-year analysis of vascular injury from the war in Afghanistan. J Vasc Surg. 2018;68(6):1872.

Halestrap AP. A pore way to die: the role of mitochondria in reperfusion injury and cardioprotection. Biochem Soc Trans. 2010;38(4):841–60.

Haworth RA, Hunter DR. The Ca2+-induced membrane transition in mitochondria. II. Nature of the Ca2+ trigger site. Arch Biochem Biophys. 1979;195(2):460–7.

Piper HM, Garcia-Dorado D, Ovize M. A fresh look at reperfusion injury. Cardiovasc Res. 1998;38:291–300.

Halestrap AP. Calcium, mitochondria and reperfusion injury: a pore way to die. Biochem Soc Trans. 2006;34(Pt 2):232–7.

Halestrap AP, Richardson AP. The mitochondrial permeability transition: a current perspective on its identity and role in ischaemia/reperfusion injury. J Mol Cell Cardiol. 2015;78:129–41.

Springer TA. Traffic signals for lymphocyte recirculation and leukocyte emigration: the multistep paradigm. Cell. 1994;76:301–14.

Tamura DY, Moore EE, Partrick DA, Johnson JL, Offner PJ, Silliman CC. Acute hypoxemia in humans enhances the neutrophil inflammatory response. Shock. 2002;17:269–73.

Gautam N, Olofsson AM, Herwald H, Iversen LF, Lundgren-Akerlund E, Hedqvist P, Arfors KE, Flodgaard H, Lindbom L. Heparin-binding protein (HBP/CAP37): a missing link in neutrophil-evoked alteration of vascular permeability. Nat Med. 2001;7:1123–7.

Collard CD, et al. Neutrophil-derived glutamate regulates vascular endothelial barrier function. J Biol Chem. 2002;277:14801–11.

Eltzschig HK, Collard CD. Vascular ischaemia and reperfusion injury. Br Med Bull. 2004;70:71–86.

Eltzschig HK, Thompson LF, Karhausen J, Cotta RJ, Ibla JC, Robson SC, Colgan SP. Endogenous adenosine produced during hypoxia attenuates neutrophil accumulation: coordination by extracellular nucleotide metabolism. Blood. 2004;104:3986–92.

Halestrap AP, et al. The role of the mitochondrial permeability transition pore in heart disease. Biochim Biophys Acta. 2009;1787(11):1402–15.

Ha T, et al. Toll-like receptors: new players in myocardial ischemia/reperfusion injury. Antioxid Redox Signal. 2011;15(7):1875–93.

Zhang M, et al. Natural antibody mediated innate autoimmune response. Mol Immunol. 2007;44(1-3):103–10.

Tang PS, Mura M, Seth R, Liu M. Acute lung injury and cell death: how many ways can cells die? Am J Physiol Lung Cell Mol Physiol. 2008;294(4):L632–41.

DuBose JJ, Scalea TM, Brenner M, Skiada D, Inaba K, Cannon J, Moore L, Holcomb J, Turay D, Arbabi CN, Kirkpatrick A, Xiao J, Skarupa D, Poulin N. AAST AORTA Study Group. The AAST prospective Aortic Occlusion for Resuscitation in Trauma and Acute Care Surgery (AORTA) registry: data on contemporary utilization and outcomes of aortic occlusion and resuscitative balloon occlusion of the aorta (REBOA). J Trauma Acute Care Surg. 2016;81(3):409–19.

Stannard A, Eliason JL, Rasmussen TE. Resuscitative endovascular balloon occlusion of the aorta (REBOA) as an adjunct for hemorrhagic shock. J Trauma. 2011;71(6):1869–72.

Marrocco-Trischitta MM, Melissano G, Kahlberg A, Vezzoli G, Calori G, Chiesa R. The impact of aortic clamping site on glomerular filtration rate after juxtarenal aneurysm repair. Ann Vasc Surg. 2009;23(6):770–7.

Reva VA, Matsumura Y, Hörer T, Sveklov DA, Denisov AV, Telickiy SY, Seleznev AB, Bozhedomova ER, Matsumoto J, Samokhvalov IM, Morrison JJ. Resuscitative endovascular balloon occlusion of the aorta: what is the optimum occlusion time in an ovine model of hemorrhagic shock? Eur J Trauma Emerg Surg. 2018;44:511.

Markov NP, Percival TJ, Morrison JJ, Ross JD, Scott DJ, Spencer JR, Rasmussen TE. Physiologic tolerance of descending thoracic aortic balloon occlusion in a swine model of hemorrhagic shock. Surgery. 2013;153(6):848–56.

Morrison JJ, Ross JD, Markov NP, Scott DJ, Spencer JR, Rasmussen TE. The inflammatory sequelae of aortic balloon occlusion in hemorrhagic shock. J Surg Res. 2014;191(2):423–31.

Avaro JP, Mardelle V, Roch A, Gil C, de Biasi C, Oliver M, Fusai T, Thomas P. Forty-minute endovascular aortic occlusion increases survival in an experimental model of uncontrolled hemorrhagic shock caused by abdominal trauma. J Trauma. 2011;71(3):720–5; discussion 725–6.

White JM, Cannon JW, Stannard A, Markov NP, Spencer JR, Rasmussen TE. Endovascular balloon occlusion of the aorta is superior to resuscitative thoracotomy with aortic clamping in a porcine model of hemorrhagic shock. Surgery. 2011;150(3):400–9.

Martinelli T, Thony F, Decléty P, Sengel C, Broux C, Tonetti J, Payen JF, Ferretti G. Intra-aortic balloon occlusion to salvage patients with life-threatening hemorrhagic shocks from pelvic fractures. J Trauma. 2010;68(4):942–8.

Russo RM, Williams TK, Grayson JK, Lamb CM, Cannon JW, Clement NF, Galante JM, Neff LP. Extending the golden hour: partial resuscitative endovascular balloon occlusion of the aorta in a highly lethal swine liver injury model. J Trauma Acute Care Surg. 2016;80(3):372–8; discussion 378–80.

Russo RM, Neff LP, Lamb CM, Cannon JW, Galante JM, Clement NF, Grayson JK, Williams TK. Partial resuscitative endovascular balloon occlusion of the aorta in swine model of hemorrhagic shock. J Am Coll Surg. 2016;223(2):359–68.

Johnson MA, Davidson AJ, Russo RM, Ferencz SE, Gotlib O, Rasmussen TE, Neff LP, Williams TK. Small changes, big effects: the hemodynamics of partial and complete aortic occlusion to inform next generation resuscitation techniques and technologies. J Trauma Acute Care Surg. 2017;82(6):1106–11.

Thomas DD, Ridnour LA, Isenberg JS, Flores-Santana W, Switzer CH, Donzelli S, Hussain P, Vecoli C, Paolocci N, Ambs S, Colton CA, Harris CC, Roberts DD, Wink DA. The chemical biology of nitric oxide: implications in cellular signaling. Free Radic Biol Med. 2008;45(1):18–31.

Widgerow AD. Ischemia-reperfusion injury: influencing the microcirculatory and cellular environment. Ann Plast Surg. 2014;72(2):253–60.

Rabkin SW, Klassen SS. Metalloporphyrins as a therapeutic drug class against peroxynitrite in cardiovascular diseases involving ischemic reperfusion injury. Eur J Pharmacol. 2008;586(1-3):1–8.

Li XL, Zou XM, Gao P, Li YL, Wang H, Chen XW. Role of nitric oxide in ischemia-reperfusion injury and acute rejection in rat intestinal transplantation. Transplant Proc. 2008;40(10):3342–5.

Ashwal S, Cole DJ, Osborne TN, Pearce WJ. Low dose L-NAME reduces infarct volume in the rat MCAO/reperfusion model. J Neurosurg Anesthesiol. 1993;5(4):241–9.

Sosnowski P, Krauss H, Bogdanski P, Suliburska J, Jablecka A, Cieslewicz A, Pupek-Musialik D, Jastak R. The influence of short-term L-arginine supplementation on rats' muscular and hepatic cells in ischemia-reperfusion syndrome. J Physiol Biochem. 2012;68(1):1–9.

Wu SY, Tang SE, Ko FC, Wu GC, Huang KL, Chu SJ. Valproic acid attenuates acute lung injury induced by ischemia-reperfusion in rats. Anesthesiology. 2015;122(6):1327–37.

Costalonga EC, Silva FM, Noronha IL. Valproic acid prevents renal dysfunction and inflammation in the ischemia-reperfusion injury model. Biomed Res Int. 2016;2016:5985903.

Zacharias N, Sailhamer EA, Li Y, Liu B, Butt MU, Shuja F, Velmahos GC, de Moya M, Alam HB. Histone deacetylase inhibitors prevent apoptosis following lethal hemorrhagic shock in rodent kidney cells. Resuscitation. 2011;82(1):105–9.

Li Y, Liu B, Sailhamer EA, Yuan Z, Shults C, Velmahos GC, deMoya M, Shuja F, Butt MU, Alam HB. Cell protective mechanism of valproic acid in lethal hemorrhagic shock. Surgery. 2008;144(2):217–24.

Causey MW, Miller S, Hoffer Z, Hempel J, Stallings JD, Jin G, Alam H, Martin M. Beneficial effects of histone deacetylase inhibition with severe hemorrhage and ischemia-reperfusion injury. J Surg Res. 2013;184(1):533–40.

Shults C, Sailhamer EA, Li Y, Liu B, Tabbara M, Butt MU, Shuja F, Demoya M, Velmahos G, Alam HB. Surviving blood loss without fluid resuscitation. J Trauma. 2008;64(3):629–38; discussion 638–40.

Nelson DW, Porta CR, McVay DP, Salgar SK, Martin MJ. Effects of histone deacetylase inhibition on 24-hour survival and end-organ injury in a porcine trauma model: a prospective, randomized trial. J Trauma Acute Care Surg. 2013;75(6):1031–9.

Ely SW, Berne RM. Protective effects of adenosine in myocardial ischemia. Circulation. 1992;85(3):893–904.

Forman MB, Velasco CE, Jackson EK. Adenosine attenuates reperfusion injury following regional myocardial ischaemia. Cardiovasc Res. 1993;27(1):9–17.

Mahaffey KW, Puma JA, Barbagelata NA, DiCarli MF, Leesar MA, Browne KF, Eisenberg PR, Bolli R, Casas AC, Molina-Viamonte V, Orlandi C, Blevins R, Gibbons RJ, Califf RM, Granger CB. Adenosine as an adjunct to thrombolytic therapy for acute myocardial infarction: results of a multicenter, randomized, placebo-controlled trial: the Acute Myocardial Infarction STudy of ADenosine (AMISTAD) trial. J Am Coll Cardiol. 1999;34(6):1711–20.

Ross AM, Gibbons RJ, Stone GW, Kloner RA, Alexander RW, AMISTAD-II Investigators. A randomized, double-blinded, placebo-controlled multicenter trial of adenosine as an adjunct to reperfusion in the treatment of acute myocardial infarction (AMISTAD-II). J Am Coll Cardiol. 2005;45(11):1775–80.

Maines MD, Mayer RD, Ewing JF, McCoubrey WK Jr. Induction of kidney heme oxygenase-1 (HSP32) mRNA and protein by ischemia/reperfusion: possible role of heme as both promotor of tissue damage and regulator of HSP32. J Pharmacol Exp Ther. 1993;264(1):457–62.

Ryter SW, Alam J, Choi AM. Heme oxygenase-1/carbon monoxide: from basic science to therapeutic applications. Physiol Rev. 2006;86(2):583–650.

Misra HP, Fridovich I. The generation of superoxide radical during the autoxidation of hemoglobin. J Biol Chem. 1972;247(21):6960–2.

Ward R, Souder N, Stahl D, Hunter F, Probe R, Chaput C, Childs E. The role of nitric oxide synthase and heme oxygenase in the protective effect of hypothermia in ischemia-reperfusion injury. J Bone Joint Surg Am. 2009;91(11):2637–45.

Laws PE, Spark JI, Cowled PA, Fitridge RA. The role of statins in vascular disease. Eur J Vasc Endovasc Surg. 2004;27(1):6–16.

Cowled PA, Khanna A, Laws PE, Field JB, Varelias A, Fitridge RA. Statins inhibit neutrophil infiltration in skeletal muscle reperfusion injury. J Surg Res. 2007;141(2):267–76.

Dillon JP, Laing AJ, Chandler JR, Wang JH, McGuinness A, Redmond HP. Pravastatin attenuates tourniquet-induced skeletal muscle ischemia reperfusion injury. Acta Orthop. 2006;77(1):27–32.

Black JH, Davison JK, Cambria RP. Regional hypothermia with epidural cooling for prevention of spinal cord ischemic complications after thoracoabdominal aortic surgery. Semin Thorac Cardiovasc Surg. 2003;15(4):345–52.

Cambria RP, Davison JK, Carter C, Brewster DC, Chang Y, Clark KA, Atamian S. Epidural cooling for spinal cord protection during thoracoabdominal aneurysm repair: a five-year experience. J Vasc Surg. 2000;31(6):1093–102.

Wright JG, Kerr JC, Valeri CR, Hobson RW. Regional hypothermia protects against ischemia-reperfusion injury in isolated canine gracilis muscle. J Trauma. 1988;28(7):1026–31.

Stahl D, Souder N, Probe R, Sampson W, Tharakan B, Ward R. The effects of hypothermia and L-arginine on skeletal muscle function in ischemia-reperfusion injury. J Orthop Trauma. 2012;26(10):579–84.

Polderman KH. Mechanisms of action, physiological effects, and complications of hypothermia. Crit Care Med. 2009;37(7 Suppl):S186–202.

Kharbanda RK. Cardiac conditioning: a review of evolving strategies to reduce ischaemia-reperfusion injury. Heart. 2010;96(15):1179–86.

Menting TP, Wever KE, Ozdemir-van Brunschot DM, Van der Vliet DJ, Rovers MM, Warle MC. Ischaemic preconditioning for the reduction of renal ischaemia reperfusion injury. Cochrane Database Syst Rev. 2017;3:CD010777.

Khan AR, Binabdulhak AA, Alastal Y, Khan S, Faricy-Beredo BM, Luni FK, Lee WM, Khuder S, Tinkel J. Cardioprotective role of ischemic postconditioning in acute myocardial infarction: a systematic review and meta-analysis. Am Heart J. 2014;168(4):512–521.e4.
Copyright information

© 2020 Springer Nature Switzerland AG
About this chapter
Cite this chapter
Patel, J.A., White, J.M. (2020). REBOA-Induced Ischemia-Reperfusion Injury. In: Hörer, T., DuBose, J., Rasmussen, T., White, J. (eds) Endovascular Resuscitation and Trauma Management . Hot Topics in Acute Care Surgery and Trauma. Springer, Cham. https://doi.org/10.1007/978-3-030-25341-7_9
DOI: https://doi.org/10.1007/978-3-030-25341-7_9

Published:

Publisher Name: Springer, Cham

Print ISBN: 978-3-030-25340-0

Online ISBN: 978-3-030-25341-7

eBook Packages: MedicineMedicine (R0)