Abstract

Donating money to online content creators is gaining popularity in the last few years, especially in Mainland China. Different from mandatory payment mode (e.g., pay subscription fee to access online content), despite some user-generated content (UGC) is free and openly available, audiences are allowed to voluntarily donate money to content creators after their consumption. As a relatively new phenomenon, little is known about audiences' donation behavior. Drawing on value-based adoption model (VAM), this study unearths perceived value as a key factor that determines audiences' donation behavior. In addition, antecedents of perceived value are explored, including the benefits (hedonic benefit, utilitarian benefit, and social benefit) and sacrifice (perceived fee) of UGC consumption. A conceptual framework with following hypotheses is then proposed: (1) benefits of UGC consumption are positively related to perceived value, (2) sacrifice of UGC consumption is negatively related to perceived value, (3) perceived value of UGC positively influences audiences' intention to donate money to content creators. Data will be collected to test the framework and verify the hypotheses in the future. Donating for UGC is an emerging topic in new media era, and this study represents the first step toward explaining voluntary donation behavior in UGC consumption.
Keywords
Voluntary donation to content creators

Value-based adoption model

Hedonic benefit

Utilitarian benefit

Social benefit

Perceived fee

Perceived value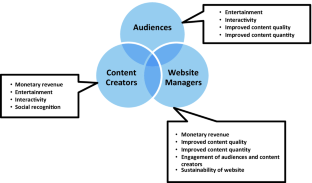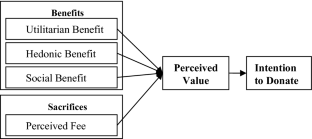 References
Agarwal, R., Karahanna, E.: Time flies when you're having fun: cognitive absorption and beliefs about information technology usage. MIS Q. 24, 665–694 (2000)

Arantes, M., Figueiredo, F., Almeida, J.M.: Understanding video-ad consumption on YouTube: a measurement study on user behavior, popularity, and content properties. Paper presented at the Proceedings of the 8th ACM Conference on Web Science (2016)

Beal, V.: What is User-Generated Content? Webopedia (2018). https://www.webopedia.com/TERM/U/UGC.html. Accessed 9 Feb 2018

Cabrera, A., Cabrera, E.F.: Knowledge-sharing dilemmas. Organ. Stud. 23(5), 687–710 (2002)

Chu, C.-W., Lu, H.-P.: Factors influencing online music purchase intention in Taiwan: an empirical study based on the value-intention framework. Internet Res. 17(2), 139–155 (2007)

Daugherty, T., Eastin, M.S., Bright, L.: Exploring consumer motivations for creating user-generated content. J. Interact. Advert. 8(2), 16–25 (2008)

Davis, F.D., Bagozzi, R.P., Warshaw, P.R.: User acceptance of computer technology: a comparison of two theoretical models. Manag. Sci. 35(8), 982–1003 (1989)

Day, G.S.: Managing market relationships. J. Acad. Mark. Sci. 28(1), 24–30 (2000)

Holbrook, M.B.: Consumer Value: A Framework for Analysis and Research. Psychology Press, London (1999)

Hsiao, K.-L., Chen, C.-C.: Value-based adoption of e-book subscription services: the roles of environmental concerns and reading habits. Telematics Inform. 34(5), 434–448 (2017)

Keller, K.L.: Conceptualizing, measuring, and managing customer-based brand equity. J. Mark. 57(1), 1–22 (1993)

Kim, H.-W., Chan, H.C., Gupta, S.: Value-based adoption of mobile internet: an empirical investigation. Decis. Support Syst. 43(1), 111–126 (2007)

Kim, H.-W., Gupta, S., Koh, J.: Investigating the intention to purchase digital items in social networking communities: a customer value perspective. Inf. Manag. 48(6), 228–234 (2011)

Kollock, P.: The economies of online cooperation: gifts and public goods in cyberspace. In: Smith, M.A., Kollock, P. (eds.) Communities in Cyberspace. Routledge, London (1999)

Lee, M.R., Yen, D.C., Hsiao, C.Y.: Understanding the perceived community value of Facebook users. Comput. Hum. Behav. 35, 350–358 (2014)

Lu, Z., Xia, H., Heo, S., Wigdor, D.: You watch, you give, and you engage: a study of live streaming practices in China. Paper presented at the CHI, Montreal, QC, Canada (2018)

Nonnecke, B., Preece, J.: Shedding light on lurkers in online communities. In: Buckner, K. (ed.) Ethnographic Studies in Real and Virtual Environments: Inhabited Information Spaces and Connected Communities, Edinburgh, pp. 123–128 (1999)

Pulizzi, J.: The Only 10 Ways to Make Money From Content Marketing (2017). http://contentmarketinginstitute.com/2017/05/make-money-content-marketing/. Accessed 9 Feb 2018

Ringle, C.M., Wende, S., Becker, J.-M.: SmartPLS 3. Boenningstedt: SmartPLS GmbH (2015). http://www.smartpls.com

Schroeder, A.: 2017 Charity Update: Twitch community gives back at record pace! (2017). https://blog.twitch.tv/2017-charity-update-twitch-community-gives-back-at-record-pace-a687f86001bd. Accessed 9 Feb 2018

Sheth, J.N., Newman, B.I., Gross, B.L.: Consumption Values and Market Choices: Theory and Applications. Southwestem Publishing, Cincinnati (1991)

Su, L., Zhang, R., Li, Y., Li, W.: What drives trust in online paid knowledge? The role of customer value. Paper presented at the Proceedings of the 22nd Pacific Asia Conference on Information Systems, Japan (2018)

Sweeney, J.C., Soutar, G.N.: Consumer perceived value: the development of a multiple item scale. J. Retail. 77(2), 203–220 (2001)

Tedjamulia, S.J.J., Dean, D.L., Olsen, D.R., Albrecht, C.C.: Motivating content contributions to online communities: Toward a more comprehensive theory. Paper presented at the Proceedings of the 38th Annual Hawaii International Conference on System Sciences, Hawaii (2005)

Voss, G.B., Parasuraman, A., Grewal, D.: The roles of price, performance, and expectations in determining satisfaction in service exchanges. J. Mark. 62(4), 46–61 (1998)

Wan, J., Lu, Y., Wang, B., Zhao, L.: How attachment influences users' willingness to donate to content creators in social media: a socio-technical systems perspective. Inf. Manag. 54(7), 837–850 (2017)

Wang, Y.-S., Yeh, C.-H., Liao, Y.-W.: What drives purchase intention in the context of online content services? The moderating role of ethical self-efficacy for online piracy. Int. J. Inf. Manag. 33(1), 199–208 (2013)

Wei, P.-S., Lu, H.-P.: Why do people play mobile social games? An examination of network externalities and of uses and gratifications. Internet Res. 24(3), 313–331 (2014)

Xu, J., Benbasat, I., Cenfetelli, R.T.: Integrating service quality with system and information quality: an empirical test in the e-service context. MIS Q. 37, 777–794 (2013)

Zeithaml, V.A.: Consumer perceptions of price, quality, and value: a means-end model and synthesis of evidence. J. Mark. 52(3), 2–22 (1988)
Acknowledgement

This study was supported by the Fundamental Research Funds for the Central Universities: No. NR2018002 awarded to the author.
Copyright information

© 2019 Springer Nature Switzerland AG
About this paper
Cite this paper
Liu, L. (2019). Motivating User-Generated Content Contribution with Voluntary Donation to Content Creators. In: Nah, FH., Siau, K. (eds) HCI in Business, Government and Organizations. Information Systems and Analytics. HCII 2019. Lecture Notes in Computer Science(), vol 11589. Springer, Cham. https://doi.org/10.1007/978-3-030-22338-0_18
DOI: https://doi.org/10.1007/978-3-030-22338-0_18

Published:

Publisher Name: Springer, Cham

Print ISBN: 978-3-030-22337-3

Online ISBN: 978-3-030-22338-0

eBook Packages: Computer ScienceComputer Science (R0)