Abstract

Detailed measurements and dispersion modeling were conducted to develop more accurate integrated metrics to assess exposure to potentially high pollutant levels of primary traffic emissions. A 13-week intensive sampling campaign was conducted at six monitoring sites surrounding one of the busiest highway segment in the US with the study area focusing on the Georgia Institute of Technology campus to capture the heterogeneity in pollutant concentrations related to primary traffic emissions. A dispersion model (RLINE) was used to develop spatial concentration fields at a fine-spatial resolution over the area of primary exposures. Initial RLINE results were highly biased, due either to errors in the emissions or the model. Analysis suggests that both may be important, depending upon species, though the largest errors were due to how the model represents near-source dispersion, especially when the wind aligns with the road segments. To correct for high near-road bias, the RLINE results were calibrated using measurement observations after the urban background was removed. Performing the calibration hourly also reduced the bias observed in the diurnal profile. Both the measurement observations and dispersion modeling results show that the highway has a substantial impact on primary traffic pollutant (particularly elemental carbon and carbon monoxide) concentrations and captures the prominent spatial gradients across the campus domain, though the gradients were highly species dependent. These improved concentration fields were used to enhance the characterization of pollutant spatial distribution around a traffic hotspot and to quantify personal exposure to primary traffic emissions.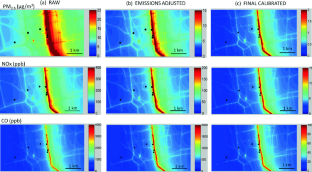 References
GA DOT, Traffic data (2012), www.dot.ga.gov/

HEI, Traffic-related air pollution: a critical review of the literature on emissions, exposure, and health effects. Special Report 17 (Boston, MA, 2010)

M.G. Snyder, A. Venkatram, D.K. Heist, S.G. Perry, W.B. Petersen, V. Isakov, RLINE: a line source dispersion model for near-surface releases. Atmos. Environ. 77, 748–756 (2013)

US EPA, Motor vehicle emissions simulator (MOVES) (2014), www.epa.gov/otaq/models/moves/
Acknowledgements

Research described in this article was conducted under contract to the Health Effects Institute (HEI), an organization jointly funded by the United States Environmental Protection Agency (EPA) (Assistance Award No. R-82811201) and certain motor vehicle and engine manufacturers. The contents of this article do not necessarily reflect the views of HEI, or its sponsors, nor do they necessarily reflect the views and policies of the EPA or motor vehicle and engine manufacturers. Atmospheric Research & Analysis, Inc. and the Georgia Department of Natural Resources provided additional measurement data.
Copyright information

© 2020 Springer Nature Switzerland AG
About this paper
Cite this paper
Moutinho, J.L., Liang, D., Sarnat, J., Russell, A.G. (2020). Assessment of Fine-Scale Dispersion Modelling for Near-Road Exposure Applications. In: Mensink, C., Gong, W., Hakami, A. (eds) Air Pollution Modeling and its Application XXVI. ITM 2018. Springer Proceedings in Complexity. Springer, Cham. https://doi.org/10.1007/978-3-030-22055-6_55
DOI: https://doi.org/10.1007/978-3-030-22055-6_55

Published:

Publisher Name: Springer, Cham

Print ISBN: 978-3-030-22054-9

Online ISBN: 978-3-030-22055-6