Abstract

The ridesharing economy is experiencing rapid growth and innovation. Companies such as Uber and Lyft are continuing to grow at a considerable pace while providing their platform as an organizing medium for ridesharing services, increasing consumer utility as well as employing thousands in part-time positions. However, many challenges remain in the modeling of ridesharing services, many of which are not currently under wide consideration. In this paper, an agent-based model is developed to simulate a ridesharing service in the Washington, D.C. metropolitan region. The model is used to examine levels of utility gained for both riders (customers) and drivers (service providers) of a generic ridesharing service. A description of the Individual Agent Metro-Washington Area Ridesharing Model (IAMWARM) is provided, as well as a description of a typical simulation run. We investigate the financial gains of drivers for a 24 hour period under two scenarios and two spatial movement behaviors. The two spatial behaviors were random movement and Voronoi movement, which we describe. Both movement behaviors were tested under a stationary run conditions scenario and a variable run conditions scenario. We find that Voronoi movement increased drivers' utility gained but that emergence of this system property was only viable under variable scenario conditions. This result provides two important insights: The first is that driver movement decisions prior to passenger pickup can impact financial gain for the service and drivers, and consequently, rate of successful pickup for riders. The second is that this phenomenon is only evident under experimentation conditions where variability in passenger and driver arrival rates are administered.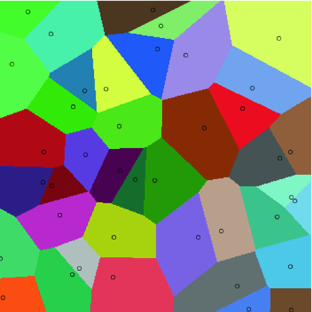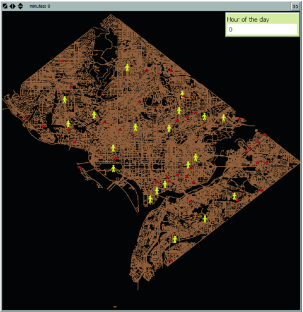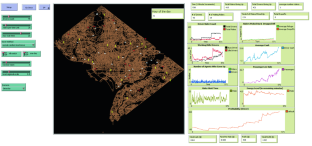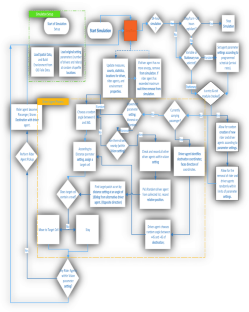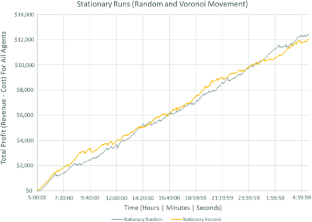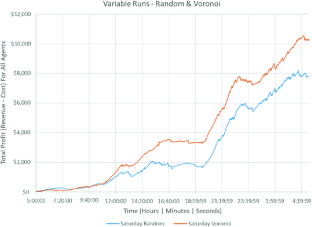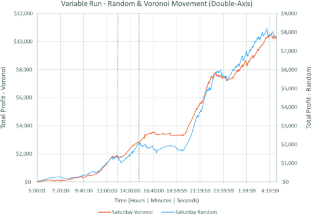 Notes
1.

The author of this paper registered with one ridesharing service in order to gain insight into the natural behaviors of drivers and riders of the service. A total of 30 trips were carried out.

2.

We will later explain our terminology in detail, but for now we define a driver as an agent who is picking up a rider from one location on our model's spatial grid to another. Once a rider is "picked up" we will refer to him as a passenger. In our model a passenger is no longer an agent but is a data point in the driver agent's attributes list.

3.

4.

5.

We assigned these cash variables based on a rough estimate of distance travelled versus fare/ride gained from observations and experiences with a ridesharing service.
References
Anderson, D.N.: Not just a taxi: for-profit ridesharing, driver strategies, and VMT. Transportation 41(5), 1099–1117 (2014). https://doi.org/10.1007/s11116-014-9531-8

Bash, E.: Dynamic ridesharing: an exploration of the potential for reduction in vehicle miles traveled. Ph.D. Proposal (2015)

Cho, S., Yasar, A.U.H., Knapen, L., Bellemans, T., Janssens, D., Wets, G.: A conceptual design of an agent-based interaction model for the carpooling application. Procedia Comput. Sci. 10, 801–807 (2012). https://doi.org/10.1016/j.procs.2012.06.013

Cho, S., Yasar, A.-U.-H., Knapen, L., Patil, B., Bellemans, T., Janssens, D., Wets, G.: Social networks in agent-based models for carpooling. In: Transportation Research Board 92nd Annual Meeting, pp. 13–2055 (2013)

Furuhata, M., Dessouky, M., F., Brunet, M. E., Wang, X., Koenig, S.: Ridesharing: the state-of-the-art and future directions. Transp. Res. Part B: Methodol. 57, 28–46 (2013). https://doi.org/10.1016/j.trb.2013.08.012

Hussain, I., Knapen, L., Galland, S., Yasar, A.-U.-H., Bellemans, T., Janssens, D., Wets, G.: Agent-based simulation model for long-term carpooling: effect of activity planning constraints. Procedia Comput. Sci. 52(Ant), 412–419 (2015). https://doi.org/10.1016/j.procs.2015.05.006

Knapen, L., Keren, D., Yasar, A.U.H., Cho, S., Bellemans, T., Janssens, D., Wets, G.: Analysis of the co-routing problem in agent-based carpooling simulation. Procedia Comput. Sci. 10(270833), 821–826 (2012). https://doi.org/10.1016/j.procs.2012.06.106

Knapen, L., Keren, D., Yasar, A.-U.-H., Cho, S., Bellemans, T., Janssens, D., Wets, G.: Estimating scalability issues while finding an optimal assignment for carpooling. Procedia Comput. Sci. 19(Ant), 372–379 (2013). https://doi.org/10.1016/j.procs.2013.06.051

Martin, C.J.: The sharing economy: a pathway to sustainability or a nightmarish form of neoliberal capitalism? Ecol. Econ. 121, 149–159 (2016). https://doi.org/10.1016/j.ecolecon.2015.11.027

Nielsen, J.R., Hovmøller, H., Blyth, P.L., Sovacool, B.K.: Of "white crows" and "cash savers:" a qualitative study of travel behavior and perceptions of ridesharing in Denmark. Transp. Res. Part A: Policy Pract. 78, 113–123 (2015). https://doi.org/10.1016/j.tra.2015.04.033

Nourinejad, M., Roorda, M.J.: Agent-based model for dynamic ridesharing. Transp. Res. Part C: Emerg. Technol. 1, 117–132 (2015). https://doi.org/10.1016/j.trc.2015.07.016

Pelzer, D., Xiao, J., Zehe, D., Lees, M.H., Knoll, A.C., Aydt, H.: A partition-based match making algorithm for dynamic ridesharing. IEEE Trans. Intell. Transp. Syst. 16(5), 2587–2598 (2015). https://doi.org/10.1109/TITS.2015.2413453

Rayle, L., Shaheen, S., Chan, N., Dai, D., Cervero, R.: App-based, on-demand ride services: comparing taxi and ridesourcing trips and user characteristics in San Francisco. Univ. Calif. Transp. Cent. 94720(August), 1–20 (2014). https://doi.org/10.1007/s13398-014-0173-7.2

Rayle, L., Dai, D., Chan, N., Cervero, R., Shaheen, S.: Just a better taxi? a survey-based comparison of taxis, transit, and ridesourcing services in San Francisco. Transp. Policy 45, 168–178 (2016). https://doi.org/10.1016/j.tranpol.2015.10.004

Shaheen, S. A.: Shared mobility innovations and the sharing economy. Transp. Policy, 1–2 (2016). https://doi.org/10.1016/j.tranpol.2016.01.008

Shaheen, S. A., Chan, N. D., Gaynor, T.: Casual carpooling in the San Francisco Bay Area: understanding user characteristics, behaviors, and motivations. Transp. Policy, 1–9 (2016). https://doi.org/10.1016/j.tranpol.2016.01.003

Tran, Q. T., Tainar, D., Safar, M.: Transactions on Large-Scale Data- and Knowledge-Centered Systems. p. 357 (2009). ISBN 9783642037214

Voronoi, G.: Nouvelles applications des paramètres continus à la théorie des formes quadratiques. Premier mémoire. Sur quelques propriétés des formes quadratiques positives parfaites. Journal Für Die Reine Und Angewandte Mathematik (Crelle's Journal), 1908 133 (1908). https://doi.org/10.1515/crll.1908.133.97

Wilensky, U.: NetLogo. Center for Connected Learning and Computer-Based Modeling, Northwestern University, Evanston, IL (1999). http://ccl.northwestern.edu/netlogo/

Zargayouna, M., Zeddini, B., Scemama, G., Othman, A.: Agent-based simulator for travelers multimodal mobility. Front. Artif. Intell. Appl. 252, 81–90 (2013). https://doi.org/10.3233/978-1-61499-254-7-81

Zolnik, E.J.: The effect of gasoline prices on ridesharing. J. Transp. Geogr. 47, 47–58 (2015). https://doi.org/10.1016/j.jtrangeo.2015.07.009
Copyright information

© 2019 Springer Nature Switzerland AG
About this chapter
Cite this chapter
Shaheen, J.A.E. (2019). Simulating the Ridesharing Economy: The Individual Agent Metro-Washington Area Ridesharing Model (IAMWARM). In: Carmichael, T., Collins, A., Hadžikadić, M. (eds) Complex Adaptive Systems. Understanding Complex Systems. Springer, Cham. https://doi.org/10.1007/978-3-030-20309-2_7
DOI: https://doi.org/10.1007/978-3-030-20309-2_7

Published:

Publisher Name: Springer, Cham

Print ISBN: 978-3-030-20307-8

Online ISBN: 978-3-030-20309-2

eBook Packages: EngineeringEngineering (R0)