Abstract

Neurotoxins, or botulinum neurotoxins type A (BoNT/A), are commonly known as Botox®, Dysport®, and Xeomin® for cosmetic use and are the most commonly performed non-surgical aesthetic procedure in the world. A new FDA approved BoNT/A called Jeuveau™ (prabotulinumtoxin-xvfs) was released to the US market mid-June 2019. BoNT/A treatment in the facial muscles causes relaxation of the muscle fibers by cleaving SNAP-25 and subsequently reducing the formation of SNARE complexes and acetylcholine release from the peripheral nerve cells into the neuromuscular junction. This results in relaxation of the targeted muscle or muscle group and leads to smoother overlying skin because the muscle is no longer able to fully contract and cause a line. The smoothing result of the neurotoxin is temporary and lasts approximately 3–4 months, although the medication package inserts state up to 6 months. This chapter will review the pharmacology of the most commonly used neurotoxins for cosmetic use.
Keywords
Neurotoxin

Botox®

Neurotoxin pharmacology

Dysport®
Xeomin®
Botox cosmetic®

Jeuveau™

Muscle memory

Neurotoxin effects

BoNT/A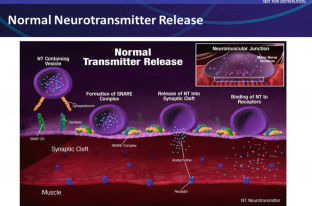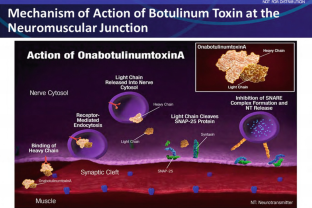 References
Allergan. Botox® cosmetic prescribing information [package insert]. Irvine: Allergan; 2017.

American Society of Plastic Surgeons (ASPS). 2017 top five cosmetic plastic surgery procedures. 2017. https://www.plasticsurgery.org/documents/News/Statistics/2017/cosmetic-procedure-trends-2017.pdf. Available from: https://www.plasticsurgery.org/.

Aoki KR, Guyer B. Botulinum toxin type A and other botulinum toxin serotypes: a comparative review of biochemical and pharmacological actions. Eur J Neurol. 2001;8(Suppl 5):21–9.

OnabotulinumtoxinA (Botox): drug information Lexicomp [internet]. 2018. Available from: https://www.uptodate.com/contents/onabotulinumtoxina-botox-drug-information?search=botulinum%20toxin%20type%20a&source=search_result&selectedTitle=1~124&usage_type=default&display_rank=1#F6038541.

Brooks V. The history of neuroscience in autobiography. Cambridge: Academic; 2001. 115 p.

Burgen A, Dickens F, Zatman L. The action of botulinum toxin on the neuro-muscular junction. J Physiol. 1949;109(1–2):10–24.

Carli L, Montecucco C, Rossetto O. Assay of diffusion of different botulinum neurotoxin type a formulations injected in the mouse leg. Muscle Nerve. 2009;40(3):374–80.

Carruthers A, Carruthers J. In: Dover JS, editor. Procedures in cosmetic dermatology: botulinum toxin. Philadelphia: Elsevier Saunders; 2005a. 141 p.

Carruthers A, Carruthers J. Prospective, double-blind, randomized, parallel-group, dose-ranging study of botulinum toxin type A in men with glabellar rhytids. Dermatol Surg. 2005b;31(10):1297–303.

Evolus. Juveau (r) highlights of prescribing information [package insert]. Evolus 2019. Available from: https://info.evolus.com/hubfs/Jeuveau_USPI.pdf.

Fonfria E, Maignel J, Lezmi S, Martin V, Splevins A, Shubber S, et al. The expanding therapeutic utility of botulinum neurotoxins. Toxins (Basel). 2018;10(5):208.

Frevert J. Pharmaceutical, biological, and clinical properties of botulinum neurotoxin type A products. Drugs R D. 2015;15(1):1–9.

International Society of Aesthetic Plastic Surgeons (ISAPS). ISAPS international study on aesthetic/cosmetic procedures performed in 2016: world wide. New York: ISAPS; 2016. Available from: https://www.isaps.org/wpcontent/uploads/2017/10/GlobalStatistics2016-1.pdf.

Ipsen Biopharmaceuticals Inc. Dysport® full prescribing information. Basking Ridge: IB Inc; 2017.

Kassir R, Kolluru A, Kassir M. Triple-blind, prospective, internally controlled comparative study between abobotulinumtoxinA and onabotulinumtoxinA for the treatment of facial Rhytids. Dermatol Ther (Heidelb). 2013;3(2):179–89.

Magid M, Keeling BH, Reichenberg JS. Neurotoxins: expanding uses of neuromodulators in medicine--major depressive disorder. Plast Reconstr Surg. 2015;136(5 Suppl):111S–9S.

Merz Pharmaceuticals LLC. Xeomin® full prescribing information. Greensboro: MP LLC; 2018.

Mohindru A, Bulloch S, Kronfeld N, et al. Analysis of clinical and non-clinical, peer reviewed, published studies investigating the use of commercially available botulinum toxins: an online literature review. Poster presented at: second international congress on treatment of dystonia (ICTD), Hannover, Germany; 2013.

Naumann M, Boo LM, Ackerman AH, Gallagher CJ. Immunogenicity of botulinum toxins. J Neural Transm (Vienna). 2013;120(2):275–90.

Pellett S, Tepp WH, Whitemarsh R, Bradshaw M, Johnson EA, Johnson BA. In vivo onset and duration of action varies for Botulinum neurotoxin A subtypes 1–5. Toxicon. 2015;107:37–42.

Pirazzini M, Rossetto O, Eleopra R, Montecucco C. Botulinum neurotoxins: biology, pharmacology, and toxicology. Pharmacol Rev. 2017;69(2):200–35.

Rizo J, Sudhof TC. The membrane fusion enigma: SNAREs, Sec1/Munc18 proteins, and their accomplices--guilty as charged? Annu Rev Cell Dev Biol. 2012;28:279–308.

Rzany B, Bechara FG, Feise K, Heckmann M, Rapprich S, Worle B. Update of the S1 guidelines on the definition and treatment of primary hyperhidrosis. J Dtsch Dermatol Ges. 2018;16(7):945–52.

Simpson L. The life history of a botulinum toxin molecule. Toxicon. 2013;68:40–59.

Sundaram H, et al. Global aesthetics consensus: botulinum toxin type A—evidence-based review, emerging concepts, and consensus recommendations for aesthetic use, including updates on complications. Plast Reconstr Surg. 2016;137(3):518–29.
Copyright information

© 2020 Springer Nature Switzerland AG
About this chapter
Cite this chapter
Haney, B. (2020). Pharmacology of Neurotoxins: Onabotulinum Toxin (Botox®), Abobotulinum Toxin (Dysport®), Incobotulinum Toxin (Xeomin®), and Prabotulinumtoxin-xvfs (Jeuveau™). In: Aesthetic Procedures: Nurse Practitioner's Guide to Cosmetic Dermatology. Springer, Cham. https://doi.org/10.1007/978-3-030-19948-7_10
DOI: https://doi.org/10.1007/978-3-030-19948-7_10

Published:

Publisher Name: Springer, Cham

Print ISBN: 978-3-030-19947-0

Online ISBN: 978-3-030-19948-7

eBook Packages: MedicineMedicine (R0)