Abstract
An effective approach to handling the theory of floating-point is to reduce it to the theory of bit-vectors. Implementing the required encodings is complex, error prone and requires a deep understanding of floating-point hardware. This paper presents SymFPU, a library of encodings that can be included in solvers. It also includes a verification argument for its correctness, and experimental results showing that its use in CVC4 out-performs all previous tools. As well as a significantly improved performance and correctness, it is hoped this will give a simple route to add support for the theory of floating-point.
Keywords
IEEE-754 
Floating-point 
Satisfiability modulo theories 
SMT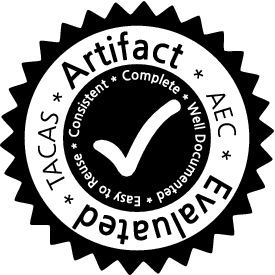 Copyright information
© The Author(s) 2019
Open Access This chapter is licensed under the terms of the Creative Commons Attribution 4.0 International License (http://creativecommons.org/licenses/by/4.0/), which permits use, sharing, adaptation, distribution and reproduction in any medium or format, as long as you give appropriate credit to the original author(s) and the source, provide a link to the Creative Commons license and indicate if changes were made.
The images or other third party material in this chapter are included in the chapter's Creative Commons license, unless indicated otherwise in a credit line to the material. If material is not included in the chapter's Creative Commons license and your intended use is not permitted by statutory regulation or exceeds the permitted use, you will need to obtain permission directly from the copyright holder.