Abstract
A perennial herb, native to Europe, Asia, India (temperate regions), and Persia, but with pantropic distribution. Dioscorides described two varieties of Plantago, the greater and the lesser, and stated that the first is the best and most generally used. The plants were known to the Romans as Plantago and were considered to be very effective in arresting the fluxes known by the Greeks as "rheumatismi" or "griping pains in the bowels." Galen described leaves and roots as astringent and febrifuge, and beneficial for intestinal inflammation, intestinal ulcers, piles and as a styptic. In Unani medicine, green leaves and seeds are considered astringent, styptic and analgesic, and used to treat nosebleed , bloody piles, excessive menstrual bleeding, and hemoptysis. Seeds are demulcent and their cold infusion is used in urinary disorders, dysentery and in arresting fluxes and griping pain in the bowels. In Iranian traditional medicine, it has been used for the treatment of IBD. Biologically active constituents include alkaloids, flavonoids, iridoid glycosides, terpenoids, polysaccharides, lipids, caffeic acid derivatives, and some organic acids. Seeds contain fixed oil, planterolic acid, plantasan, proteins, succinic acid, adenine, choline, catalpol, and fatty acids (palmitic acid, stearic acid, arachidic acid, linolenic acid and lenoleic acid). Hydroalcohol leaf extract to citric acid-induced asthmatic rats for four-weeks restored lung histopathology to near normal. Methanol extracts of leaves and seeds produced significant analgesic effect against various noxious stimuli in mice. Methanol seed extract also exhibited significant anti-inflammatory activity against carrageenan-induced edema and hepatoprotective activity against CCl4-hepatotoxicity in rats. A rapid favorable effect of P. major treatment on subjective complaints and objective findings was reported in Bulgarian patients with chronic bronchitis, with or without spastic character and with light or moderately severe deviations in ventilation indices.
Keywords
Antén

Asvagola

Bartang

Breitwegerich

Cheqiancao

Lahuriya

Lisaanul hamal

Petacciola

Ripple seed

Sinirotu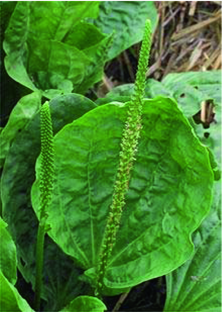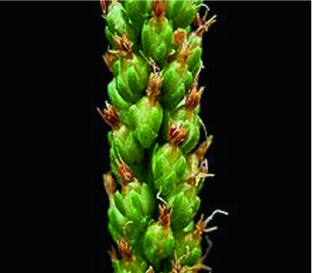 References
Atta AH, Abo EL-Sooud K. The antinociceptive effect of some Egyptian medicinal plant extracts. J Ethnopharmacol. 2004;95:235–8.

Atta AH, Mouneir SM. Evaluation of some medicinal plant extracts for antidiarrhoeal activity. Phytother Res. 2005;19:481–5.

Aziz SA, See TL, Khuay LY, et al. In vitro effects of Plantago major extract on urolithiasis. Malays J Med Sci. 2005;12:22–6.

Beara IN, Lesjak MM, Jovin ED, et al. Plantain (Plantago L.) species as novel sources of flavonoid antioxidants. J Agric Food Chem. 2009;57:9268–73.

Bol'shakova IV, Lozovskaia EL, Sapezhinskiĭ II. Antioxidant properties of plant extracts. Biofizika. 1998;43:186–8 (Russian).

Chiang LC, Chiang W, Chang MY, et al. Antiviral activity of Plantago major extracts and related compounds in vitro. Antiviral Res. 2002;55:53–62.

Chiang LC, Chiang W, Chang MY, Lin CC. In vitro cytotoxic, antiviral and immunomodulatory effects of Plantago major and Plantago asiatica. Am J Chin Med. 2003;31:225–34.

Chiang LC, Ng LT, Chiang W, et al. Immunomodulatory activities of flavonoids, monoterpenoids, triterpenoids, iridoid glycosides and phenolic compounds of Plantago species. Planta Med. 2003;69:600–4.

Doan DD, Nguyen NH, Doan HK, et al. Studies on the individual and combined diuretic effects of four Vietnamese traditional herbal remedies (Zea mays, Imperata cylindrica, Plantago major and Orthosiphon stamineus). J Ethnopharmacol. 1992;36:225–31.

Erdem T, Caferoğlu Sakat S, Ismail Engin R, et al. Acute irritant contact dermatitis caused by Plantago major. Contact Dermatitis. 2009;60:237–9.

Farokhi F, Khaneshi F. Histophatologic changes of lung in asthmatic male rats treated with hydroalcoholic extract of Plantago major and theophylline. Avicenna J Phytomed. 2013;3:143–51.

França F, Lago EL, Marsden PD. Plants used in the treatment of leishmanial ulcers due to Leishmania (Viannia) braziliensis in an endemic area of Bahia. Brazil. Rev Soc Bras Med Trop. 1996;29:229–32.

Gálvez M, Martín-Cordero C, López-Lázaro M, et al. Cytotoxic effect of Plantago spp. on cancer cell lines. J Ethnopharmacol. 2003;88:125–30.

García González M, Coto Morales T, Soto Rodríguez GA, Pazos L. Subchronic toxicity and test of eye irritability of leaf aqueous extract from Plantago major (plantaginaceae). Rev Biol Trop. 2003;51:635–8 (Spanish).

Gómez-Estrada H, Díaz-Castillo F, Franco-Ospina L, et al. Folk medicine in the northern coast of Colombia: an overview. J Ethnobiol Ethnomed. 2011;7:27.

Gomez-Flores R, Calderon CL, Scheibel LW, et al. Immunoenhancing properties of Plantago major leaf extract. Phytother Res. 2000;14:617–22.

Grigorescu E, Stanescu U, Basceanu V, Aur MM. Phytochemical and microbiological control of some plant species used in folk medicine. II. Plantago lanceolata L., Plantago media L., Plantago major L. Revista Medico-Chirurgicala a Societatii de Medici Si Naturalisti Din Iasi. 1973;77:835–41 (Rumanian).

Hetland G, Samuelsen AB, Løvik M, et al. Protective effect of Plantago major L. pectin polysaccharide against systemic Streptococcus pneumoniae infection in mice. Scand J Immunol. 2000;52:348–55.

Holetz FB, Pessini GL, Sanches NR, et al. Screening of some plants used in the Brazilian folk medicine for the treatment of infectious diseases. Mem Inst Oswaldo Cruz. 2002;97:1027–31.

Hriscu A, Stanescu U, Ionescu A, Verbuta A. A pharmacodynamic investigation of the effect of polyholozidic substances extracted from Plantago sp. on the digestive tract. Revista Medico-Chirurgicala a Societatii de Medici Si Naturalisti Din Iasi. 1990;94:165–70 (Rumanian).

Hussan F, Mansor AS, Hassan SN, et al. Anti-Inflammatory property of Plantago major leaf extract reduces the inflammatory reaction in experimental acetaminophen-induced liver injury. Evid Based Complement Alternat Med. 2015;2015:347861.

Ikawati Z, Wahyuono S, Maeyama K. Screening of several Indonesian medicinal plants for their inhibitory effect on histamine release from RBL-2H3 cells. J Ethnopharmacol. 2001;75:249–56.

Karpilovskaia ED, Gorban' GP, Pliss MB, Zakharenko LN, Gulich MP. Inhibiting effect of the polyphenolic complex from Plantago major (plantastine) on the carcinogenic effect of endogenously synthesized nitrosodimethylamine. Farmakol Toksikol. 1989;52:64–7 (Russian).

Lemordant D. Contribution a l'ethnobotanique Ethiopienne. J Agric Trop Bot Appl. 1971;18(1–3):1–35; 18(4–6):142–79.

Maksiutina NP. Polyphenol compounds of Plantago major L. leaves. Farmatsevtichnii Zhurnal. 1972;27:59–63 (Ukranian).

Matev M, Angelova I, Koichev A, Leseva M, Stefanov G. Clinical trial of a Plantago major preparation in the treatment of chronic bronchitis. Vutreshni Bolesti. 1982;21:133–7 (Bulgarian).

Mello JC, Guimarães NS, Gonzalez MV, et al. Hydroxyl scavenging activity accounts for differential antioxidant protection of Plantago major against oxidative toxicity in isolated rat liver mitochondria. J Pharm Pharmacol. 2012;64:1177–87.

Nhiem NX, Tai BH, Van Kiem P, et al. Inhibitory activity of Plantago major L. on angiotensin I-converting enzyme. Arch Pharm Res. 2011;34:419–23.

Oto G, Ekin S, Ozdemir H, et al. Plantago major protective effects on antioxidant status after administration of 7,12-dimethylbenz(a)anthracene in rats. Asian Pac J Cancer Prev. 2011;12:531–5.

Ozaslan M, Didem Karagöz I, Kalender ME, et al. In vivo antitumoral effect of Plantago major L. extract on Balb/C mouse with Ehrlich ascites tumor. Am J Chin Med. 2007;35:841–51.

Pailer M, Haschke-Hofmeister E. Contents from Plantago major. Planta Med. 1969;17:139–45 (German).

Parhizgar S, Hosseinian S, Hadjzadeh MA, et al. Renoprotective effect of Plantago major against nephrotoxicity and oxidative stress induced by cisplatin. Iran J Kidney Dis. 2016;10:182–8.

Ponce-Macotela M, Navarro-Alegría I, Martínez-Gordillo MN, Alvarez-Chacón R. In vitro effect against Giardia of 14 plant extracts. Rev Invest Clin. 1994;46:343–7 (Spanish).

Rahimi R, Shams-Ardekani MR, Abdollahi M. A review of the efficacy of traditional Iranian medicine for inflammatory bowel disease. World J Gastroenterol. 2010;16:4504–14.

Ringbom T, Segura L, Noreen Y, et al. Ursolic acid from Plantago major, a selective inhibitor of cyclooxygenase-2 catalyzed prostaglandin biosynthesis. J Nat Prod. 1998;61:1212–5.

Ruffa MJ, Ferraro G, Wagner ML, et al. Cytotoxic effect of argentine medicinal plant extracts on human hepatocellular carcinoma cell line. J Ethnopharmacol. 2002;79:335–9.

Samuelsen AB. The traditional uses, chemical constituents and biological activities of Plantago major L. A review. J Ethnopharmacol. 2000;71:1–21.

Sharma H, Yunus GY, Mohapatra AK, et al. Antimicrobial efficacy of three medicinal plants Glycyrrhiza glabra, Ficus religiosa, and Plantago major on inhibiting primary plaque colonizers and periodontal pathogens: an in vitro study. Indian J Dent Res. 2016;27:200–4.

Shipochliev T, Dimitrov A, Aleksandrova E. Anti-inflammatory action of a group of plant extracts. Vet Med Nauki. 1981;18:87–94 (Bulgarian).

Shipochliev T. Uterotonic action of extracts from a group of medicinal plants. Vet Med Naoki (Bulgaria). 1981;18:94–8.

Thomé RG, dos Santos HB, dos Santos FV, et al. Evaluation of healing wound and genotoxicity potentials from extracts hydroalcoholic of Plantago major and Siparuna guianensis. Exp Biol Med (Maywood). 2012;237:1379–86.

Türel I, Ozbek H, Erten R, et al. Hepatoprotective and anti-inflammatory activities of Plantago major L. Indian J Pharmacol. 2009;41:120–4.

Velasco-Lezama R, Tapia-Aguilar R, Román-Ramos R, et al. Effect of Plantago major on cell proliferation in vitro. J Ethnopharmacol. 2006;103:36–42.

Zubair M, Nybom H, Lindholm C, Brandner JM, Rumpunen K. Promotion of wound healing by Plantago major L. leaf extracts—ex-vivo experiments confirm experiences from traditional medicine. Nat Prod Res. 2016;30:622–4.
Copyright information
© 2020 Springer Nature Switzerland AG
About this chapter
Cite this chapter
Akbar, S. (2020). Plantago major L. (Plantaginaceae). In: Handbook of 200 Medicinal Plants. Springer, Cham. https://doi.org/10.1007/978-3-030-16807-0_150