Abstract

Customers' perceptions of value have improved enormously over the years, more so than for any of the other drivers of customer satisfaction. Given this fact, we focus on the feasibility—for both individual companies and the economy—of a continued focus on the value proposition as the primary driver of customer satisfaction. We discuss the pros and cons of continuing to drive aggregate customer satisfaction and economic growth via a price-based value proposition rather than quality and suggest that this may not be possible over the long term. While value is up at the national level, over both the past 10 and 25 years, not all industries have strong and improving value, and some are offering a significantly worse value proposition to customers.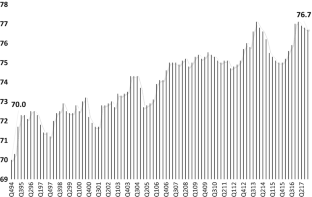 Notes
1.

While economists continue to debate the root cause of slower inflation, it is difficult to argue against the impact of new technologies, which are ultimately what allow Walmart (via its logistics) and Amazon to have the downward effect on prices that they do. The article by Brush, "6 reasons why inflation will stay low—and how to capitalize on it," provides a good and simple discussion of the new technology-low prices relationship.

2.

All pricing data referenced in this chapter focuses on the U.S. market and its economy and come from the Bureau of Labor Statistics (BLS). The phenomenon is global, however, and these insights are relevant to almost all developed, advanced economies.

3.
References and Further Reading
Anderson, E. W., & Fornell, C. (2000). Foundations of the American Customer Satisfaction Index. Total Quality Management, 11(7), 869–882.

Billige, M. Rethinking Price Wars: Disruptive Forces Are Reshaping How They Start, Get Fought, and Get Resolved. Retrieved from https://www.simon-kucher.com/en/blog/rethinking-price-wars-disruptive-forces-are-reshaping-how-they-start-get-fought-and-get-resolved

Brush, M. (2017, September 27). 6 Reasons Why Inflation Will Stay Low—And How to Capitalize on It. Marketwatch.com. Retrieved from https://www.marketwatch.com/story/6-reasons-why-inflation-will-stay-low-and-how-to-capitalize-on-it-2017-09-26

Fornell, C. (2007). The Satisfied Customer: Winners and Losers in the Battle for Buyer Preference. New York, NY: Palgrave Macmillan.

Fornell, C., Johnson, M. D., Anderson, E. W., Cha, J., & Bryant, B. E. (1996). The American Customer Satisfaction Index: Nature, Purpose and Findings. Journal of Marketing, 60(4), 7–18.

Heda, S., Mewborn, S., & Caine, S.. (2017, January 3). How Customers Perceive a Price Is as Important as the Price Itself. Harvard Business Review.

Hult, G. T. M., Morgeson, F. V., III, Morgan, N. A., Mithas, S., & Fornell, C. (2017). Do Managers Know What Their Customers Think and Why? Journal of the Academy of Marketing Science, 45(1), 37–54.

Morgeson, F. V., III, Sharma, P. N., Tomas, G., & Hult, M. (2015). Cross-National Differences in Consumer Satisfaction: Mobile Services in Emerging and Developed Markets. Journal of International Marketing, 23(2), 1–24.

Morrison, G. (2017, November 23). Are TVs Really Cheaper Than Ever? We Go Back a Few Decades to See. CNET.com. Retrieved from https://www.cnet.com/news/are-tvs-really-cheaper-than-ever-we-go-back-a-few-decades-to-see/
About this chapter
Cite this chapter
Fornell, C., Morgeson, F.V., Hult, G.T.M., VanAmburg, D. (2020). Perceived Value: Is It Really All About Price?. In: The Reign of the Customer. Palgrave Macmillan, Cham. https://doi.org/10.1007/978-3-030-13562-1_4