Abstract

How have customer perceptions of the quality of products and services developed over the years? Core to this discussion are two perspectives on what constitutes "quality"—reliability and customizability—and why the latter dominates the former as a predictor of customer satisfaction in today's economy. The chapter tackles the prospects for continuing gains in satisfaction in the absence of improved quality. Contrary to the perceptions of many businesspeople, quality trumps price and value as an influencing factor on customer satisfaction across almost all industries and sectors of the economy. Plus, the modern economy is a "mass customization" economy, and thus customer satisfaction is more sensitive to the "personalizability" of goods and services than to their reliability.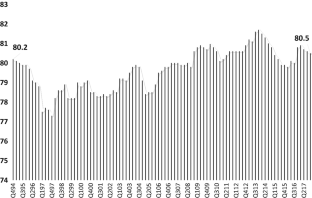 Notes
1.

In a poignant comment along these lines, Amazon CEO Jeff Bezos once said: "The right way to respond to this [increased consumer power] if you are a company is to put the vast majority of your energy, attention and dollars into building a great product or service and put a smaller amount into shouting about it, marketing it."

2.

For a brief review of how IoT promises to change the economy, see: "5 Areas Where The IoT is Having The Most Business Impact," Forbes.com, June 12, 2018.

3.

4.

As we observe below when discussing industry-level changes in quality over the past decade, there is some evidence for the "product vs. service quality" divide. Three of the four biggest drops in quality among industries over this period are observed for pure service providers, with the fourth being automobiles and light vehicles, where both product and service quality are measured. ACSI does not produce national-level product and service quality variables for analysis, however, as only a smaller percentage of industries (as defined by ACSI) include both distinct product and service quality components, making sample available for analysis an issue.

5.

For more on the SERVQUAL model, see: Parasuraman, A., V. A. Zeithaml and L. L. Berry (1988). "SERVQUAL: A Multi-Item Scale for Measuring Consumer Perceptions of Service Quality," Journal of Retailing, 64(1), 12–40.
References and Further Reading
5 Areas Where the IoT Is Having The Most Business Impact. (2018, June 12). Forbes.com. Retrieved from https://www.forbes.com/sites/insights-hitachi/2017/12/18/5-areas-where-the-iot-is-having-the-most-business-impact/#1a6691404396

Finch, B. J., & Luebbe, R. L. (1997). Using Internet Conversations to Improve Product Quality: An Exploratory Study. International Journal of Quality and Reliability Management, 14(8), 849–865.

Foremski, T. (2010, July 30). Jeff Bezos: Put Your Energy into Making Great Products and Not Marketing…. ZDNet.com. Retrieved from https://www.zdnet.com/article/jeff-bezos-put-your-energy-into-making-great-products-and-not-marketing/

Fornell, C. (2007). The Satisfied Customer: Winners and Losers in the Battle for Buyer Preference. New York, NY: Palgrave Macmillan.

Gilmore, J. H., & Pine, B. J. (1996). The Four Faces of Mass Customization. Harvard Business Review, 75(1), 91–101.

Hult, G. T. M., Morgeson, F. V., III, Morgan, N. A., Mithas, S., & Fornell, C. (2017). Do Managers Know What Their Customers Think and Why? Journal of the Academy of Marketing Science, 45(1), 37–54.

Johnson, M. D., & Ettlie, J. E. (2001). Technology, Customization, and Reliability. Journal of Quality Management, 6(2), 193–210.

LeBret, J. (2016, March 10). Your Customer Service is Missing One Critical Piece. Forbes.com. Retrieved from https://www.forbes.com/sites/jabezlebret/2016/03/10/your-customer-service-is-missing-one-critical-piece/#3801f97b3ee7

Parasuraman, A., Zeithaml, V. A., & Berry, L. L. (1988). SERVQUAL: A Multi-Item Scale for Measuring Consumer Perceptions of Service Quality. Journal of Retailing, 64(1), 12–40.

Thatcher, M. E., & Pingry, D. E. (2004). An Economic Model of Product Quality and IT Value. Information Systems Research, 15(3), 268–286.
About this chapter
Cite this chapter
Fornell, C., Morgeson, F.V., Hult, G.T.M., VanAmburg, D. (2020). Perceived Quality: Does Performance Matter?. In: The Reign of the Customer. Palgrave Macmillan, Cham. https://doi.org/10.1007/978-3-030-13562-1_3