Abstract

Through the tools of the representation this paper investigates a hypothetical virtual re-presentation of the metopes original polychromies. The reconstructive interpretative process was carried out through a critical reading of historical and iconographic sources. Starting from the reading of drawings made by Angell and Harris at the time of the archaeological finds, of Hittorff's studies and watercolors, and of some coloured fragments still observable in the original metopes, the graphic elaborations that simulate the original polychromes have been prepared.

The purpose of this study and of the analysis here described is the experimentation of an interactive visualisation application (augmented reality) designed for the "Antonino Salinas" Regional Archaeological Museum of Palermo. The study is part of the repertoire of virtual reconstructions, through the use of light, of lost colour configurations. The project aims to propose a new modality for the use of archaeological finds, thanks to an inedited teaching and immersive experience of the metopes and to the experimentation of a new visual environment that overlaps the real one leading to rethink the relationship between reality and its representation.
Keywords
Augmented reality

SfM survey

3D model

Video mapping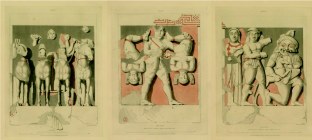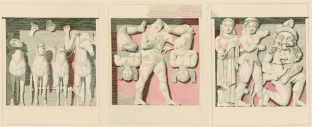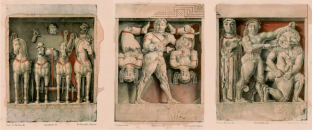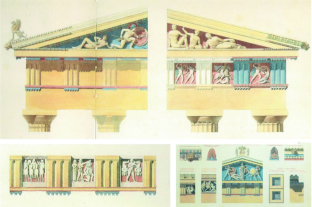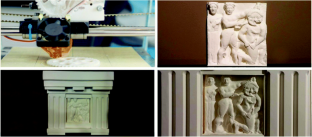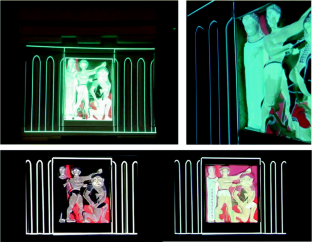 Notes
1.

2.

The quadriga occupied the central part of the frieze. It is a relief that testifies the expertise and the level of knowledge of the perspective of that time.

3.

4.

J.I. Hittorff trained at the Paris school of architecture and was a pupil of Léon Dufourny and Quatremère de Quincy.

5.

6.

7.

8.

9.

10.

11.

12.

13.

See Quatrèmere de Quincy (1815) Le Jupiter olympien, ou l'Art de la sculpture antique considéré sous un nouveau point de vue, ouvrage qui comprend un essai sur le goût de la sculpture polychrome, l'analyse explicative de la toreutique et l'histoire de la statuaire en or et en ivoire, chez les Grecs et les Romains. De Bure frères.

14.

Hittorff (1851), 13, 444.

15.

16.

17.

18.

19.

20.

21.

Effective experiments were conducted, among others, at the Rocca di Vignola, and in Rome at the Ara Pacis, at the Domus Aurea and at Santa Maria Antiqua.

22.

In the Anglo-Saxon world, video mapping is also often called spatial augmented reality.
References
Angell S, Evans T (1826) Sculptured metopes, discovered amongst the ruins of the temples of the ancient city of Selinus in Sicily by William Harris and Samuel Angell in the year 1823, described by Samuel Angell and Thomas Evans. Priestley and Weale

Bertuglia CS, Bertuglia F, Magnaghi A (1999) Il museo tra reale e virtuale. Editori Riuniti, Roma

Cometa M (ed) (1993) Jakob Ignaz Hittorff. Viaggio in Sicilia. Sicania

Biancorosso G (2016) L'immagine del Passato. Progetto di Video Mapping per le Metope del Tempio C di Selinunte. Graduation Thesis, Supervisor Vincenza Garofalo, University of Palermo

Hittorff JI (1827) Architecture antique de la Sicile, ou Recueil des plus intéressants monuments d'architecture des villes et des lieux les plus remarquables de la Sicile ancienne mesurés et dessinés par JI Hittorff, J Renouard

Hittorff JI (1851) Restitution du temple d'Empédocle à Sélinonte, ou L'architecture polychrome chez les Grecs/par J-J Hittorff Librairie de Firmin Didor Frères

Hittorff JI, Zanth KL (1870) Architecture antique de la Sicile, ou Recueil des monuments de Ségeste et de Sélinonte. E. Donnaud

Hittorff JI (1993) De l'Architecture Polychrome chez les Grecs, ou Restitution Complète du Temple d'Empédocle, dans l'Acropolis de Sélinunte. In: Cometa M (ed) Jakob Ignaz Hittorff. Viaggio in Sicilia, Sicania, pp 70–101

Kiene M, Lazzarini L, Marconi C (2016) "Sicile Ancienne": Hittorff and the architecture of classical Sicily. Universitäts- und Stadtbibliothek Köln

Marconi C (2007) Temple decoration and cultural identity in the archaic Greek world. The metopes of Selinus. Cambridge University Press, Cambridge

Serradifalco D (1834) Le antichità della Sicilia. Tipografia del giornale letterario
Acknowledgements

Survey and video mapping experiment presented in this essay are part of the graduation thesis L'immagine del Passato. Progetto di Video Mapping per le Metope del Tempio C di Selinunte, Supervisor Prof. Vincenza Garofalo, graduation student Giorgia Biancorosso, University of Palermo, Academic Year 2015–2016. (NB this specification is very important and for a mistake it was not introduced in the paper). The author wishes to thank Dr. Francesca Spatafora, Director of the Salinas Museum, for having given permission to survey the metopes.
Copyright information

© 2019 Springer Nature Switzerland AG
About this paper
Cite this paper
Garofalo, V. (2019). Digital Technologies for the Fruition of Archaeological Heritage. The Visualisation of the Temple C Metopes Polychrome in Selinunte. In: Luigini, A. (eds) Proceedings of the 1st International and Interdisciplinary Conference on Digital Environments for Education, Arts and Heritage. EARTH 2018. Advances in Intelligent Systems and Computing, vol 919. Springer, Cham. https://doi.org/10.1007/978-3-030-12240-9_69
DOI: https://doi.org/10.1007/978-3-030-12240-9_69

Published:

Publisher Name: Springer, Cham

Print ISBN: 978-3-030-12239-3

Online ISBN: 978-3-030-12240-9

eBook Packages: EngineeringEngineering (R0)