Abstract

A block graph is a graph in which every block is a complete graph. Let G be a block graph and let A(G) be its (0, 1)-adjacency matrix. Graph G is called nonsingular (singular) if A(G) is nonsingular (singular). Characterizing nonsingular block graphs is an interesting open problem proposed by Bapat and Roy in 2013. In this article, we give a linear time algorithm to check whether a given block graph is singular or not.
Keywords
Block

Block graph

Nonsingular graph

Nullity
AMS Subject Classifications
This work is supported by the Joint NSFC-ISF Research Program (jointly funded by the National Natural Science Foundation of China and the Israel Science Foundation (Nos. 11561141001, 2219/15).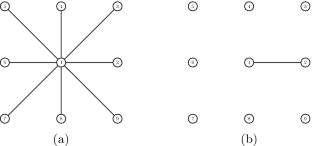 References
Aho, A.V., Hopcroft, J.E.: The Design and Analysis of Computer Algorithms. Pearson Education India, New Delhi (1974)

Bapat, R.B.: Graphs and Matrices. Springer, London (2014). https://doi.org/10.1007/978-1-4471-6569-9

Bapat, R.: A note on singular line graphs. Bull. Kerala Math. Assoc. 8(2), 207–209 (2011)

Bapat, R., Roy, S.: On the adjacency matrix of a block graph. Linear Multilinear Algebra 62(3), 406–418 (2014)

Berman, A., Friedland, S., Hogben, L., Rothblum, U.G., Shader, B.: An upper bound for the minimum rank of a graph. Linear Algebra Appl. 429(7), 1629–1638 (2008)

Cvetkovic, D.M., Doob, M., Sachs, H.: Spectra of Graphs. Pure Applied Mathematics, vol. 87. Academic Press, New York (1980)

Davie, A.M., Stothers, A.J.: Improved bound for complexity of matrix multiplication. Pro. R. Soc. Edinb.: Sect. A Math. 143(02), 351–369 (2013)

Fiorini, S., Gutman, I., Sciriha, I.: Trees with maximum nullity. Linear Algebra Appl. 397, 245–251 (2005)

Gutman, I., Borovicanin, B.: Nullity of graphs: an updated survey. In: Selected Topics on Applications of Graph Spectra, pp. 137–154. Mathematical Institute SANU, Belgrade (2011)

Gutman, I., Sciriha, I.: On the nullity of line graphs of trees. Discret. Math. 232(1–3), 35–45 (2001)

Hopcroft, J.E., Tarjan, R.E.: Efficient algorithms for graph manipulation (1971)

Hu, S., Xuezhong, T., Liu, B.: On the nullity of bicyclic graphs. Linear Algebra Appl. 429(7), 1387–1391 (2008)

Le Gall, F.: Powers of tensors and fast matrix multiplication. In: Proceedings of the 39th International Symposium on Symbolic and Algebraic Computation, pp. 296–303. ACM (2014)

Lee, S.L., Li, C.: Chemical signed graph theory. Int. J. Quantum Chem. 49(5), 639–648 (1994)

Leskovec, J., Huttenlocher, D., Kleinberg, J.: Signed networks in social media. In: Proceedings of the SIGCHI Conference on Human Factors in Computing Systems, pp. 1361–1370. ACM (2010)

Nath, M., Sarma, B.K.: On the null-spaces of acyclic and unicyclic singular graphs. Linear Algebra Appl. 427(1), 42–54 (2007)

Singh, R., Bapat, R.B.: B-partitions, application to determinant and permanent of graphs. Trans. Comb. 7(3), 29–47 (2018)

Singh, R., Bapat, R.: On characteristic and permanent polynomials of a matrix. Spec. Matrices 5, 97–112 (2017)

Singh, R., Zheng, C., Shaked-Monderer, N., Berman, A.: Nonsingular block graphs: an open problem. arXiv preprint arXiv:1803.03947 (2018)

Von Collatz, L., Sinogowitz, U.: Spektren endlicher grafen. Abhandlungen aus dem Mathematischen Seminar der Universität Hamburg 21, 63–77 (1957)

West, D.B.: Introduction to Graph Theory, vol. 2. Prentice Hall, Upper Saddle River (2001)

Williams, V.V.: Breaking the Coppersmith-Winograd barrier (2011)

Xuezhong, T., Liu, B.: On the nullity of unicyclic graphs. Linear Algebra Appl. 408, 212–220 (2005)
Acknowledgments

The authors are grateful to Dr. Cheng Zheng for his valuable comments and suggestions.
Copyright information

© 2019 Springer Nature Switzerland AG
About this paper
Cite this paper
Singh, R., Shaked-Monderer, N., Berman, A. (2019). Linear Time Algorithm to Check the Singularity of Block Graphs. In: Pal, S., Vijayakumar, A. (eds) Algorithms and Discrete Applied Mathematics. CALDAM 2019. Lecture Notes in Computer Science(), vol 11394. Springer, Cham. https://doi.org/10.1007/978-3-030-11509-8_7
DOI: https://doi.org/10.1007/978-3-030-11509-8_7

Published:

Publisher Name: Springer, Cham

Print ISBN: 978-3-030-11508-1

Online ISBN: 978-3-030-11509-8

eBook Packages: Computer ScienceComputer Science (R0)