Abstract

The Fourth Industrial Revolution is centered around a self-organized production. Cyber-physical systems can be used to collect and share data for tracking, automation and control as well as evaluation and documentation. This has a wide-reaching impact on business models. Instead of a linear approach, concentrating on a single company, the focus needs to be on the complete production ecosystem represented by a dynamic and self-organized network, including the supply chain. The interconnectedness of the cyber-physical systems in these networks is rooted in the Internet of Things, but also shared business processes. Performance, stability, security as well as data integrity and access control hereby represent a major contributing factor, calling for a new concept of information processing systems.

The blockchain is a distributed ledger combining cryptographic and game-theoretic concepts, which enable immutable transactions and automatic consensus of the parties involved about its state. Blockchains have evolved as a fast-developing technology, promising increased efficiency and security in many scenarios, especially use cases that primarily rely on all kinds of transactions.

The paper follows a design science approach, examining the implications of blockchain and the industrial Internet of Things in Industry 4.0 (I40) on supply chain management. I40's implications on supply chains are discussed and connected with favorable characteristics of blockchain technology. Based on this analysis, requirements for a decentralized enterprise information processing system are derived, resulting in a reference model for distributed supply chains of I40.
Keywords
Blockchain

Supply chain

Industry 4.0

Distributed supply chain

Multichain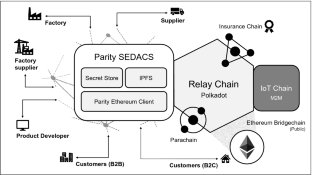 References
Bauer, W., Schlund, S., Marrenbach, D., Ganschar, O.: Industrie 4.0. Volkswirtschaftliches Potenzial für Deutschland. Edited by Fraunhofer IAO BITKOM (2014)

Brynjolfsson, E., McAfee, A.: The Second Machine Age. Work, Progress, and Prosperity in a Time of Brilliant Technologies. Norton, New York (2014)

Buterin, V.: On Public and Private Blockchains. Ethereum Blog (2015). https://blog.ethereum.org/2015/08/07/on-public-and-private-blockchains/. Accessed 08 Feb 2018

Cuhls, K.: Methoden der Technikvorausschau - eine internationale Übersicht. Edited by Fraunhofer Institut für System- und Innovationsforschung (ISI). Fraunhofer IRB Verlag. Stuttgart (2008)

Field, A.M.: Blockchain for freight? (1542–3867). J. Commer. 18(5), 88–92 (2017)

Geisberger, E., Broy, M.: agendaCPS Integrierte Forschungsagenda Cyber-Physical Systems (acatech STUDIE). Springer, Heidelberg (2012). https://doi.org/10.1007/978-3-642-29099-2

Hevner, A.: A three cycle view of design science research. Scand. J. Inf. Syst. 19(2), 4 (2007)

Hevner, A., March, S.T., Park, J., Ram, S.: Design science in information systems research. MIS Q. 28(1), 75–105 (2004)

Huber, W.: Industrie 4.0 in der Automobilproduktion. Ein Praxisbuch. Springer, Wiesbaden (2016). https://doi.org/10.1007/978-3-658-12732-9

Lasi, H., Fettke, P., Feld, T., Hoffmann, M.: Industry 4.0. Bus. Inf. Syst. Eng. 6(4), 239–242 (2014)

Plattform Industrie 4.0: What is Industrie 4.0. Federal Ministry for Economic Affairs and Energy, Federal Ministry of Education and Research (2017). http://www.plattform-i40.de/I40/Navigation/EN/Industrie40/WhatIsIndustrie40/what-is-industrie40.html. Accessed 28 Dec 2017

Rüßmann, M., et al.: Industry 4.0. The Future of Productivity and Growth in Manufacturing Indudtries. The Boston Consulting Group (BCG) (2015). https://www.bcg.com/publications/2015/engineered_products_project_business_industry_4_future_productivity_growth_manufacturing_industries.aspx. Accessed 15 Dec 2017

Schlaepfer, R.C., Koch, M.: Industry 4.0. Challenges and solutions for the digital transformation and use of exponential technologies. Deloitte (2015). https://www2.deloitte.com/content/dam/Deloitte/ch/Documents/manufacturing/ch-en-manufacturing-industry-4-0-24102014.pdf. Accessed 15 Dec 2017

Schrauf, S., Berttram, P.: Industry 4.0. How digitization makes the supply chain more efficient, agile, and customer-focused. Strategy& (2016). https://www.strategyand.pwc.com/reports/industry4.0. Accessed 15 Dec 2017

Schütte, J., et al.: Blockchain und Smart Contracts. Technologien, Forschungsfragen und Anwendungen. In: Prinz, W., Schulte, A.T. (eds.) Fraunhofer-Gesellschaft (2017)

Szozda, N.: Industry 4.0 and its impact on the functioning of supply chains. Logforum 13(4), 401–414 (2015)

Wahlster, W.: Semantic technologies for mass customization. In: Wahlster, W., Grallert, H.-J., Wess, S., Friedrich, H., Widenka, T. (eds.) Towards the Internet of Services: The THESEUS Research Program. CT, pp. 3–13. Springer, Cham (2014). https://doi.org/10.1007/978-3-319-06755-1_1

Wood, G.: Polkadot. Vision for a heterogeneous multi-chain framework (2016). https://polkadot.io/. Accessed 12 Dec 2017

Parity (2018): Secure Data Access Control System. Wiki. Parity Technologies Ltd. Available online at https://paritytech.github.io/wiki. Accessed 3 Feb 2018

Kwon, J., Buchman, E.: Cosmos. A Network of Distributed Ledgers. White-paper. Cosmos (2018). https://cosmos.network/about/whitepaper. Accessed 16 Jan 2018

Garrett, R.: How blockchain is transforming the supply chain. Supply Demand Chain. Exec. 18(2), 10–14 (2017). http://search.ebsco-host.com/login.aspx?direct=true&db=bth&AN=123453671&site=ehost-live

Haughwout, J.: Blockchain. A single, immutable, serialized source of truth: blockchain technology could help introduce higher levels of security to and confidence in supply chain transactions. Mater. Handl. Logist. 72(8), 27–29 (2017)

Morley, H.R.: Weighing in on Blockchain. Blockchain technology touted as means to share container weights to meet global regulations. J. Commer. (1542-3867) 18(19), 10A–13A. http://search.ebsco-host.com/login.aspx?direct=true&db=bth&AN=125674290&site=ehost-live

Shanley, A.: Could Blockchain Improve Pharmaceutical Supply Chain Security? Pharm. Technol., 34–39 (2017a). http://search.ebsco-host.com/login.aspx?direct=true&db=bth&AN=124570785&site=ehost-live

Shanley, A.: Real-time logistics. Internet of things, advanced analytics, and blockchain solutions such as smart contracts promise to give manufacturers more control over products and supply chains. Pharm. Technol. Eur. 29(10), 46–48 (2017b). http://search.ebscohost.com/login.aspx?di-rect=true&db=bth&AN=125734814&site=ehost-live
Copyright information

© 2019 Springer Nature Switzerland AG
About this paper
Cite this paper
Schulz, K.F., Freund, D. (2019). A Multichain Architecture for Distributed Supply Chain Design in Industry 4.0. In: Abramowicz, W., Paschke, A. (eds) Business Information Systems Workshops. BIS 2018. Lecture Notes in Business Information Processing, vol 339. Springer, Cham. https://doi.org/10.1007/978-3-030-04849-5_25
DOI: https://doi.org/10.1007/978-3-030-04849-5_25

Published:

Publisher Name: Springer, Cham

Print ISBN: 978-3-030-04848-8

Online ISBN: 978-3-030-04849-5

eBook Packages: Computer ScienceComputer Science (R0)