Abstract

Scientific and Technological (S&T) developments have been influencing military concepts and practice, particularly following the inception of the scientific revolution in the late sixteenth century. Defense has traditionally been one of the key drivers of S&T advancements due to large amount of funding it received particularly by national governments. A number of technologies have been developed for defense, found their civilian applications, and vice versa. Wherever the boost for change comes from, the nature of warfare has changed radically both due to S&T advancements and changing socioeconomic and geopolitical contexts. Despite of the barriers due to strict organizational culture, armies have adapted themselves into changing characteristics of warfare through new concepts and instruments. Among S&T developments, recent advancements in Information and Communication Technologies (ICTs) bring enormous opportunities as well as challenges for defense. One of the recent phenomena emerged with the rapid development of ICTs is the Internet of Things (IoTs), which affects every aspect of life with a growing number of devices communicating with each other. While the possibilities introduced by the IoT have been providing immense benefits, the increasing number of connections makes the system ever more complex and vulnerable because of the difficulty of securing huge networks. The chapter discusses how IoT will affect the military affairs and proposes future scenarios for exploring alternative trajectories.
Keywords
Internet of things

Digitalization

S&T development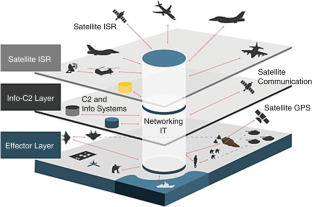 References
Arreguín-Toft I (2001) How the weak win wars: a theory of asymmetric conflict. Int Secur 26(1):93–128

Ashton K (2009) That 'internet of things' thing. RFiD J 22(7):97–114

Aydogdu A, Burmaoglu S, Saritas O, Cakir S (2017) A nanotechnology roadmapping study for the Turkish defense industry. Foresight 19(4):354–375. https://doi.org/10.1108/FS-06-2017-0020

Bandyopadhyay S, Balamuralidhar P, Pal A (2013) Interoperation among IoT standards. J ICT Stand 1(2):253–270

Burmaoglu S, Saritas O (2017) Changing characteristics of warfare and the future of Military R&D. Technol Forecast Soc Change 116:151–161

Cartwright J (2015.) www.defensesystems.com/articles/2015/11/12/internet-of-thing-dod-cartwright-csis.aspx. Accessed 18 Mar 2016

Daim TU, Chiavetta D, Porter AL, Saritas O (eds) (2016) Anticipating future innovation pathways through large data analysis. Springer, Berlin

Daly M (2016.) http://www.darkreading.com/mobile/internet-of-things-4-security-tips-from-the-military/a/d-id/1297546. Accessed 18 Mar 2016

Ding C, Wu X, Lv Z (2009) Design and implementation of the Zigbee-based body sensor network system. In: WiCom'09, 5th International Conference on Wireless Communications, Networking and Mobile Computing. IEEE, pp 1–4

Eagleman D (2015) The brain: the story of you. Pantheon Books, New York

Foot P (1967) The problem of abortion and the doctrine of the double effect. Oxf Rev 5:1. http://pitt.edu/~mthompso/readings/foot.pdf. Accessed 09 Jun 2017

Grange DL (2000) Asymmetric warfare: old method, new concern. Natl Strategy Forum Rev. Winter

Hammes TX (2005) War evolves into the fourth generation. Contemp Secur Policy 26(2):189–221

Health System Communication Office (2015.) http://science.dodlive.mil/2015/07/19/defense-officials-use-internet-of-things-to-monitor-health/. Accessed 18 Mar 2016

Hoffman FG (2006) Complex irregular warfare: the next revolution in military affairs. Orbis 50:395–411

Iriarte M (2016) MUM-T operations on the US Army's UAS roadmap. Military Embedded Systems. http://mil-embedded.com/articles/mum-t-armys-uas-roadmap/. Accessed 08 Jun 2016

Kaldor M (2010) Inconclusive wars: is Clausewitz still relevant in these global times? Glob Policy 1(3):271–281

Lind W, Nightengale K, Schmitt J, Sutton J, Wilson GI (1989) The changing face of war: into the fourth generation. Marine Corps Gazette, October 22–26

Lucas GR Jr (2010) Postmodern war. J Milit Ethics 9(4):289–298. https://doi.org/10.1080/15027570.2010.536399

Mantyika J, Chui M, Dobbs R, Bisson P, Marrs A (2013) Disruptive technologies: advances that will transform life, business, and the global economy. McKinsey Global Institute Report, May

Miles I, Saritas O, Sokolov A (2016) Foresight for science, technology and innovation. Springer, Berlin

Rathmell A (1997) Cyber-terrorism: the shape of future conflict? RUSI J 142(5):40–45

Saritas O, Burmaoglu S (2016) Future of sustainable military operations under emerging energy and security considerations. Technol Forecast Soc Change 102:331–343

Van Creveld M (2010) Technology and war: from 2000 BC to the present. Simon and Schuster

von Clausewitz GC (1968) On war, translated by Colonel JJ Graham. Routledge & Kegan Paul, London

von Eschenbach T (2016) Unmanned aircraft systems-manned-unmanned teaming. http://armyaviationmagazine.com/index.php/archive/not-so-current/589-unmanned-aircraft-systems-manned-unmanned-teaming. Accessed 08 Jun 2016

Yang JS, Lee HJ, Park MW, Eom JH (2015) Security threats on National Defense ICT based on IoT. Adv Sci Technol Lett 97:94–98
Acknowledgments

The contributions by Professor Ozcan Saritas in this study were prepared within the framework of the Basic Research Program at the National Research University Higher School of Economics and supported within the framework of the subsidy by the Russian Academic Excellence Project '5-100'. The contributions by Asst. Professor Haydar Yalcin in this study was supported by Scientific and Technological Research Council of Turkey Postdoctoral Research Programme (TUBITAK BIDEP 2219) [1059B191700840].
Copyright information

© 2019 Springer Nature Switzerland AG
About this chapter
Cite this chapter
Burmaoglu, S., Saritas, O., Yalcin, H. (2019). Defense 4.0: Internet of Things in Military. In: Meissner, D., Gokhberg, L., Saritas, O. (eds) Emerging Technologies for Economic Development. Science, Technology and Innovation Studies. Springer, Cham. https://doi.org/10.1007/978-3-030-04370-4_14