Abstract

The eastern Himalayan climate is strongly determined by a rugged mountainous terrain and the impact of the Indian summer monsoon. Climate change increases the vulnerability of key economic sectors (e.g., agriculture, forestry and hydro-power generation) of Bhutan and threatens the countries rich biodiversity, its fragile community livelihoods and increases the probability of hazardous events (e.g., glacier lake outburst floods, flash floods, droughts and forest fires). A comprehensive knowledge of Bhutan's climatic conditions and their variability is therefore essential to enhance the efficiency and applicability of adaptation efforts. Very few studies on the climatology of the Bhutanese Himalaya have been published so far. The scanty literature has primarily focused on the reduction of threats related to the formation of glacier lakes. In contrast, this study (1) analyses the average spatial and inner-annual variability of air temperature and precipitation regimes of Bhutan, based on local meteorological observations and climate projections, and (2) relates the effects of climatic changes on water resources, ecosystem services, agriculture and the economy of Bhutan.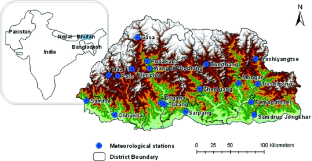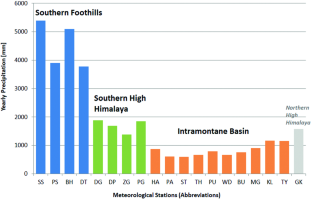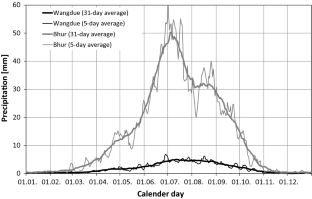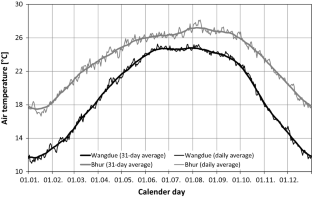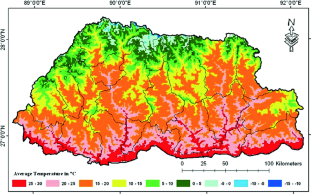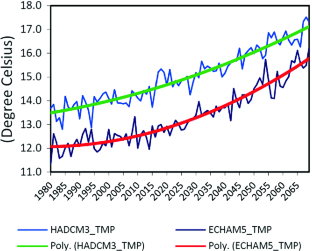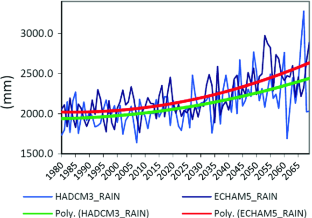 References
Ageta Y, & Iwata S (1999) Report of the Japan-Bhutan Joint Research 1998 on the assessment of glacier lake outburst flood (GLOF) in Bhutan. Institute for Hydrospheric-Atmospheric Sciences, Nagoya University, Nagoya, Japan.

Ageta Y, Iwata S, Yabuki H, Naito N, Sakai A, Narma C, & Karma (2000) Debris-covered glaciers. Proceedings of a workshop held in September 2000 in Seattle, Washington, USA. IAHS Publication no. 254.

Ageta Y, Naito N, Nakawo M, Fujita K, Shankar K, Pokhrel AP, & Wangda D (2001) Study project on the recent rapid shrinkage of summer-accumulation type glaciers in the Himalayas, 1997–1999. Bull Glaciol Res 18, 45–49.

Andy H, Sari K, Diarmid CL, & Carlos C (2006) Climate change and human health: impacts, vulnerability and public health. Public Health 120, 585–596.

Baghel R, & Nüsser M (2010) Discussing large dams in Asia after the World Commission on Dams: Is a political ecology approach the way forward? Water Alternatives 3, 231–248.

Bajracharya SR, Pradeep KM, & Shrestha BR (2007) Impact of climate change on Himalayan glaciers and glacial lakes: case studies on GLOF and associated hazards in Nepal and Bhutan. International Centre for Integrated Mountain Development (ICIMOD), 131 pp.

Bajracharya SR, Pradeep KM, & Shrestha BR (2008) Global climate change and melting of Himalayan glaciers. In: Ranade PS (ed.) Melting glaciers and rising sea levels: impacts and implications. The Icfai's University Press, India, pp 28–46.

Becker AC, Korner C, Brun J, Guisan A, & Tappelner U (2009) Ecological and land use studies along elevational gradients. Mountain Research and Development 27, 58–65.

BEA (Bhutan Electricity Authority; 2010) Druk Green Power Corporation Limited, Tariff Review Report, pp 66.

Bhambri R, & Bolch T (2009) Glacier mapping: a review with special reference to the Indian Himalayas. Prog. Phys. Geogr. 33(5), 672–704.

Bhutiyani MR, Vishwas SK, & Pawar NJ (2007) Long-term trends in maximum, minimum and mean air temperatures across the Northwestern Himalaya during the twentieth century. Clim Change 85, 159–177.

Bhutiyani MR, Kale VS, & Pawar NJ (2010) Climate change and the precipitation variations in the northwestern Himalaya: 1866–2006. Int J Climatol 30, 535–548.

Bisht M (2012) Bhutan–India Power Cooperation: Benefits Beyond Bilateralism. Strategic Analysis 36, 787–803.

Biswas AK (2011) Cooperation or conflict in trans-boundary water management: case study of south Asia. Hydrol Sci J 56, 662–670.

Chand P, & Sharma MC (2015) Glacier changes in the Ravi basin, North-Western Himalaya (India) during the last four decades (1971–2010/13). Glob. Planet. Change, 135,133–147.

Chophel GK, Dulal IR, Chhophel K, Wangchuk C, Rinzin U, Dupchu, K, Kunzang, Tse-ring K, Tshethar K, Dorji U, Wangchuk T, Lhamo T, Nidup J (2011) Securing the natural freshwater systems of the Bhutan Himalayas: Climate change and adaptation measures on water resources in Bhutan. A climate summit for a living Himalaya. (http://sa.indiaenvironmentportal.org.in/files/file/Water_Paper_Bhutan.pdf). Accessed 1 July 2015.

Civantos E, Thuiller W, Maiorano L, Guisan A, & Araújo, MB (2012) Potential Impacts of Climate Change on Ecosystem Services in Europe: The Case of Pest Control by Vertebrates. Bio-Science 62, 658–666.

Corlett R, & Lafrankie A (1998) Potential impacts of climate change on tropical Asian forests through an influence on phenology. Clim Change 39, 439–453.

Costanza R, d'Arge R, de Groot R, Farber S, Grasso M, Hannon B, Limburg K, Naeem S, O'Neill RV, Paruelo J, Raskin RG, Paul Sutton & Marjan van den Belt (1997) The value of the world's ecosystem services and natural capital. Nature 387, 253–260

Cox PA, & Cox KN (Eds.) (1997) Encyclopaedia of rhododendron species. Glendoick Publishing, Perth, Australia, pp. 416.

Dema K (2013). Climate change and human health in Bhutan. Kuensel November 30.

Dhakal DNS, & Jenkins GP (2013) Risk sharing in hydro power development: case study of the Chukha Hydel Project in Bhutan, Water Policy 15, 109–125.

Dimri AP, & Dash SK (2012) Winter time climatic trends in the western Himalayas. Clim Change 111, 775–800.

Eguchi T (1987) Synoptic and meso-analysis of climatic conditions in Bhutan from September through November in 1985. In Ohsawa M (ed.) Life Zone ecology of the Bhutan Himalaya'. Laboratory of Ecology, Chiba University, Japan, pp 249–279.

Eguchi T (1997) Regional and temporal variations in precipitation in the Eastern Himalayas. Faculty of Humanities and Economics, Kochi University. Japan, pp 55–82.

Eguchi T (2008) Regional difference in thermal and moisture conditions on the slope of Tsang Chu basin, Bhutan Himalaya. Geographical Reports of Tokyo Metropolitan University 43, 99–106.

Eguchi T, & Wangda P (2011) Synoptic and local analysis of relationship between climate and forest in the Bhutan Himalaya (Preliminary report). Renewable Natural Resources - Research and Development Centre Yusipang, Department of Forest and Park Services, Ministry of Agriculture and Forest, 2011/01, 33 pp.

Eguchi T, & Wangda P (2012) Difference in temperature between shallow and deep valleys of the Bhutan Himalaya. Regional Views (ed. by Komazawa University, Japan) 25, 1–7.

Erlewein A, & Nusser M (2011) Offsetting Greenhouse Gas Emissions in the Himalaya? Clean Development Dams in Himachal Pradesh, India. Mountain Research and Development, 31, 293–304.

Francesco B, Roberto R, & Richard SJT (2006) Economy-wide estimates of the implications of climate change: Human health. Ecol Econ 58, 579–591.

Gentle P, & Maraseni TN (2012) Climate change, poverty and livelihoods: adaptation practices by rural mountain communities in Nepal. Environmental Science & Policy 21, 24–34.

Gurung DR, Kulkarni AV, Giriraj A, Aung KS, & Shrestha B (2012) Monitoring of seasonal snow cover in Bhutan using remote sensing technique. Curr Sci India 101, 1364–1370.

Gurung TR (2012) Agricultural transformation in a remote community of Kengkhar, Mongar, Bhutan. Journal of Renewable Natural Resources, 8, 1–12.

Hoy A, Katel O, Thapa P, Dendrup N, & Matschullat J (2016) Climatic changes and their impact on socio-economic sectors in the Bhutan Himalayas – an implementation strategy. Regional Environmental Change, 16, 1401–1415.

Immerzeel WW, van Beek LPH, & Bierkens MFP (2010) Climate Change will affect the Asian water towers. Science 328,1382–1385.

IPCC (Intergovernmental Panel on Climate Change, 2007a) Climate Change 2007: The Physical Science Basis. Contribution of Working Group I to the Fourth Assessment Report of the Intergovernmental Panel on Climate Change. Cambridge University Press, Cambridge/New York.

IPCC (Intergovernmental Panel on Climate Change, 2007b) Climate Change 2007: Impacts, Adaptation and Vulnerability. Contribution of Working Group II to the Fourth Assessment Report of the Intergovernmental Panel on Climate Change. Cambridge University Press, Cambridge/New York.

Ives JD, Shrestha RB, & Mool PK (2010) Formation of glacial lakes in the Hindu Kush-Himalaya and GLOF risk assessment. International Centre for Integrated Mountain Research (ICIMOD), 94 pp.

Karma, Ageta Y, Naito N, Iwata S, & Yabuki H (2003) Glacier distribution in the Himalayas and glacier shrinkage from 1963 to 1993 in the Bhutan Himalayas. Bull Glaciol Res 20, 29–40.

Karma T, Ghalley KS, & Thinley U (2008). Hazard zonation for glacial lake outburst flood along Punatsangchu from Khuruthang to Lhamoyzinkha. DGM-NCAP Project (October 2006–May 2008).

Katel ON, Khandu Y, & Gurung DB (2016) Farmers' Vulnerability to Climate Variability and Change in Punakha – Wangdue Valley, Bhutan. Conference poster presented at the 10th International Conference on Community – Based Adaptation held at Independent University, Dhala Bangladesh from April 21–28, 2016.

Koen K, & Norbu W (2013) The costs of adaptation: changes in water availability and farmers' responses in Punakha district, Bhutan. Int J of Global Warming 5, 387–399.

Kollmair M, Gurung GS, Hurni K, & Maselli D (2005) Mountains: special places to be protected? An analysis of worldwide nature conservation efforts in mountains. Int J Biodiversity Sci Manage 1, 1–9.

Komori J (2008) Recent expansions of glacial lakes in the Bhutan Himalayas. Quat Int 184 (1): 177–186.

Kulkarni AV, & Rathore BP (2005) Alarming retreat of Parbati glacier, Beas basin, Himachal Pradesh. Curr. Sci. 88, 1844–1850.

Kulkarni AV, Bahuguna IM, Rathore BP, Singh SK, Randhawa SS, Sood RK, & Dhar S (2007) Glacial retreat in Himalaya using Indian Remote Sensing satellite data. Curr. Sci. 92, 69–74.

Li L, Yang S, Wang Z, Zhu X, & Tang H (2010) Evidence of Warming and Wetting Climate over the Qinghai-Tibet Plateau. Arct Antarct Alp Res 42,449–457.

Liu X, Chen B (2000) Climatic warming in the Tibetan Plateau during recent decades. Int J Climatol 20, 1729–1742.

Lobell DB, Burke MB, Tebaldi C, Mastrandrea MD, Falcon WP, & Naylor RL (2008) Priorotizing climate change adaptation needs for food security in 2030. Science 319, 607–610.

Marzeion B, Cogley JG, Richter K, & Parkes D (2014) Attribution of global glacier mass loss to anthropogenic and natural causes. Science 345, 919–921.

Maskey S, Uhlenbrook S, & Ojha S(2011) An analysis of snow cover changes in the Himalayan region using MODIS snow products and in-situ temperature data. Clim Change 108, 391–400.

McCarty JP (2001) Ecological consequences of recent climate change. Conserv Biol 15, 320–331.

MEA (Millennium Ecosystem Assessment, 2005) Ecosystems and Human Well-being: Scenarios. Island Press.

Meenawat H, & Sovacool BK (2011) Improving adaptive capacity and resilience in Bhutan. Mitigation and Adaptation Strategies for Global Change, 16, 515–533.

Mool PK, Wangda D, Bajracharya SR, Kunzang K, Gurung DR, & Joshi SP (2001) Inventory of Glaciers, Glacial Lakes and Glacial Lake Outburst Floods Monitoring and Early Warning Systems in the Hindu Kush-Himalayan Region: Bhutan. International Centre of Integrated Mountain Development (ICIMOD) and United Nations Environment Programme (UNEP), 254 pp.

Nandargi S, & Dhar ON (2011) Extreme rainfall events over the Himalayas between 1871 and 2007. Hydrol Sci J 56,930–945.

Nayar A (2009) When the ice melts. Nature 461, 1042–1044.

NBC (National Biodiversity Center; 2011) National Action Plan: Biodiversity Persistence and Climate Change, retrieved from http://www.nbc.gov.bt/wp-content/uploads/2010/06/National-Paper-on-Biodiversity-and-Climate-Change-_Bhutan1.pdf.

NEC (National Environment Commission, 2009) Strategizing climate change for Bhutan. Royal Government of Bhutan, retrieved from http://www.rrcap.unep.org/nsds/uploadedfiles/file/bhutan.pdf.

NEC (National Environment Commission, 2011) Second national communication to the UNFCCC. Royal Government of Bhutan, Thimphu, 160 pp.

Neu U (2009) Climate change in Mountains. In: Kohler T, Maselli D (eds) Mountains and climate change—from understanding to action, Geographica Bernensia, Bern.

NSB (National Statistical Bureau, 2009) Statistical Year Book 2009. Royal Government of Bhutan, Thimphu.

NSB (National Statistical Bureau, 2013) Statistical Year Book 2013. Royal Government of Bhutan, Thimphu.

Rai R, Helen KR, Naresh S, & Baburam L (2012) Invasive plants – Do they devastate or diversify rural livelihoods? Rural farmers' perception of three invasive plants in Nepal. J Nat Conserv 20, 170–176.

Richardson SD, & Reynolds JM (2000) An overview of glacial hazards in the Himalayas. Quat Int 65–66, 31–47.

Rupper S, Schaefer JM, Landon KB, Koenig LS, Tsering K, & Cook ER (2012) Sensitivity and response of Bhutanese glaciers to atmospheric warming. Geophys Res Lett 39, L19503.

Sharma E, Chettri N, Tse-ring K, Shrestha AB, Jing F, Mool P, & Eriksson M (2009) Climate change impact and vulnerability in the Eastern Himalayas. ICIMOD Synthesis Report. 27 pp.

Sharma K, Robeson SR, Thapa P, & Saikia A (2017) Landuse/land-cover change and forest fragmentation in the Jigme Dorji National Park, Bhutan, Physical Geography, 38, 18–35.

Shrestha AB, Wake CP, Mayewski PA, & Dibb JE (1999) Maximum temperature trends in the Himalaya and its vicinity: an analysis based on temperature records from Nepal for the period 1971–1994. J Climate 12, 1–12.

Shrestha AB, & Devkota LP (2010) Climate change in the eastern Himalayas: Observed trends and model projections; Climate change impact and vulnerability in the Eastern Himalayas-Technical Report 1. Kathmandu, ICIMOD.

Sovacool BK, D'Agostino AL, Meenawat H, & Rawlani A (2012a) Expert views of climate change adaptation in least developed Asia. J Environ Manage 97, 78–88.

Sovacool BK, D'Agostino AL, Rawlani A, & Meenawat H (2012b) Improving climate change adaptation in least developed Asia. Environ Sci Policy 21, 112–125.

Tobgay T, Torres CE, & Na-Bangchang K (2011) Malaria prevention and control in Bhutan: Successes and challenges. Acta Tropic 117, 225–228.

Tshering D, & Sithey G (2008) Climate Change and Health in Bhutan, Capacity Strengthening in the Least Developed Countries for Adaptation to Climate Change (CLACC). http://www.clacc.net/humanhealth/health%20report08-final/healthstudy-workingpaper4bhutan.pdf.

Turner WR, Brandon K, Brooks TM, Costanza R, da Fonseca GAB, & Portela R (2007) Global conservation of biodiversity and ecosystem services. BioScience 57. 868–873.

Ukita J, Narama C, Tadono T, Yamanokuchi T, Tomiyama N, Kawamoto S, Abe C, Uda T, Yabuki H, Fujita K, & Nishimura K (2011) Glacial lake inventory of Bhutan using ALOS data: Part I. Methods and preliminary results. Ann Glaciol 52, 65–71.

UNDP (2012) Glacial Lake Outburst Flood. Reducing risk and ensuring preparedness. Report on the international conference. 5.–7.12.2012, Paro Bhutan. Pp 50.

WHO (World Health Organization) 2010. Bhutan Malaria Control Programme Review: A Report. WHO SEA-MAL-264, 1–59.

Williams JW, Jackson ST, & Kutzbach JE (2007) Projected distributions of novel and disappearing climates by 2100 AD. P Natl Acad Sci USA 104, 5738–5742.

Xie H, Ye J, Liu X, & E C (2010) Warming and drying trends on the Tibetan Plateau (1971–2005) Theor Appl Climatol 101, 241–253.

Xu J, Grumbine RE, Shrestha A, Eriksson M, Yang X, Wang Y, & Wilkesh A (2009). The melting Himalayas: Cascading effects of Climate Change on Water, Biodiversity and Livelihoods. Conserv Biol 23, 520–530.

Yao TD, Guo XJ, Lonnie T, Duan KQ, Wang NL, Pu JC, Xu BQ, Yang XX, & Sun WZ (2006) δ18O record and temperature change over the past 100 years in ice cores on the Tibetan Plateau. Science in China: Series D Earth Science 49, 1–9.
Acknowledgements

We thank the Ministry of Economic Affairs, Department of Hydro-Met Services (DHMS), for the provision of Bhutan's climate data.
Copyright information

© 2019 Springer Nature Switzerland AG
About this chapter
Cite this chapter
Hoy, A., Katel, O. (2019). Status of Climate Change and Implications to Ecology and Community Livelihoods in the Bhutan Himalaya. In: Saikia, A., Thapa, P. (eds) Environmental Change in the Himalayan Region. Springer, Cham. https://doi.org/10.1007/978-3-030-03362-0_2
DOI: https://doi.org/10.1007/978-3-030-03362-0_2

Published:

Publisher Name: Springer, Cham

Print ISBN: 978-3-030-03361-3

Online ISBN: 978-3-030-03362-0