Abstract

This paper discusses to what extent the browsing context needs to be taken into account when considering web credibility ratings. We focus on the availability of other websites on the same topic and the browsing purpose as two factors that can potentially influence how people perceive credibility and how accurate their judgments are when contrasted with expert evaluations. We analyze data from an experimental study in which subjects were asked to rate a set of websites on various dimensions in different contexts. We conclude that more context influences how often extreme evaluations are used, which ratings correlate with the declared knowledge of the topic, and which websites features are brought up as important for formulating the final judgment.
Keywords
Web credibility

Subjectivity

Judgment context-dependence

Credibility experiment

Reliability

World wide web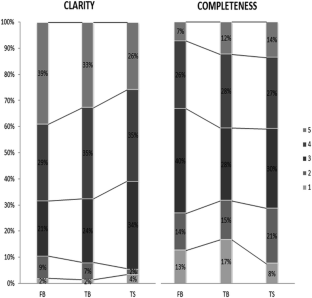 Notes
1.

Websites on two additional topics were added in this condition: orthodontia and vitamin B17 in the context of cancer treatment. Ratings for these websites are not included in the following analyses to ensure comparability across conditions.

2.

For this test the two lowest ratings were grouped together to ensure reliability.
References
Wierzbicki, A.: Understanding and measuring credibility. In: Web Content Credibility. Springer, Cham (2018)

Liu, X., Nielek, R., Adamska, P., Wierzbicki, A., Aberer, K.: Towards a highly effective and robust Web credibility evaluation system. Decis. Support Syst. 79, 99–108 (2015)

Wawer, A., Nielek, R., Wierzbicki, A.: Predicting webpage credibility using linguistic features. In: Proceedings of the 23rd International Conference on World Wide Web, pp. 1135–1140. ACM, April, 2014

Nielek, R., Wawer, A., Jankowski-Lorek, M., Wierzbicki, A.: Temporal, cultural and thematic aspects of web credibility. In: International Conference on Social Informatics, pp. 419–428. Springer, Cham, November, 2013

Kakol, M., Nielek, R., Wierzbicki, A.: Understanding and predicting web content credibility using the content credibility corpus. Inf. Process. Manag. 53(5), 1043–1061 (2017)
Acknowledgments

This work is partially supported by Polish National Science Centre grant 2015/19/B/ST6/03179.
Copyright information

© 2019 Springer Nature Switzerland AG
About this paper
Cite this paper
Abramczuk, K., Kąkol, M., Nielek, R., Biele, C. (2019). Is Truth Contextual? The Browsing Purpose, the Availability of Comparable Material, and the Web Content Credibility Evaluation. In: Ahram, T., Karwowski, W., Taiar, R. (eds) Human Systems Engineering and Design. IHSED 2018. Advances in Intelligent Systems and Computing, vol 876. Springer, Cham. https://doi.org/10.1007/978-3-030-02053-8_17
DOI: https://doi.org/10.1007/978-3-030-02053-8_17

Published:

Publisher Name: Springer, Cham

Print ISBN: 978-3-030-02052-1

Online ISBN: 978-3-030-02053-8