Abstract

In recent years, botnets continue to be an ever-increasing threat on the Internet. To be well prepared for future attacks and ensure the cyberspace security, defenders take more attention on advanced botnet designs that could be used by botmasters. In this paper, we design an advanced botnet based on publicly available resources, and implement its prototype system, which is named as PR-Bot. First of all, in terms of system design, PR-Bot is completely constructed based on the third-party publicly available resources and supports the bidirectional communication between the control end and the controlled end. At the same time, the system's command and control (C&C) channel consists of three sub-channels: command control channel (CC channel), command addressing (CA channel) and result feedback (RF channel), making it extremely robust and concealed. Secondly, in terms of defense technology, this paper proposes the targeted defense strategies from the perspective of detection, measurement and tracking, so as to achieve the goal of combating against such botnets. In short, the ultimate purpose of this paper is not to design a highly harmful botnet, but to accurately predict the techniques that the botnet may adopt in the future and assess its new threats from the point of attack and defense.
Keywords
Publicly available resource

Command and control

Bidirectional communication

Defense technology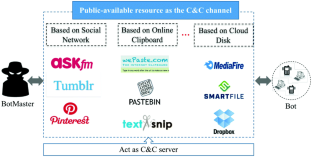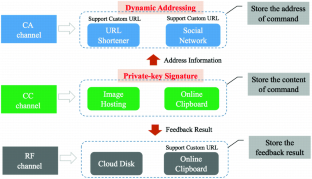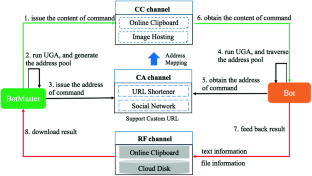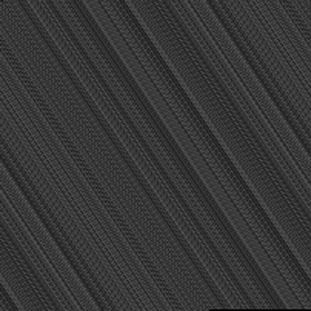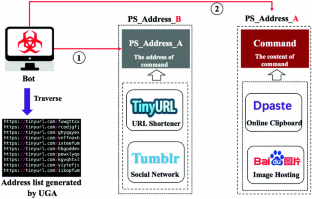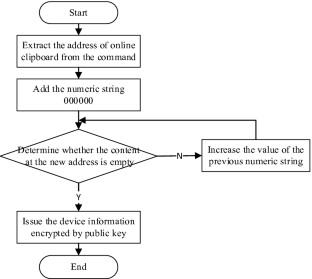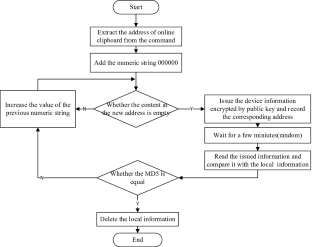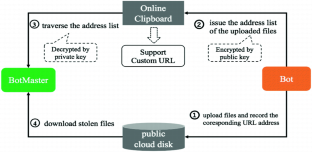 References
Xiang, C., Binxing, F., Jinqiao, S., Chaoge, L.: Botnet triple-channel model: towards resilient and efficient bidirectional communication botnets. In: Zia, T., Zomaya, A., Varadharajan, V., Mao, M. (eds.) SecureComm 2013. LNICST, vol. 127, pp. 53–68. Springer, Cham (2013). https://doi.org/10.1007/978-3-319-04283-1_4

Li, C., Jiang, W., Zou, X.: Botnet: survey and case study. In: 2009 Fourth International Conference on Innovative Computing, Information and Control (ICICIC), pp. 1184–1187. IEEE (2009)

Bailey, M., Cooke, E., Jahanian, F., et al.: A survey of botnet technology and defenses. In: Conference for Homeland Security, CATCH 2009. Cybersecurity Applications & Technology, pp. 299–304. IEEE (2009)

Amini, P., Pierce, C.: Kraken Botnet Infiltration [EB]. Blog on DVLabs, 2008 (2011). http://dvlabs.tippingpoint.com. Accessed 10 June 2011

Williams, J.: Operation b107 - Rustock Botnet Takedown (2011). http://blogs.technet.com/b/mmpc/archive/2011/03/18/operation-b107-rustock-botnet-takedown.aspx

Sharifnya, R., Abadi, M.: DFBotKiller: domain-flux botnet detection based on the history of group activities and failures in DNS traffic. Digit. Investig. 12, 15–26 (2015)

Nazario, J., Holz, T.: As the net churns: fast-flux botnet observations. In: 3rd International Conference on Malicious and Unwanted Software, MALWARE 2008, pp. 24–31. IEEE (2008)

Stone-Gross, B., Cova, M., Cavallaro, L., et al.: Your Botnet is my Botnet: analysis of a Botnet takeover. In: Proceedings of the 16th ACM Conference on Computer and Communications Security, pp. 635–647. ACM (2009)

Holz, T., Steiner, M., Dahl, F., et al.: Measurements and mitigation of peer-to-peer-based Botnets: a case study on storm worm. LEET 8(1), 1–9 (2008)

Davis, C.R., Fernandez, J.M., Neville, S., et al.: Sybil attacks as a mitigation strategy against the storm Botnet. In: 3rd International Conference on Malicious and Unwanted Software, MALWARE 2008, pp. 32–40. IEEE (2008)

Thomas, K., Nicol, D.M.: The Koobface Botnet and the rise of social malware. In: 2010 5th International Conference on Malicious and Unwanted Software (MALWARE), pp. 63–70. IEEE (2010)

Nagaraja, S., Houmansadr, A., Piyawongwisal, P., Singh, V., Agarwal, P., Borisov, N.: Stegobot: A Covert Social Network Botnet. In: Filler, T., Pevný, T., Craver, S., Ker, A. (eds.) IH 2011. LNCS, vol. 6958, pp. 299–313. Springer, Heidelberg (2011). https://doi.org/10.1007/978-3-642-24178-9_21

Cui, X., Fang, B.X., Yin, L.H., Liu, X.Y.: AndBot: towards advanced mobile Botnets. In: Proceedings of the 4th Usenix Workshop on Large-scale Exploits and Emergent Threats, LEET (2011)


Yadav, S., Reddy, A.K.K., Reddy, A.L., et al.: Detecting algorithmically generated malicious domain names. In: Proceedings of the 10th ACM SIGCOMM Conference on Internet Measurement, pp. 48–61. ACM (2010)

Gu, G., Perdisci, R., Zhang, J., et al.: BotMiner: clustering analysis of network traffic for protocol-and structure-independent botnet detection. In: USENIX Security Symposium, vol. 5, no. 2, pp. 139–154 (2008)

Silva, S.S.C., Silva, R.M.P., Pinto, R.C.G., et al.: Botnets: a survey. Comput. Netw. 57(2), 378–403 (2013)

Sanatinia, A., Guevara N.: OnionBots: subverting privacy infrastructure for cyber attacks. In: 2015 45th Annual IEEE/IFIP International Conference on Dependable Systems and Networks (DSN), pp. 69–80. IEEE (2015)

Ali, S.T., McCorry, P., Lee, P.H.-J., Hao, F.: ZombieCoin 2.0: managing next-generation botnets using Bitcoin. Int. J. Inf. Secur. 1–12 (2017)

Yan, G., Ha, D.T., Eidenbenz, S.: AntBot: anti-pollution peer-to-peer Botnets. Comput. Netw. 55(8), 1941–1956 (2011)

Lehtiö, A.: C&C-as-a-service: abusing third-party web services as C&C channels (2015)

Lee, S., Kim, J.: Fluxing Botnet command and control channels with URL shortening services. Comput. Commun. 36(3), 320–332 (2013)

Chen, Z., Subramanian, D.: An unsupervised approach to detect spam campaigns that use Botnets on twitter. arXiv preprint arXiv:1804.05232 (2018)

Guo, X., Cheng, G., Hu, Y., et al.: Progress in command and control server finding schemes of Botnet. In: Trustcom/BigDataSE/I SPA, pp. 1723–1727. IEEE (2016)
Acknowledgements

This work is supported by the Key Laboratory of Network Assessment Technology at Chinese Academy of Sciences, Beijing Key Laboratory of Network Security and Protection Technology, and the National Key Research and Development Program of China (No. 2016YFB0801604, No. 2016QY08D1602, No. 2016QY06X1204).
Copyright information

© 2018 Springer Nature Switzerland AG
About this paper
Cite this paper
Yin, J., Lv, H., Zhang, F., Tian, Z., Cui, X. (2018). Study on Advanced Botnet Based on Publicly Available Resources. In: , et al. Information and Communications Security. ICICS 2018. Lecture Notes in Computer Science(), vol 11149. Springer, Cham. https://doi.org/10.1007/978-3-030-01950-1_4
DOI: https://doi.org/10.1007/978-3-030-01950-1_4

Published:

Publisher Name: Springer, Cham

Print ISBN: 978-3-030-01949-5

Online ISBN: 978-3-030-01950-1

eBook Packages: Computer ScienceComputer Science (R0)