Abstract

Motor rehabilitation and assistance post-stroke are becoming a major concern for healthcare services with an increasingly aging population. Wearable robots can be a technological solution to support gait rehabilitation and to provide assistance to enable users to carry out activities of daily living independently. To address the need for long-term assistance for stroke survivors suffering from drop foot, this paper proposes a low-cost, assistive ankle joint exoskeleton for gait assistance. The proposed exoskeleton is designed to provide ankle foot support thus enabling normal walking gait. Baseline gait reading was recorded from two force sensors attached to a custom-built shoe insole of the exoskeleton. From our experiments, the average maximum force during heel-strike (63.95 N) and toe-off (54.84 N) were found, in addition to the average period of a gait cycle (1.45 s). The timing and force data were used to control the actuation of tendons of the exoskeleton to prevent the foot from preemptively hitting the ground during swing phase.
Keywords
Gait Assistance

Foot Drop

Maximum Normal Force

Swing Phase

Gait Cycle
These keywords were added by machine and not by the authors. This process is experimental and the keywords may be updated as the learning algorithm improves.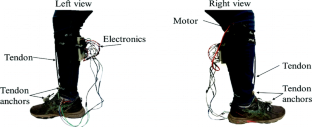 References
Foot drop - Symptoms and causes. http://www.mayoclinic.org/diseases-conditions/foot-drop/symptoms-causes/syc-20372628

Stevens, F., Weerkamp, N.J., Cals, J.W.L.: Foot drop. BMJ: Br. Med. J. 350 (2015)

Ethier, R.C., Simmons, C.A.: Introductory Biomechanics from Cells to Organisms. Cambridge University Press, Cambridge (2007)

Foot Drop Information Page—National Institute of Neurological Disorders and Stroke

Park, Y., Chen, B., Pérez-Arancibia, N.O., Young, D., Stirling, L., Wood, R.J., et al.: Design and control of a bio-inspired soft wearable robotic device for ankle-foot rehabilitation. Bioinspir. Biomim. 9 (2014)

Naito, H., Akazawa, Y., Tagaya, K., Matsumoto, T., Tanaka, M.: An ankle-foot orthosis with a variable-resistance ankle joint using a magnetorheological-fluid rotary damper. J. Biomech. Sci. Eng. 2, 182–191 (2009)

Patel, M.D., Tilling, K., Lawrence, E., Rudd, A.G., Wolfe, C.D.A., McKevitt, C.: Relationships between long-term stroke disability, handicap and health-related quality of life. Age Ageing 35(35), 273–279 (2006)

Forrester, L.W., Roy, A., Goodman, R.N., Rietschel, J., Barton, J.E., Krebs, H.I., et al.: Clinical application of a modular ankle robot for stroke rehabilitation. NeuroRehabilitation 33, 85–97 (2013)

Yeung, L., Ockenfeld, C., Pang, M., Wai, H.W., Soo, O.Y., Li, S.W., et al.: Design of an exoskeleton ankle robot for robot-assisted gait training of stroke patients. In: 2017 International Conference on Rehabilitation Robotics, ICORR, pp. 211–215. IEEE (2017)
Copyright information

© 2019 Springer Nature Switzerland AG
About this paper
Cite this paper
Bernstein, A., Varghese, R.J., Liu, J., Zhang, Z., Lo, B. (2019). An Assistive Ankle Joint Exoskeleton for Gait Impairment. In: Masia, L., Micera, S., Akay, M., Pons, J. (eds) Converging Clinical and Engineering Research on Neurorehabilitation III. ICNR 2018. Biosystems & Biorobotics, vol 21. Springer, Cham. https://doi.org/10.1007/978-3-030-01845-0_131
DOI: https://doi.org/10.1007/978-3-030-01845-0_131

Published:

Publisher Name: Springer, Cham

Print ISBN: 978-3-030-01844-3

Online ISBN: 978-3-030-01845-0

eBook Packages: EngineeringEngineering (R0)