Abstract

Two case studies, in northern Greece, that monitor surface deformation were presented. Both are related to aquifer overexploitation and its impact on the earth's surface. Using the archive of ERS and ENVISAT satellites, radar time series were performed applying the PS and SBAS techniques. For the justification of the remote sensing results and the interpretation of the physical mechanism behind the detected deformation, in situ data were also exploited. The areas of focus are: the village of Kalochori, a significant industrial hub, and the Anthemountas basin, an active tectonic region, both located in the vicinity of the metropolitan area of Thessaloniki. The Kalochori case indicated that the aquifer activity is directly affecting the surface movements. A low underground water level in the 90's caused a subsidence of more than 20 mm/year and the subsequent recharge of the aquifers in the 2000s caused a surface rebound with a rate of up to +12 mm/year. Regarding Anthemountas basin, the subsidence has a maximum rate of −18 mm/year in the 90's, and the deformation appears to exist over the whole basin. In conclusion both cases reveal that northern Greece is suffering from a hazard imposed by anthropogenic causes.
Keywords
InSAR time-series

PS

SBAS

Aquifer overexploitation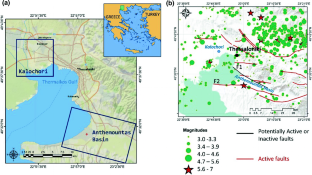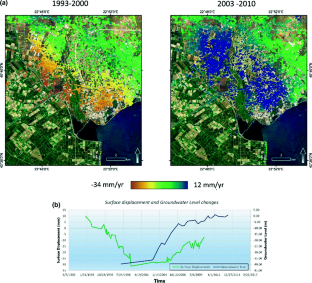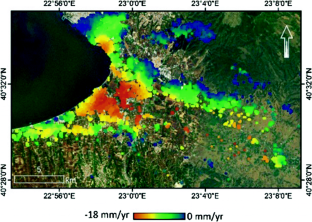 References
Kiratzi, A.: Mechanisms of earthquakes in Aegean. In: Encyclopedia of Earthquake Engineering, pp. 1–22. Springer, Berlin Heidelberg. https://doi.org/10.1007/978-3-642-36197-5_299-1 (2014)

Raspini, F., Loupasakis, C., Rozos, D., Adam, N., Moretti, S.: Ground subsidence phenomena in the delta municipality region (Northern Greece): geotechnical modeling and validation with persistent scatterer interferometry. Int. J. Appl. Earth Obs. Geoinf. 28, 78–89 (2014)

Raucoules, D., Parcharidis, I., Feurer, D., Novali, F., Ferretti, A., Carnec, C., Lagios, E., Sakkas, V., Le Mouelic, S., Cooksley, G., Hosford, S.: Ground deformation detection of the greater area of Thessaloniki (Northern Greece) using radar interferometry techniques. Nat. Hazards Earth Syst. Sci. 8, 779–788 (2008)

Svigkas, N., Papoutsis, I., Loupasakis, C., Tsangaratos, P., Kiratzi, A., Kontoes, H.: Land subsidence rebound detected via multitemporal InSAR and ground truth data in Kalochori and Sindos regions. Northern Greece. Eng Geol. (2016). https://doi.org/10.1016/j.enggeo.2016.05.017

Raspini, F., Loupasakis, C., Rozos, D., Moretti, S.: Advanced interpretation of land subsidence by validating multi-interferometric SAR data: the case study of Anthemountas basin (Northern Greece). Nat. Hazards Earth Syst. Sci. 13, 2425–2440 (2013)

Hooper, A., Segall, P., Zebker, H.: Persistent scatterer interferometric synthetic aperture radar for crustal deformation analysis, with application to Volcán Alcedo. Galápagos. J. Geophys. Res. 112, B07407 (2007). https://doi.org/10.1029/2006JB004763

Rosen, P., Hensley, S., Peltzer, G., Simons, M.: Updated repeat orbit interferometry package released. EOS Trans. AGU 85(5), 47 (2004)

Kampes, B., Hanssen, R., Perski, Z.: Radar Interferometry with Public Domain Tools. In: Proceedings of Fringe 2003, Dec. 1–5, Frascati, Italy (2003)
Acknowledgements

We thank ESA for the provision of the radar data (ESA-Greece AO project 1489OD/11-2003/72). EC for establishing the Center of Excellence BEYOND (GA 316,210) under FP7-REGPOT-2012-2013-1 providing support to this research. AK acknowledges support of the project HELPOS (MIS 5,002,697) (NSRF 2014-2020).
Copyright information

© 2019 Springer Nature Switzerland AG
About this paper
Cite this paper
Svigkas, N., Papoutsis, I., Loupasakis, C., Tsangaratos, P., Kiratzi, A., Kontoes, C.(. (2019). Radar Space Measurements of the Deforming Trends at Northern Greece Resulting from Underground Water Activity. In: El-Askary, H., Lee, S., Heggy, E., Pradhan, B. (eds) Advances in Remote Sensing and Geo Informatics Applications. CAJG 2018. Advances in Science, Technology & Innovation. Springer, Cham. https://doi.org/10.1007/978-3-030-01440-7_70
DOI: https://doi.org/10.1007/978-3-030-01440-7_70

Published:

Publisher Name: Springer, Cham

Print ISBN: 978-3-030-01439-1

Online ISBN: 978-3-030-01440-7