Abstract

Angiogenesis is a finely tuned process that is tightly regulated in time and space by environmental factors (oxygen levels, extracellular matrix, diffusible growth factors, and cytokines). Expression of angiogenesis effectors and regulators is coordinately regulated at both transcriptional and posttranscriptional levels. Accumulating evidence suggests that regulation of mRNA stability plays a pivotal role in this process. Many AU-rich mRNAs encoding cytokines, growth factors, transcriptional factors, and receptors are involved in cancer and inflammation. Overexpression of these mRNAs in tumors is often correlated with deregulation in their mRNA stability. mRNA decay is regulated by cis-regulatory elements represented by the AU-rich elements (AREs) present in the 3′-UTR of target mRNAs and trans-acting ARE-binding proteins (ARE-BPs) that control mRNA degradation by diverse ribonucleases. Competition between ARE-BPs will finally determine whether an mRNA is degraded or stabilized. Regulation of mRNA stability is furthermore controlled by signaling pathways that are often overactive in cancer and impact the function of stabilizing or destabilizing factors. In this review, we present examples of angiogenesis genes regulated through ARE-directed mRNA decay with focus on deregulation of these processes in tumor angiogenesis. We finally comment on the modulation of ARE-BP expression and activity as a potential future application in anti-angiogenic and anti-tumorigenic therapies.
Keywords
Vascular Endothelial Growth Factor

Vascular Endothelial Growth Factor Expression

mRNA Stability

mRNA Decay

Vascular Endothelial Growth Factor mRNA
These keywords were added by machine and not by the authors. This process is experimental and the keywords may be updated as the learning algorithm improves.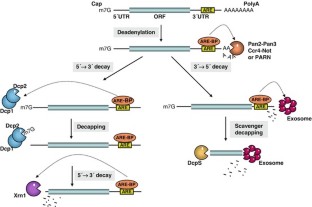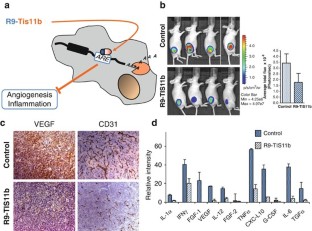 References
Bakheet T, Williams BR, Khabar KS (2003) ARED 2.0: an update of AU-rich element mRNA database. Nucleic Acids Res 31(1):421–423

Bakheet T, Williams BR, Khabar KS (2006) ARED 3.0: the large and diverse AU-rich transcriptome. Nucleic Acids Res 34(Database issue):D111–D114

Baou M, Jewell A, Murphy JJ (2009) TIS11 family proteins and their roles in posttranscriptional gene regulation. J Biomed Biotechnol 2009:634520. doi:10.1155/2009/634520

Barreau C, Paillard L, Osborne HB (2005) AU-rich elements and associated factors: are there unifying principles? Nucleic Acids Res 33(22):7138–7150

Belasco JG (2010) All things must pass: contrasts and commonalities in eukaryotic and bacterial mRNA decay. Nat Rev Mol Cell Biol 11(7):467–478. doi:10.1038/nrm2917

Bell SE, Sanchez MJ, Spasic-Boskovic O, Santalucia T, Gambardella L, Burton GJ, Murphy JJ, Norton JD, Clark AR, Turner M (2006) The RNA binding protein Zfp36l1 is required for normal vascularisation and post-transcriptionally regulates VEGF expression. Dev Dyn 235(11):3144–3155

Bevilacqua A, Ceriani MC, Capaccioli S, Nicolin A (2003) Post-transcriptional regulation of gene expression by degradation of messenger RNAs. J Cell Physiol 195(3):356–372. doi:10.1002/jcp.10272

Blaxall BC, Pende A, Wu SC, Port JD (2002) Correlation between intrinsic mRNA stability and the affinity of AUF1 (hnRNP D) and HuR for A + U-rich mRNAs. Mol Cell Biochem 232(1–2):1–11

Brawerman G (1981) The role of the poly(A) sequence in mammalian messenger RNA. CRC Crit Rev Biochem 10(1):1–38

Brennan CM, Steitz JA (2001) HuR and mRNA stability. Cell Mol Life Sci 58(2):266–277

Brennan SE, Kuwano Y, Alkharouf N, Blackshear PJ, Gorospe M, Wilson GM (2009) The mRNA-destabilizing protein tristetraprolin is suppressed in many cancers, altering tumorigenic phenotypes and patient prognosis. Cancer Res 69(12):5168–5176. doi:10.1158/0008-5472.CAN-08-4238

Brewer G (1991) An A + U-rich element RNA-binding factor regulates c-myc mRNA stability in vitro. Mol Cell Biol 11(5):2460–2466

Briata P, Chen CY, Giovarelli M, Pasero M, Trabucchi M, Ramos A, Gherzi R (2011) KSRP, many functions for a single protein. Front Biosci 16:1787–1796

Brooks SA, Blackshear PJ (2013) Tristetraprolin (TTP): interactions with mRNA and proteins, and current thoughts on mechanisms of action. Biochim Biophys Acta 1829(6–7):666–679. doi:10.1016/j.bbagrm.2013.02.003

Brooks SA, Connolly JE, Diegel RJ, Fava RA, Rigby WF (2002) Analysis of the function, expression, and subcellular distribution of human tristetraprolin. Arthritis Rheum 46(5):1362–1370. doi:10.1002/art.10235

Caput D, Beutler B, Hartog K, Thayer R, Brown-Shimer S, Cerami A (1986) Identification of a common nucleotide sequence in the 3′-untranslated region of mRNA molecules specifying inflammatory mediators. Proc Natl Acad Sci U S A 83(6):1670–1674

Carballo E, Lai WS, Blackshear PJ (1998) Feedback inhibition of macrophage tumor necrosis factor-alpha production by tristetraprolin. Science 281(5379):1001–1005

Carpentier AF, Rosenfeld MR, Delattre JY, Whalen RG, Posner JB, Dalmau J (1998) DNA vaccination with HuD inhibits growth of a neuroblastoma in mice. Clin Cancer Res 4(11):2819–2824

Chamboredon S, Ciais D, Desroches-Castan A, Savi P, Bono F, Feige JJ, Cherradi N (2011) Hypoxia-inducible factor-1{alpha} mRNA: a new target for destabilization by tristetraprolin in endothelial cells. Mol Biol Cell 22:3366–3378. doi:10.1091/mbc.E10-07-0617, mbc.E10-07-0617 [pii]

Chen CY, Gherzi R, Ong SE, Chan EL, Raijmakers R, Pruijn GJ, Stoecklin G, Moroni C, Mann M, Karin M (2001) AU binding proteins recruit the exosome to degrade ARE-containing mRNAs. Cell 107(4):451–464

Chen CY, Shyu AB (1994) Selective degradation of early-response-gene mRNAs: functional analyses of sequence features of the AU-rich elements. Mol Cell Biol 14(12):8471–8482

Chen CY, Xu N, Shyu AB (1995) mRNA decay mediated by two distinct AU-rich elements from c-fos and granulocyte-macrophage colony-stimulating factor transcripts: different deadenylation kinetics and uncoupling from translation. Mol Cell Biol 15(10):5777–5788

Cherradi N, Lejczak C, Desroches-Castan A, Feige J-J (2006) Antagonistic functions of Tis11b and HuR in the hormonal regulation of vascular endothelial growth factor mRNA stability by adrenocorticotropin. Mol Endocrinol 20(4):916–930

Chinn AM, Ciais D, Bailly S, Chambaz E, LaMarre J, Feige JJ (2002) Identification of two novels ACTH-responsive genes encoding manganese-dependent superoxide dismutase (SOD2) and the zinc finger protein TIS11b [tetradecanoyl phorbol acetate (TPA)-inducible sequence 11b]. Mol Endocrinol 16(6):1417–1427

Ciais D, Cherradi N, Bailly S, Grenier E, Berra E, Pouyssegur J, Lamarre J, Feige JJ (2004) Destabilization of vascular endothelial growth factor mRNA by the zinc-finger protein TIS11b. Oncogene 23(53):8673–8680. doi:10.1038/sj.onc.1207939, 1207939 [pii]

Claffey KP, Shih SC, Mullen A, Dziennis S, Cusick JL, Abrams KR, Lee SW, Detmar M (1998) Identification of a human VPF/VEGF 3′ untranslated region mediating hypoxia-induced mRNA stability. Mol Biol Cell 9(2):469–481

Clement SL, Scheckel C, Stoecklin G, Lykke-Andersen J (2011) Phosphorylation of tristetraprolin by MK2 impairs AU-rich element mRNA decay by preventing deadenylase recruitment. Mol Cell Biol 31(2):256–266. doi:10.1128/MCB.00717-10

Dalmau J, Furneaux HM, Gralla RJ, Kris MG, Posner JB (1990) Detection of the anti-Hu antibody in the serum of patients with small cell lung cancer–a quantitative western blot analysis. Ann Neurol 27(5):544–552. doi:10.1002/ana.410270515

Dixon DA, Tolley ND, King PH, Nabors LB, McIntyre TM, Zimmerman GA, Prescott SM (2001) Altered expression of the mRNA stability factor HuR promotes cyclooxygenase-2 expression in colon cancer cells. J Clin Invest 108(11):1657–1665. doi:10.1172/JCI12973

Duan H, Cherradi N, Feige JJ, Jefcoate C (2009) cAMP-dependent posttranscriptional regulation of steroidogenic acute regulatory (STAR) protein by the zinc finger protein ZFP36L1/TIS11b. Mol Endocrinol 23(4):497–509

Eberhardt W, Doller A, el Akool S, Pfeilschifter J (2007) Modulation of mRNA stability as a novel therapeutic approach. Pharmacol Ther 114(1):56–73. doi:10.1016/j.pharmthera.2007.01.002

Essafi-Benkhadir K, Onesto C, Stebe E, Moroni C, Pages G (2007) Tristetraprolin inhibits Ras-dependent tumor vascularization by inducing vascular endothelial growth factor mRNA degradation. Mol Biol Cell 18(11):4648–4658

Fabian MR, Frank F, Rouya C, Siddiqui N, Lai WS, Karetnikov A, Blackshear PJ, Nagar B, Sonenberg N (2013) Structural basis for the recruitment of the human CCR4-NOT deadenylase complex by tristetraprolin. Nat Struct Mol Biol 20(6):735–739. doi:10.1038/nsmb.2572

Fan XC, Steitz JA (1998) HNS, a nuclear-cytoplasmic shuttling sequence in HuR. Proc Natl Acad Sci U S A 95(26):15293–15298

Fenger-Gron M, Fillman C, Norrild B, Lykke-Andersen J (2005) Multiple processing body factors and the ARE binding protein TTP activate mRNA decapping. Mol Cell 20(6):905–915. doi:10.1016/j.molcel.2005.10.031

Garneau NL, Wilusz J, Wilusz CJ (2007) The highways and byways of mRNA decay. Nat Rev 8(2):113–126

Gebeshuber CA, Zatloukal K, Martinez J (2009) miR-29a suppresses tristetraprolin, which is a regulator of epithelial polarity and metastasis. EMBO Rep 10(4):400–405. doi:10.1038/embor.2009.9

Gratacos FM, Brewer G (2010) The role of AUF1 in regulated mRNA decay. Wiley Interdiscip Rev RNA 1(3):457–473. doi:10.1002/wrna.26

Griseri P, Bourcier C, Hieblot C, Essafi-Benkhadir K, Chamorey E, Touriol C, Pages G (2011) A synonymous polymorphism of the Tristetraprolin (TTP) gene, an AU-rich mRNA-binding protein, affects translation efficiency and response to Herceptin treatment in breast cancer patients. Hum Mol Genet 20(23):4556–4568. doi:10.1093/hmg/ddr390

Halees AS, El-Badrawi R, Khabar KS (2008) ARED Organism: expansion of ARED reveals AU-rich element cluster variations between human and mouse. Nucleic Acids Res 36(Database issue):D137–D140. doi:10.1093/nar/gkm959

Hitti E, Khabar KS (2012) Sequence variations affecting AU-rich element function and disease. Front Biosci 17:1846–1860

Hudson BP, Martinez-Yamout MA, Dyson HJ, Wright PE (2004) Recognition of the mRNA AU-rich element by the zinc finger domain of TIS11d. Nat Struct Mol Biol 11(3):257–264. doi:10.1038/nsmb738

Hurwitz H, Fehrenbacher L, Novotny W, Cartwright T, Hainsworth J, Heim W, Berlin J, Baron A, Griffing S, Holmgren E, Ferrara N, Fyfe G, Rogers B, Ross R, Kabbinavar F (2004) Bevacizumab plus irinotecan, fluorouracil, and leucovorin for metastatic colorectal cancer. N Engl J Med 350(23):2335–2342

Jacobson A (1996) Translational control. Cold Spring Harbor Laboratory Press, Cold Spring Harbor

Johnson BA, Stehn JR, Yaffe MB, Blackwell TK (2002) Cytoplasmic localization of tristetraprolin involves 14-3-3-dependent and -independent mechanisms. J Biol Chem 277(20):18029–18036. doi:10.1074/jbc.M110465200, M110465200 [pii]

Kanies CL, Smith JJ, Kis C, Schmidt C, Levy S, Khabar KS, Morrow J, Deane N, Dixon DA, Beauchamp RD (2008) Oncogenic Ras and transforming growth factor-beta synergistically regulate AU-rich element-containing mRNAs during epithelial to mesenchymal transition. Mol Cancer Res 6(7):1124–1136. doi:10.1158/1541-7786.MCR-07-2095

Kontoyiannis D, Pasparakis M, Pizarro TT, Cominelli F, Kollias G (1999) Impaired on/off regulation of TNF biosynthesis in mice lacking TNF AU-rich elements: implications for joint and gut-associated immunopathologies. Immunity 10(3):387–398

Kotlyarov A, Neininger A, Schubert C, Eckert R, Birchmeier C, Volk HD, Gaestel M (1999) MAPKAP kinase 2 is essential for LPS-induced TNF-alpha biosynthesis. Nat Cell Biol 1(2):94–97. doi:10.1038/10061

Lafarga V, Cuadrado A, Lopez de Silanes I, Bengoechea R, Fernandez-Capetillo O, Nebreda AR (2009) p38 Mitogen-activated protein kinase- and HuR-dependent stabilization of p21(Cip1) mRNA mediates the G(1)/S checkpoint. Mol Cell Biol 29(16):4341–4351. doi:10.1128/MCB.00210-09

Lai WS, Parker JS, Grissom SF, Stumpo DJ, Blackshear PJ (2006) Novel mRNA targets for tristetraprolin (TTP) identified by global analysis of stabilized transcripts in TTP-deficient fibroblasts. Mol Cell Biol 26(24):9196–9208. doi:10.1128/MCB.00945-06

Lal A, Mazan-Mamczarz K, Kawai T, Yang X, Martindale JL, Gorospe M (2004) Concurrent versus individual binding of HuR and AUF1 to common labile target mRNAs. EMBO J 23(15):3092–3102. doi:10.1038/sj.emboj.7600305

Langa F, Lafon I, Vandormael-Pournin S, Vidaud M, Babinet C, Morello D (2001) Healthy mice with an altered c-myc gene: role of the 3′ untranslated region revisited. Oncogene 20(32):4344–4353. doi:10.1038/sj.onc.1204482

Lebedeva S, Jens M, Theil K, Schwanhausser B, Selbach M, Landthaler M, Rajewsky N (2011) Transcriptome-wide analysis of regulatory interactions of the RNA-binding protein HuR. Mol Cell 43(3):340–352. doi:10.1016/j.molcel.2011.06.008

Lee SK, Kim SB, Kim JS, Moon CH, Han MS, Lee BJ, Chung DK, Min YJ, Park JH, Choi DH, Cho HR, Park SK, Park JW (2005) Butyrate response factor 1 enhances cisplatin sensitivity in human head and neck squamous cell carcinoma cell lines. Int J Cancer 117(1):32–40. doi:10.1002/ijc.21133

Levy NS, Chung S, Furneaux H, Levy AP (1998) Hypoxic stabilization of vascular endothelial growth factor mRNA by the RNA-binding protein HuR. J Biol Chem 273(11):6417–6423

Linker K, Pautz A, Fechir M, Hubrich T, Greeve J, Kleinert H (2005) Involvement of KSRP in the post-transcriptional regulation of human iNOS expression-complex interplay of KSRP with TTP and HuR. Nucleic Acids Res 33(15):4813–4827. doi:10.1093/nar/gki797

Lopez de Silanes I, Fan J, Galban CJ, Spencer RG, Becker KG, Gorospe M (2004) Global analysis of HuR-regulated gene expression in colon cancer systems of reducing complexity. Gene Expr 12(1):49–59

Lopez de Silanes I, Quesada MP, Esteller M (2007) Aberrant regulation of messenger RNA 3′-untranslated region in human cancer. Cell Oncol 29(1):1–17

Ma WJ, Cheng S, Campbell C, Wright A, Furneaux H (1996) Cloning and characterization of HuR, a ubiquitously expressed Elav-like protein. J Biol Chem 271(14):8144–8151

Maitra S, Chou CF, Luber CA, Lee KY, Mann M, Chen CY (2008) The AU-rich element mRNA decay-promoting activity of BRF1 is regulated by mitogen-activated protein kinase-activated protein kinase 2. RNA 14(5):950–959

Mangus DA, van Hoof A (2003) Making and breaking the message. Genome Biol 4(11):346. doi:10.1186/gb-2003-4-11-346

Mayr C, Bartel DP (2009) Widespread shortening of 3′ UTRs by alternative cleavage and polyadenylation activates oncogenes in cancer cells. Cell 138(4):673–684. doi:10.1016/j.cell.2009.06.016

Mendell JT, Dietz HC (2001) When the message goes awry: disease-producing mutations that influence mRNA content and performance. Cell 107(4):411–414

Misquitta CM, Iyer VR, Werstiuk ES, Grover AK (2001) The role of 3′-untranslated region (3′-UTR) mediated mRNA stability in cardiovascular pathophysiology. Mol Cell Biochem 224(1–2):53–67

Nabors LB, Gillespie GY, Harkins L, King PH (2001) HuR, a RNA stability factor, is expressed in malignant brain tumors and binds to adenine- and uridine-rich elements within the 3' untranslated regions of cytokine and angiogenic factor mRNAs. Cancer Res 61(5):2154–2161

Neininger A, Kontoyiannis D, Kotlyarov A, Winzen R, Eckert R, Volk HD, Holtmann H, Kollias G, Gaestel M (2002) MK2 targets AU-rich elements and regulates biosynthesis of tumor necrosis factor and interleukin-6 independently at different post-transcriptional levels. J Biol Chem 277(5):3065–3068. doi:10.1074/jbc.C100685200

Onesto C, Berra E, Grepin R, Pages G (2004) Poly(A)-binding protein-interacting protein 2, a strong regulator of vascular endothelial growth factor mRNA. J Biol Chem 279(33):34217–34226

Ouchi N, Shibata R, Walsh K (2005) AMP-activated protein kinase signaling stimulates VEGF expression and angiogenesis in skeletal muscle. Circ Res 96(8):838–846. doi:10.1161/01.RES.0000163633.10240.3b

Pages G, Berra E, Milanini J, Levy AP, Pouyssegur J (2000) Stress-activated protein kinases (JNK and p38/HOG) are essential for vascular endothelial growth factor mRNA stability. J Biol Chem 275(34):26484–26491

Planel S, Salomon A, Jalinot P, Feige J, Cherradi N (2010) A novel concept in antiangiogenic and antitumoral therapy: multitarget destabilization of short-lived mRNAs by the zinc finger protein ZFP36L1. Oncogene 29:5989–6003

Ramos SB, Stumpo DJ, Kennington EA, Phillips RS, Bock CB, Ribeiro-Neto F, Blackshear PJ (2004) The CCCH tandem zinc-finger protein Zfp36l2 is crucial for female fertility and early embryonic development. Development 131(19):4883–4893

Rounbehler RJ, Fallahi M, Yang C, Steeves MA, Li W, Doherty JR, Schaub FX, Sanduja S, Dixon DA, Blackshear PJ, Cleveland JL (2012) Tristetraprolin impairs myc-induced lymphoma and abolishes the malignant state. Cell 150(3):563–574. doi:10.1016/j.cell.2012.06.033

Schmidlin M, Lu M, Leuenberger SA, Stoecklin G, Mallaun M, Gross B, Gherzi R, Hess D, Hemmings BA, Moroni C (2004) The ARE-dependent mRNA-destabilizing activity of BRF1 is regulated by protein kinase B. EMBO J 23(24):4760–4769

Shyu AB, Belasco JG, Greenberg ME (1991) Two distinct destabilizing elements in the c-fos message trigger deadenylation as a first step in rapid mRNA decay. Genes Dev 5(2):221–231

Simone LE, Keene JD (2013) Mechanisms coordinating ELAV/Hu mRNA regulons. Curr Opin Genet Dev 23(1):35–43. doi:10.1016/j.gde.2012.12.006

Sinha S, Dutta S, Datta K, Ghosh AK, Mukhopadhyay D (2009) Von Hippel-Lindau gene product modulates TIS11B expression in renal cell carcinoma: impact on vascular endothelial growth factor expression in hypoxia. J Biol Chem 284(47):32610–32618. doi:10.1074/jbc.M109.058065

Sohn BH, Park IY, Lee JJ, Yang SJ, Jang YJ, Park KC, Kim DJ, Lee DC, Sohn HA, Kim TW, Yoo HS, Choi JY, Bae YS, Yeom YI (2010) Functional switching of TGF-beta1 signaling in liver cancer via epigenetic modulation of a single CpG site in TTP promoter. Gastroenterology 138(5):1898–1908. doi:10.1053/j.gastro.2009.12.044

Stoecklin G, Colombi M, Raineri I, Leuenberger S, Mallaun M, Schmidlin M, Gross B, Lu M, Kitamura T, Moroni C (2002) Functional cloning of BRF1, a regulator of ARE-dependent mRNA turnover. EMBO J 21(17):4709–4718

Stoecklin G, Gross B, Ming XF, Moroni C (2003) A novel mechanism of tumor suppression by destabilizing AU-rich growth factor mRNA. Oncogene 22(23):3554–3561

Stoecklin G, Mayo T, Anderson P (2006) ARE-mRNA degradation requires the 5′-3′ decay pathway. EMBO Rep 7(1):72–77

Stoecklin G, Muhlemann O (2013) RNA decay mechanisms: specificity through diversity. Biochim Biophys Acta 1829(6–7):487–490. doi:10.1016/j.bbagrm.2013.04.002

Stoecklin G, Stubbs T, Kedersha N, Wax S, Rigby WF, Blackwell TK, Anderson P (2004) MK2-induced tristetraprolin:14-3-3 complexes prevent stress granule association and ARE-mRNA decay. EMBO J 23(6):1313–1324. doi:10.1038/sj.emboj.7600163, 7600163 [pii]

Stumpo DJ, Broxmeyer HE, Ward T, Cooper S, Hangoc G, Chung YJ, Shelley WC, Richfield EK, Ray MK, Yoder MC, Aplan PD, Blackshear PJ (2009) Targeted disruption of Zfp36l2, encoding a CCCH tandem zinc finger RNA-binding protein, results in defective hematopoiesis. Blood 114(12):2401–2410. doi:10.1182/blood-2009-04-214619

Stumpo DJ, Byrd NA, Phillips RS, Ghosh S, Maronpot RR, Castranio T, Meyers EN, Mishina Y, Blackshear PJ (2004) Chorioallantoic fusion defects and embryonic lethality resulting from disruption of Zfp36L1, a gene encoding a CCCH tandem zinc finger protein of the Tristetraprolin family. Mol Cell Biol 24(14):6445–6455

Szabo A, Dalmau J, Manley G, Rosenfeld M, Wong E, Henson J, Posner JB, Furneaux HM (1991) HuD, a paraneoplastic encephalomyelitis antigen, contains RNA-binding domains and is homologous to Elav and Sex-lethal. Cell 67(2):325–333

Tran H, Maurer F, Nagamine Y (2003) Stabilization of urokinase and urokinase receptor mRNAs by HuR is linked to its cytoplasmic accumulation induced by activated mitogen-activated protein kinase-activated protein kinase 2. Mol Cell Biol 23(20):7177–7188

White EJ, Brewer G, Wilson GM (2013) Post-transcriptional control of gene expression by AUF1: mechanisms, physiological targets, and regulation. Biochim Biophys Acta 1829(6–7):680–688. doi:10.1016/j.bbagrm.2012.12.002

Wilson T, Treisman R (1988) Removal of poly(A) and consequent degradation of c-fos mRNA facilitated by 3′ AU-rich sequences. Nature 336(6197):396–399. doi:10.1038/336396a0

Wilusz CJ, Wormington M, Peltz SW (2001) The cap-to-tail guide to mRNA turnover. Nat Rev Mol Cell Biol 2(4):237–246. doi:10.1038/35067025

Winzen R, Kracht M, Ritter B, Wilhelm A, Chen CY, Shyu AB, Muller M, Gaestel M, Resch K, Holtmann H (1999) The p38 MAP kinase pathway signals for cytokine-induced mRNA stabilization via MAP kinase-activated protein kinase 2 and an AU-rich region-targeted mechanism. EMBO J 18(18):4969–4980

Winzen R, Thakur BK, Dittrich-Breiholz O, Shah M, Redich N, Dhamija S, Kracht M, Holtmann H (2007) Functional analysis of KSRP interaction with the AU-rich element of interleukin-8 and identification of inflammatory mRNA targets. Mol Cell Biol 27(23):8388–8400. doi:10.1128/MCB.01493-07

Xu N, Chen CY, Shyu AB (1997) Modulation of the fate of cytoplasmic mRNA by AU-rich elements: key sequence features controlling mRNA deadenylation and decay. Mol Cell Biol 17(8):4611–4621

Young LE, Sanduja S, Bemis-Standoli K, Pena EA, Price RL, Dixon DA (2009) The mRNA binding proteins HuR and tristetraprolin regulate cyclooxygenase 2 expression during colon carcinogenesis. Gastroenterology 136(5):1669–1679. doi:10.1053/j.gastro.2009.01.010

Yun H, Lee M, Kim SS, Ha J (2005) Glucose deprivation increases mRNA stability of vascular endothelial growth factor through activation of AMP-activated protein kinase in DU145 prostate carcinoma. J Biol Chem 280(11):9963–9972. doi:10.1074/jbc.M412994200
Copyright information

© 2014 Springer-Verlag France
About this chapter
Cite this chapter
Planel, S., Rataj, F., Feige, JJ., Cherradi, N. (2014). Posttranscriptional Regulation of Angiogenesis Through AU-Rich mRNA Degradation: Potential Application in Cancer Therapy. In: Feige, JJ., Pagès, G., Soncin, F. (eds) Molecular Mechanisms of Angiogenesis. Springer, Paris. https://doi.org/10.1007/978-2-8178-0466-8_17