Abstract

The article proposes an intelligent framework for supporting Web-based applications. The framework focuses on innovative use of existing resources and technologies in the form of services and takes the leverage of theoretical foundation of services science and the research from services computing. The main focus of the framework is to deliver benefits to users with various roles such as service requesters, service providers, and business owners to maximize their productivity when engaging with each other via the Web. The article opens up with research motivations and questions, analyses the existing state of research in the field, and describes the approach in implementing the proposed framework. Finally, an e-health application is discussed to evaluate the effectiveness of the framework where participants such as general practitioners (GPs), patients, and health-care workers collaborate via the Web.
Keywords
Service Management

Service Composition

Business Owner

Service Discovery

Service Registry
These keywords were added by machine and not by the authors. This process is experimental and the keywords may be updated as the learning algorithm improves.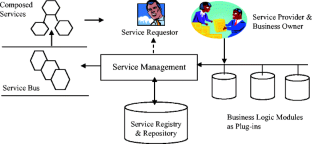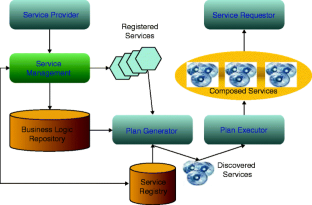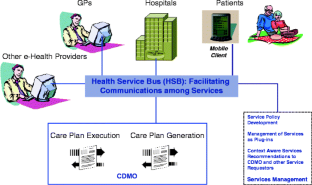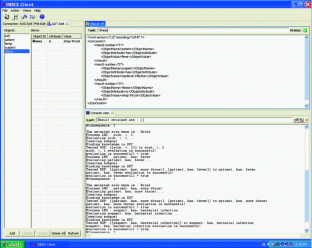 References
Chesbrough, H. 2005. Toward a science of services. Harvard Business Review, 83, 16-17.

Cheung, L., Chung, P., Stone, R., Dai, W. 2006. A Personal Knowledge Management Tool that Supports Organizational Knowledge Management. Proceedings of 2006 Asia Pacific International Conference on Knowledge Management. Hong Kong, December 11–13.

Dai, W. 2007. Collaborative Real-Time Information Services via Portals. Book Chapter. Encyclopaedia of Portal Technology and Applications. Idea Group Inc. Pp 140 -145.

Dai, W. and Liu, J. 2006. Dynamic Adaptive Services in e-Business Environments. 5th International Workshop on Adaptive and Reflective Middleware, in association with Middleware 2006, URL: http://2006.middleware-conference.org/ November 27–December 1, Melbourne, Australia. ACM Press.

Dai, W, Moynihan, P., Gou, J., Zou, P., Yang, X., Chen, T., Wan, X. 2007. Services Oriented Knowledge-based Supply Chain Application. In proceedings of the 2007 IEEE International Conference on Services Computing, URL: http://conferences.computer.org/scc/2007/. IEEE Computer Society. Los Alamitos, CA. USA. Pp 660–667.

Davis, L., Gamble, R., Hepner, M., and Kelkar, M. 2005. Toward Formalizing Service Integration Glue Code, Proceedings of the 2005 IEEE International Conference on Services Computing, SCC'05. IEEE Computer Society Press.

Dey, A. and Abouwd, G. 2000. Towards a Better Understanding of Context and Context and Context-Awareness. Workshop on the What, who, Where, When and How of Context Awareness. 2000 Conference on Human Factors in Computing Systems, CHI. 2000.

Fitzsimmons, J. A., Fitzsimmons, M. J. 2001. Service management: Operations, strategy, and information technology. Third edition. McGraw-Hill: New York, NY.

Fuchs, V. R. 1968. The service economy. National Bureau of Economic Research. New York.

Georgiadis, I., Magee, J. and Kramer, J. 2002. Self-organising software architectures for distributed systems. Proceedings of the First Workshop on Self-Healing Systems.

Hofmann, M., Beaumont, L. R., 2007. Open Pluggable Edge Services. IEEE Internet Computing. January-February. IEEE Computer Society Press. Pp 67–73.

Hofmeister, C. R. 1993. Dynamic Reconfiguration of Distributed Applications. PhD Thesis. Department of Computer Science. University of Maryland.

Horn, P. 2005. The new discipline of Services Science: It's a melding of technology with an understanding of business processes and organization – and it's crucial to the economy's next wave. Business Week. January 21. URL: http://www.businessweek.com/technology/content/jan2005/tc20050121-8020.htm.

Karmarkar, U. 2004. Will you survive the services revolution? Harvard Business Review (June): 100-107.

Kon, F. and Campell, R. H. 1999. Supporting automatic configuration of component-based distributed systems. Proceedings of the 5th USENIX Conference on Object-Oriented Technologies and Systems.

Lowry, M. R. 1992.Software engineering in the twenty-first century. AI Magazine Fall: 71-87.

Martin, D., Domingue, J., Brodie, M. L., and Leymann, F. 2007. Semantic Web Services, Part1. IEEE Intelligent Systems, September/October. Pp 12-17.

Martin, D., Domingue, J., Sheth, A., Battle, S., Sycara, K., Fensel, D. 2007. Semantic Web Services, Part1. IEEE Intelligent Systems, November/December. Pp 8-15.

McAfee, A. 2005. Will web services really transform collaboration? MIT Sloan Management Review, 6 (2).

Oreizy, P. and Taylor, R. N. 1998. On the Role of Software Architectures in Running System Reconfiguration. IEEE Software. Vol. 145, No. 5.

Rebeca P. Díaz Redondo, Ana Fernández Vilas, Manuel Ramos Cabrer, José Juan Pazos Arias, Jorge García Duque, and Alberto Gil Solla. 2008. Enhancing Residential Gateways: A Semantic OSGi Platform. IEEE Intelligent Systems. January/February. Pp 32–40. IEEE Computer Society.

Rubin, S. H. and Dai, W. 2003. An integrated knowledge management environment: a study of counter terrorism technologies. Journal of Information and Knowledge Management, Vol. 3, No. 1, pp 1-15. World Scientific Publishing.

Rust, R. 2004. A call for a wider range of service research. Journal of Service Research. 6 (3).

Sampson, S. E. 2001. Understanding service businesses: Applying principles of unified systems theory. Second edition. John Wiley and Sons: New York, NY.

Tien, J. M., D. Berg. 2003. A case for service systems engineering. The Journal of Systems Science and Systems Engineering. 12 (1), 113-28.

Vargo, S. L. and Lusch, R. F. 2004. Evolving to a new dominant logic for marketing. Journal of Marketing. 68, 1-17.
Acknowledgements

The work is part of the PHOENIX research program at Victoria University, Australia. The leadership of Jonathan Liu in OSGi application development is hereby acknowledged.
Copyright information

© 2010 Springer-Verlag London Limited
About this chapter
Cite this chapter
Dai, W. (2010). Framework for Supporting Web-Based Collaborative Applications. In: Yao, J. (eds) Web-based Support Systems. Advanced Information and Knowledge Processing. Springer, London. https://doi.org/10.1007/978-1-84882-628-1_2
DOI: https://doi.org/10.1007/978-1-84882-628-1_2

Published:

Publisher Name: Springer, London

Print ISBN: 978-1-84882-627-4

Online ISBN: 978-1-84882-628-1

eBook Packages: Computer ScienceComputer Science (R0)