Abstract

Medium access control for wireless sensor networks has been an active research area in the past decade. This chapter discusses a set of important medium access control (MAC) attributes and possible design trade-offs in protocol design, with an emphasis on energy efficiency. Then we categorize existing MAC protocols into five groups, outline the representative protocols, and compare their advantages and disadvantages in the context of wireless sensor network. Finally, thoughts for practitioners are presented and open research issues are also discussed.
Keywords
Sensor Network

Sensor Node

Wireless Sensor Network

Medium Access Control

Cluster Head
These keywords were added by machine and not by the authors. This process is experimental and the keywords may be updated as the learning algorithm improves.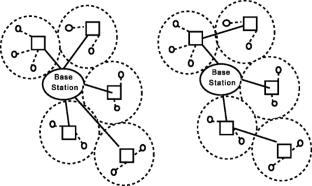 References
P. Coronel, R. Doss, and W. Schott. Geographic routing with cooperative relaying and leapfrogging in WSNs. IEEE Global Telecommunications Conference (Globecom'07), USA, November

N. Abramson. The ALOHA system – Another alternative for computer communications. In Fall Joint Computer Conference, Montvale, NJ, 37:281–285,

R. Jurdak, C. Lopes, and P. Baldi. A Survey, classification and comparative analysis of medium access control protocols for ad hoc networks. IEEE Communications Surveys and Tutorials, 6(1):2–16,

J.F. Kurose and K.W. Ross. Computer Networking: A Top–Down Approach Featuring the Internet. Reading, MA: Addison Wesley, Third edition,

F. Tobagi and L. Kleinrock. Packet switching in radio channels: Part II – the hidden terminal problem in carrier sense multiple access and the busy-tone solution. IEEE Transactions on Communications, 23(12):1417–1433,

Wireless LAN Medium Access Control (MAC) and Physical Layer (PHY) Specification, IEEE Std. 802.

I.F. Akyildiz, W. Su, Y. Sankarasubramaniam, and E. Cayirci. Wireless sensor networks: A survey. Computer Networks, 38(4):393–422, March

K. Langedoen and G. Halkes. Energy-efficient medium access control. In R. Zurawski (ed.), Embedded Systems Handbook, Boca Raton, FL: CRC Press,

K. Kredo II and P. Mohapatra. Medium access control in wireless sensor networks. Computer Networks, 51(4):961–994,

R. Doss, G. Li, V. Mak, S. Yu, and M. Chowdhury. The crossroads approach to information discovery in WSNs. Lecture Notes in Computer Science 4094, January

W. Ye, J. Heidemann, and D. Estrin. Medium access control with coordinated adaptive sleeping for wireless sensor networks. IEEE/ACM Transactions on Networking, 12(3):493–506,

A. El-Hoiydi. ALOHA with preamble sampling for sporadic traffic in ad hoc wireless sensor networks. In IEEE International Conference on Communications (ICC2002), New York, April

J. Hill and D. Culler. MICA: A wireless platform for deeply embedded networks. IEEE Micro, 22(6):12–24,

A. El-Hoiydi and J.-D. Decotignie. WiseMAC: An ultra low power MAC protocol for multi-hop wireless sensor networks. In Proceedings of the International Workshop on Algorithmic Aspects of Wireless Sensor Networks (Algosensors), pages 18–31, July 2004.

A. Woo and D. Culler. A transmission control scheme for media access in sensor networks. In Proceedings of ACM/IEEE International Conference on Mobile Computing and Networking, Rome, Italy, pages 221–235, July

S. Mahlknecht and M. Böck. CMSA-MPS: A minimum preamble sampling MAC protocol for low power wireless sensor networks. In Proceedings of the IEEE International Workshop on Factory Communication Systems, pages 73–80, September

L.F.W. van Hoesel and P.J.M. Havinga. Poster abstract: A TDMA-based MAC protocol for WSNs. In Proceedings of the International Conference on Embedded Networked Sensor Systems (SenSys), pages 303–304, November

L.F.W. van Hoesel and P.J.M. Havinga. A lightweight medium access protocol (LMAC) for wireless sensor networks: Reducing preamble transmissions and transceiver state switches. In Proceedings of the International Conference on Networked Sensing Systems (INSS), Tokyo, Japan, June

S. Chatterjea, L.F.W. van Hoesel, and P.J.M. Havinga. AI-LMAC: An adaptive, information-centric and lightweight MAC protocol for wireless sensor networks. In Proceedings of the Intelligent Sensors, Sensor Networks, and Information Processing Conference, pages 381–388, December

I. Rhee, A. Warrier, M. Aia, and J. Min. Z-MAC: A hybrid MAC for wireless sensor networks. In Proceedings of the International Conference on Embedded Networked Sensor Systems (SenSys), pages 90–101, November

V. Rajendran, K. Obraczka, and J.J. Garcia-Luna-Aceves. Energy-efficient, collision-free medium access control for wireless sensor networks. In Proceedings of the International Conference on Embedded Networked Sensor Systems (SenSys), pages 181–192, November

P. Lin, C. Qiao, and X. Wang. Medium access control with a dynamic duty cycle for sensor networks. In Proceedings of the IEEE Wireless Communications and Networking Conference (WCNC), volume 3, pages 1534–1539, March

T. van Dam and K. Langendoen. An adaptive energy-efficient MAC protocol for wireless sensor networks. In Proceedings of the International Conference on Embedded Networked Sensor Systems (SenSys), pages 171–180, November

J. Ai, J. Kong, and D. Turgut. An adaptive coordinated medium access control for wireless sensor networks. In Proceedings of the International Symposium on Computers and Communications, volume 1, pages 214–219, July

H. Pham and S. Jha. An adaptive mobility-aware MAC protocol for sensor networks (MS-MAC). In Proceedings of the IEEE International Conference on Mobile Ad-hoc and Sensor Systems (MASS), pages 214–226, October

W.B. Heinzelman, A.P. Chandrakasan, and H. Balakrishnan. An application-specific protocol architecture for wireless microsensor networks. IEEE Transactions on Wireless Communications, 1(4):660–670, October

S. Biaz and Y.D. Barowski. GANGS: An energy efficient MAC protocol for sensor networks. In Proceedings of the Annual Southeast Regional Conference, pages 82–87, April

Y.E. Sagduyu and A. Ephremides. The problem of medium access control in wireless sensor networks. IEEE Wireless Communications, 11(6):44–53, December

M. Ali, T. Suleman, and Z.A. Uzmi. MMAC: A mobility-adaptive, collision-free MAC protocol for wireless sensor networks. In Proceedings of the 24th IEEE International Performance Computing and Communications Conference, Phoenix, Arizona, pages 401–407, USA, April

Z.R. Zaidi and B.L. Mark, Mobility estimation for wireless networks based on an auto-regressive model. In Proceedings of 2004 Global Telecommunications Conference, Dallas, TX, pages 3405–3409, December

M. Ali, U. Saif, A. Dunkels, T. Voigt, K. Romer, and K. Langendoen, Medium access control issues in sensor networks. ACM SIGCOMM Computer Communication Review, 36(2): 33–36, April

J. Polastre, J. Hui, P. Levis, J. Zhao, D. Culler, S. Shenker, and I. Stoica. A unifying link abstraction for wireless sensor networks. SenSys '05: Proceedings of the 3rd international conference on Embedded networked sensor systems, San Diego, California, USA, pages 76–89, 2005
Copyright information

© 2009 Springer-Verlag London Limited
About this chapter
Cite this chapter
Li, G., Doss, R. (2009). Energy-Efficient Medium Access Control in Wireless Sensor Networks. In: Misra, S., Woungang, I., Misra, S. (eds) Guide to Wireless Sensor Networks. Computer Communications and Networks. Springer, London. https://doi.org/10.1007/978-1-84882-218-4_16
DOI: https://doi.org/10.1007/978-1-84882-218-4_16

Published:

Publisher Name: Springer, London

Print ISBN: 978-1-84882-217-7

Online ISBN: 978-1-84882-218-4

eBook Packages: Computer ScienceComputer Science (R0)