Abstract
Bleomycin is a basic hydrosoluble antibiotic originally isolated as a copper complex from the culture medium of Streptomyces verticillis (1,2). Bleomycin comprises a family of 11 isomers differing only in the terminal amine moiety (see Fig. 1), and the most abundant form is bleomycin-A2 (2–5). By the late sixties, substantial evidence had accumulated showing that bleomycin can diminish the growth of experimentally induced tumors in mice and rats and dramatically decrease the size of human tumors (6–10). It has been postulated that bleomycin mediates the cell killing by directly attacking the DNA (11,12). This notion rapidly gained support from subsequent independent studies showing that bleomycin triggers the induction of lysogenic phage in bacteria, a result of DNA damage, and induces mitotic recombination and mutations in many model sys tems, including the budding yeast Saccharomyces cerevisiae, Aspergillus, and Drosophila (13–18). Later studies also showed that bleomycin can induce micro-nuclei formation and chromosome aberrations in human lymphocytes (19). The accumulated findings strongly suggest that bleomycin may mediate its effect as a chemotherapeutic agent by mutating the DNA (20–23). However, more recent studies showed that RNA is also a target for bleomycin, raising debate about the actual therapeutic cellular target (i.e., DNA vs RNA) (24).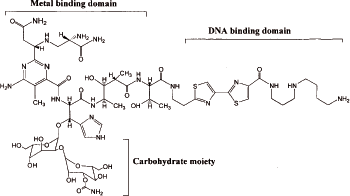 Keywords
Saccharomyces Cerevisiae 
Cellular Protection 
Drug Efflux Pump 
Methyl Methane Sulfonate 
Methyl Methane Sulfonate 
These keywords were added by machine and not by the authors. This process is experimental and the keywords may be updated as the learning algorithm improves.
Copyright information
© Springer Science+Business Media New York 2004