Abstract

Biophysical factors such as mechanical cues and micro/nano features of extracellular matrix regulate a variety of cell functions, including signal transduction from the cell surface to nucleus. Recent studies indicate that biophysical factors not only modulate immediate mechanotransduction and signaling, but also exert long-term effects on phenotypic changes, including stem cell differentiation and cell reprogramming. Both cell differentiation and reprogramming involve epigenetic state changes such as DNA methylation and histone methylation and acetylation, each of which affects gene expression independent of DNA sequence. There is emerging evidence that biophysical factors, in addition to transcriptional factors and biochemical factors, can regulate the epigenetic state of the cells and thus its phenotypic changes. This chapter will highlight the potential mechanisms through which mechanotransduction may lead to epigenetic modifications.
Keywords
Mechanotransduction

Nucleus

Chromatin

Epigenetic modification

Cell reprogramming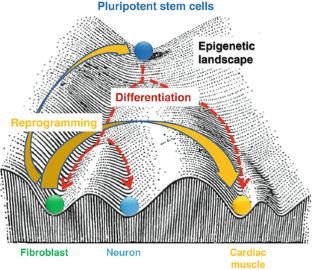 References
Akter R, Rivas D, Geneau G, Drissi H, Duque G (2009) Effect of lamin A/C knockdown on osteoblast differentiation and function. J Bone Miner Res 24:283–293

Bernstein BE, Mikkelsen TS, Xie X, Kamal M, Huebert DJ, Cuff J et al (2006) A bivalent chromatin structure marks key developmental genes in embryonic stem cells. Cell 125:315–326

Boguslavsky RL, Stewart CL, Worman HJ (2006) Nuclear lamin A inhibits adipocyte differentiation: implications for Dunnigan-type familial partial lipodystrophy. Hum Mol Genet 15:653–663

Burke B, Stewart CL (2002) Life at the edge: the nuclear envelope and human disease. Nat Rev Mol Cell Biol 3:575–585

Chen LJ, Wei SY, Chiu JJ (2013) Mechanical regulation of epigenetics in vascular biology and pathobiology. J Cell Mol Med 17:437–448

Dahl KN, Ribeiro AJS, Lammerding J (2008) Nuclear shape, mechanics, and mechanotransduction. Circ Res 102:1307–1318

De Sandre-Giovannoli A, Bernard R, Cau P, Navarro C, Amiel J, Boccaccio I et al (2003) Lamin a truncation in Hutchinson-Gilford progeria. Science 300:2055

Dechat T, Pfleghaar K, Sengupta K, Shimi T, Shumaker DK, Solimando L et al (2008) Nuclear lamins: major factors in the structural organization and function of the nucleus and chromatin. Genes Dev 22:832–853

Downing TL, Soto J, Morez C, Houssin T, Fritz A, Yuan F et al (2013) Biophysical regulation of epigenetic state and cell reprogramming. Nat Mater 12:1154–1162

Esteller M (2007) Epigenetic gene silencing in cancer: the DNA hypermethylome. Hum Mol Genet 16 Spec No 1:R50–R59

Favreau C, Higuet D, Courvalin J-C, Buendia B (2004) Expression of a mutant lamin A that causes Emery-Dreifuss muscular dystrophy inhibits in vitro differentiation of C2C12 myoblasts. Mol Cell Biol 24:1481–1492

Jain N, Iyer KV, Kumar A, Shivashankar GV (2013) Cell geometric constraints induce modular gene-expression patterns via redistribution of HDAC3 regulated by actomyosin contractility. Proc Natl Acad Sci 110:11349–11354

Kim D-H, Khatau SB, Feng Y, Walcott S, Sun SX, Longmore GD et al (2012) Actin cap associated focal adhesions and their distinct role in cellular mechanosensing. Sci Rep 2:555

Lee D-Y, Lee C-I, Lin T-E, Lim SH, Zhou J, Tseng Y-C et al (2012) Role of histone deacetylases in transcription factor regulation and cell cycle modulation in endothelial cells in response to disturbed flow. Proc Natl Acad Sci 109:1967–1972

Li S, Guan J-L, Chien S (2005) Biochemistry and biomechanics of cell motility. Annu Rev Biomed Eng 7:105–150

Li Y, Chu JS, Kurpinski K, Li X, Bautista DM, Yang L et al (2011) Biophysical regulation of histone acetylation in mesenchymal stem cells. Biophys J 100:1902–1909

Maniotis AJ, Chen CS, Ingber DE (1997) Demonstration of mechanical connections between integrins, cytoskeletal filaments, and nucleoplasm that stabilize nuclear structure. Proc Natl Acad Sci U S A 94:849–854

Meshorer E, Gruenbaum Y (2008) Gone with the Wnt/Notch: stem cells in laminopathies, progeria, and aging. J Cell Biol 181:9–13

Nelson CM, Bissell MJ (2006) Of extracellular matrix, scaffolds, and signaling: tissue architecture regulates development, homeostasis, and cancer. Annu Rev Cell Dev Biol 22:287–309

Paszek MJ, Weaver VM (2004) The tension mounts: mechanics meets morphogenesis and malignancy. J Mammary Gland Biol Neoplasia 9:325–342

Solovei I, Wang AS, Thanisch K, Schmidt CS, Krebs S, Zwerger M et al (2013) LBR and lamin A/C sequentially tether peripheral heterochromatin and inversely regulate differentiation. Cell 152:584–598

Swift J, Ivanovska IL, Buxboim A, Harada T, Dingal PCDP, Pinter J et al (2013) Nuclear lamin-A scales with tissue stiffness and enhances matrix-directed differentiation. Science 341:1240104

Thakar RG, Ho F, Huang NF, Liepmann D, Li S (2003) Regulation of vascular smooth muscle cells by micropatterning. Biochem Biophys Res Commun 307:883–890

Versaevel M, Grevesse T, Gabriele S (2012) Spatial coordination between cell and nuclear shape within micropatterned endothelial cells. Nat Commun 3:671

Wang N, Tytell JD, Ingber DE (2009) Mechanotransduction at a distance: mechanically coupling the extracellular matrix with the nucleus. Nat Rev Mol Cell Biol 10:75–82

Xia S, Li X, Johnson T, Seidel C, Wallace DP, Li R (2010) Polycystin-dependent fluid flow sensing targets histone deacetylase 5 to prevent the development of renal cysts. Development 137:1075–1084

Zhen Y-Y, Libotte T, Munck M, Noegel AA, Korenbaum E (2002) NUANCE, a giant protein connecting the nucleus and actin cytoskeleton. J Cell Sci 115:3207–3222
Acknowledgement

This work was supported in part by grants from the National Institute of Health (HL117213).
Copyright information

© 2016 The American Physiological Society
About this chapter
Cite this chapter
Kelkhoff, D., Downing, T., Li, S. (2016). Mechanotransduction to Epigenetic Remodeling. In: Chien, S., Engler, A., Wang, P. (eds) Molecular and Cellular Mechanobiology. Physiology in Health and Disease. Springer, New York, NY. https://doi.org/10.1007/978-1-4939-5617-3_8