Abstract
The fossil record documenting the evolution of hylobatids is extremely poor, so details of their phylogenetic and geographic origins and subsequent evolutionary history are obscure. Based on molecular clock estimates, hylobatids diverged from other hominoids during the early Miocene , at ~19 Ma, and crown hylobatids originated at ~8 Ma. The oldest fossil hylobatid is Yuanmoupithecus from the late Miocene of China, dating to ~7–9 Ma, which represents the primitive sister taxon of crown hylobatids. The molecular and paleontological evidence indicates that there was a ghost lineage for the initial 10 myrs of hylobatid evolutionary history, with no trace of a fossil record. Hylobatids presumably originated in Africa during the early Miocene, but the timing of their arrival in Asia and their early geographic distribution is unknown. Since there are no suitable fossil precursors for Yuanmoupithecus at older sites in China, it is likely that stem hylobatids migrated northwards from Southeast Asia during the late Miocene, but the Neogene fossil record from this region is poorly documented. Hylobatids occur at a number of Pleistocene archaeological and paleontological sites throughout southern China and Southeast Asia, but they tend to be relatively rare elements of the primate fauna. These are generally referable to extant lineages and species, except for Bunopithecus sericus from the early or middle Pleistocene of China. This contribution reviews what is known about the evolutionary history of the hylobatids based on the fossil evidence, but since there is much that we do not know and cannot deduce about the phylogeny of hylobatids from the incomplete fossil record, a fuller appreciation of the evolutionary history relies on what can also be learned from comparative anatomy and molecular data.
Keywords
Gibbons

Siamang

Teeth

Evolution

Phylogeny

Miocene

Pleistocene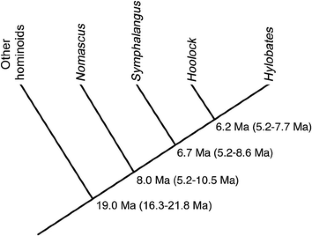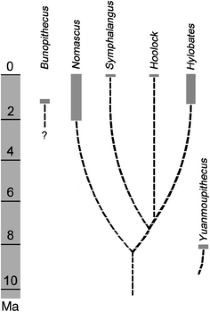 References
Alba DM, Moyà-Solà S (2012) A new pliopithecid genus (Primates, Pliopithecoidea) from Castell de Barberà (Vallès-Penedès Basin, Catalonia, Spain). Am J Phys Anthropol 147:88–112

Andrews P (1978) A revision of the Miocene Hominoidea of East Africa. Bull Br Mus Nat Hist (Geol) 30:85–224

Andrews P (1985) Family group systematics and evolution among catarrhine primates. In: Delson E (ed) Ancestors: the hard evidence. Alan R Liss, New York, pp 14–22

Andrews P, Groves C (1975) Gibbons and brachiation. Gibbon Siamang 4:167–218

Andrews PJ, Simons EL (1977) A new Miocene gibbon-like genus, Dendropithecus (Hominoidea, Primates) with distinctive postcranial adaptations: its significance to origin of Hylobatidae. Folia Primatol 28:161–169

Andrews P, Harrison T (2005) The last common ancestor of apes and humans. In: Lieberman DE, Smith RJ, Kelley J (eds) Interpreting the past: essays on human, primate, and mammal evolution. Brill, Boston, pp 103–121

Andrews P, Harrison T, Delson E, Bernor RL, Martin L (1996) Distribution and biochronology of European and Southwestern Asian Miocene catarrhines. In: Bernor RL, Fahlbusch V, Mittmann H-W (eds) The evolution of western Eurasian Neogene mammal faunas. Columbia University Press, New York, pp 168–207

Bacon A-M, Demeter F, Tougard C, de Vos J, Sayavongkhamdy T, Antoine P-O, Bouasisengpaseuth B, Sichanthongtip P (2008) Redécouverte d'une faune pléistocène dans les remplissages karstiques de Tan Hang au Laos: Premiers résultats. C R Palevol 7:277–288

Badoux DM (1959) Fossil mammals from two fissure deposits at Punung (Java). Kemink en Zoon, Utrecht

Barry JC, Jacobs LL, Kelley J (1986) An early middle Miocene catarrhine from Pakistan with comments on the dispersal of catarrhines into Eurasia. J Hum Evol 15:501–508

Begun DR (1993) New catarrhine phalanges from Rudabánya (northeastern Hungary) and the problem of parallelism and convergence in hominoid postcranial morphology. J Hum Evol 24:373–402

Begun DR (2002) The Pliopithecoidea. In: Hartwig WC (ed) The primate fossil record. Cambridge University Press, Cambridge, pp 221–240

Begun DR, Ward CV, Rose MD (1997) Events in hominoid evolution. In: Begun DR, Ward CV, Rose MD (eds) Function, phylogeny, and fossils: Miocene hominoid evolution and adaptation. Plenum Press, New York, pp 389–415

Bernor R, Flynn L, Harrison T, Hussain ST, Kelley J (1988) Dionysopithecus from southern Pakistan and the biochronology and biogeography of early Eurasian catarrhines. J Hum Evol 17:339–358

Bininda-Emonds ORP, Cardillo M, Jones KE, MacPhee RDE, Beck RMD, Grenyer R, Price SA, Vos RA, Gittelman JL, Purvis A (2007) The delayed rise of present-day mammals. Nature 446:507–512

Bohlin B (1946) The fossil mammals from the Tertiary deposit of Taben-Buluk, western Kansu. II. Simplicidentata, Carnivora, Artiodactyla, Perissodactyla and Primates. Palaeontol Sinica N.S. C 8b:1–256

Carbone L, Harris RA, Gnerre S, Veeramah KR, Lorente-Galdos B, Huddleston J, Meyer TJ Herrero J, Roos C, Aken B, Anaclerio F, Archidiacono N, Baker C, Barrell D, Batzer MA, Beal K, Blancher A, Bohrson CL, Brameier M, Campbell MS, Capozzi O, Casola C, Chiatante G, Cree A, Damert A, de Jong PJ, Dumas L, Fernandez-Callejo M, Flicek P, Fuchs NV, Gut I, Gut M, Hahn MW, Hernandez-Rodriguez J, Hillier LW, Hubley R, Ianc B, Izsvák Z, Jablonski NG, Johnstone LM, Karimpour-Fard A, Konkel MK, Kostka D, Lazar NH, Lee SL, Lewis LR, Liu Y, Locke DP, Mallick S, Mendez FL, Muffato M, Nazareth LV, Nevonen KA, O'Bleness M, Ochis C, Odorn DT, Pollard KS, Quilez J, Reich D, Rocchi M, Schumann GG, Searle S, Sikela JM, Skollar G, Smit A, Sonmez K, ten Hallers B, Terhune E, Thomas GWC, Ullmer B, Ventura M, Walker JA, Wall JD, Walter L, Ward MC, Wheelan SJ, Whelan CW, White S, Wilhelm LJ, Woerner AE, Yandell M, Zhu B, Hammer MF, Marques-Bonet T, Eichler EE, Fulton L, Fronick C, Muzny DM, Warren WC, Worley KC, Rogers J, Wilson RK, Gibbs RA (2014) Gibbon genome and the fast karyotype evolution of small apes. Nature 513:195–201

Cave AJ, Haines RW (1940) The paranasal sinuses of the anthropoid primates. J Anat 74:493–523

Chan Y-C, Roos C, Inoue-Murayama M, Inoue E, Shih C-C, Pei KJ-C, Vigilant L (2010) Mitochondrial genome sequences effectively reveal the phylogeny of Hylobates gibbons. PLoS ONE 5(12):e124419

Chan Y-C, Roos C, Inoue-Murayama M, Inoue E, Shih C-C, Vigilant L (2012) A comparative analysis of Y chromosome and mtDNA phylogenies of the Hylobates gibbons. BMC Evol Biol 12:150

Chatterjee HJ (2006) Phylogeny and biogeography of gibbons: a dispersal-vicariance analysis. Int J Primatol 27:699–712

Chatterjee HJ (2009) Evolutionary relationships among the gibbons: a biogeographic perspective. In: Lappan S, Whittaker DJ (eds) The gibbons. Springer, Dordrecht, pp 13–36

Chatterjee, HJ (2016) The role of historical and fossil records in predicting changes in the spatial distribution of hylobatids. In: Reichard UH, Hirohisa H, Barelli C (eds) Evolution of gibbons and siamang. Springer, New York, pp 43–54

Chatterjee HJ, Ho SYW, Barnes I, Groves C (2009) Estimating the phylogeny and divergence times of primates using a supermatrix approach. BMC Evol Bio 9:259

Chen SK, Pang LB, He CD, Wei GB, Huang WB, Yue ZY, Zhang XH, Zhang H, Qin L (2013) New discoveries from the classic quaternary mammalian fossil area of Yanjinggou, Chongqing, and their chronological explanations. Chinese Sci Bull 58:3780–3787

Chopra SRK, Kaul S (1979) A new species of Pliopithecus from the Indian Sivaliks. J Hum Evol 8:475–477

Ciochon RL, Corruccini R (1977) The phenetic position of Pliopithecus and its phylogenetic relationship to the Hominoidea. Syst Zool 26:290–299

Ciochon RL, Olsen JW (1986) Paleoanthropological and archaeological research in the Socialist Republic of Vietnam. J Hum Evol 15:623–633

Colbert EH, Hooijer DA (1953) Pleistocene mammals from the limestone fissures of Szechwan, China. Bull Am Mus Nat Hist 102:1–134

Day MH, Napier J (1963) The functional significance of the deep head of flexor pollicis brevis in primates. Folia Primatol 1:122–134

Delson E (1977) Vertebrate paleontology, especially of nonhuman primates, in China. In: Howells WW, Tsuchitani PJ (eds) Paleoanthropology in the People's Republic of China. National Academy of Sciences, Washington, DC, pp 40–64

Delson E, Andrews P (1975) Evolution and interrelationships of the catarrhine primates. In: Luckett W, Szalay FS (eds) Phylogeny of the primates: a multidisciplinary approach. Plenum Press, New York, pp 405–446

Drawhorn GM (1995) The systematics and paleodemography of fossil orangutans (Genus Pongo). Dissertation, University of California, Davis

Ducrocq S, Chaimanee Y, Suteethorn V, Jaeger J-J (1994) Ages and paleoenvironment of Miocene mammalian faunas from Thailand. Palaeogeog Palaeoclimatol Palaeoecol 108:149–163

Fabre P-H, Rodrigues A, Douzery EJP (2009) Patterns of macroevolution among primates inferred from a supermatrix of mitochondrial and nuclear DNA. Mol Phylogenet Evol 53:808–825

Fan PF, Huo S (2009) The northern white-cheeked gibbon (Nomascus leugogenys) is on the edge of extinction in China. Gibbon J 5:44–52

Finstermeier K, Zinner D, Brameier M, Meyer M, Kreuz E, Hofreiter M, Roos C (2013) A mitogenomic phylogeny of primates. PLoS ONE 8(7):e69504

Fleagle JG (1975) A small gibbon-like hominid from the Miocene of Uganda. Folia Primatol 24:l–l5

Fleagle JG (1984) Are there any fossil gibbons? In: Preuschoft H, Chivers DJ, Brockelman WY, Creel N (eds) The lesser apes. Edinburgh University Press, Edinburgh, pp 431–447

Fleagle JG (2013) Primate adaptation and evolution, 3rd edn. Academic Press, New York

Fleagle JG, Simons EL (1978) Micropithecus clarki, a small ape from the Miocene of Uganda. Am J Phys Anthropol 49:427–440

Frisch JE (1963) Sex-differences in the canines of the gibbon (Hylobates lar). Primates 4:1–10

Frisch JE (1965) Trends in the evolution of the hominoid dentition. Bibliotheca Primatologica Fasc. 3. Karger, Basel

Gao Y, Wen H, He Y (1981) The change of historical distribution of Chinese gibbons (Hylobates). Zool Res 2:1–8

Geissmann T (1995) Gibbon systematics and species identification. Int Zoo News 42:467–501

Geissmann T (2007) Status reassessment of the gibbons: results of the Asian primate red list workshop 2006. Gibbon J 3:5–15

Ginsburg L (1986) Chronology of the European pliopithecoids. In: Else JG, Lee PC (eds) Primate evolution. Cambridge University Press, Cambridge, pp 47–57

Ginsburg L, Mein P (1980) Crouzelia rhodanica, nouvelle espèce de primate catarhinien, et essai sur la position systématique des Pliopithecidae. Bull Mus Natn Hist Nat, Paris, Sér 4 2:57–85

Groves CP (1968) The classification of the gibbons (Primates, Pongidae). Z Saugetierkde 33:239–246

Groves CP (1972) Systematics and phylogeny of the gibbons. Gibbon Siamang 1:1–89

Groves CP (1974) New evidence on the evolution of apes and man. Vest ústred Úst geol 49:53–56

Groves CP (2001) Primate taxonomy. Smithsonian Institution Press, Washington, DC

Gu Y (1986) Preliminary research on the fossil gibbon of Pleistocene China. Acta Anthropol Sinica 5:208–219

Gu Y (1989) Preliminary research on the fossil gibbons of the Chinese Pleistocene and recent. Human Evol 4:509–514

Gu Y, Huang W, Chen D, Guo X, Jablonski NG (1996) Pleistocene fossil primates from Luoding, Guangdong. Vert PalAs 34:235–250

Haimoff EH, Chivers DJ, Gittins SP, Whitten T (1982) A phylogeny of gibbons (Hylobates spp.) based on morphological and behavioural characters. Folia Primatol 39:213–237

Harrison T (1982) Small-bodied apes from the Miocene of East Africa. Dissertation, University of London, London

Harrison T (1987) The phylogenetic relationships of the early catarrhine primates: a review of the current evidence. J Hum Evol 16:41–80

Harrison T (1988) A taxonomic revision of the small catarrhine primates from the early Miocene of East Africa. Folia Primatol 50:59–108

Harrison T (1991) The implications of Oreopithecus for the origins of bipedalism. In: Coppens Y, Senut B (eds) Origine(s) de la Bipédie Chez les Hominidés. Cahiers de Paléoanthropologie. CNRS, Paris, pp 235–244

Harrison T (1993) Cladistic concepts and the species problem in hominoid evolution. In: Kimbel W, Martin L (eds) Species, species concepts, and primate evolution. Plenum Press, New York, pp 345–371

Harrison T (1996) The paleoecological context at Niah Cave Sarawak: evidence from the primate fauna. Bull Indo-Pacific Prehist Assoc 14:90–100

Harrison T (1998) Vertebrate faunal remains from Madai Cave (MAD 1/28), Sabah, East Malaysia. Bull Indo-Pacific Prehist Assoc 17:85–92

Harrison T (2000) Archaeological and ecological implications of the primate fauna from prehistoric sites in Borneo. Bull Indo-Pacific Prehist Assoc 20:133–146

Harrison T (2002) Late Oligocene to middle Miocene catarrhines from Afro-Arabia. In: Hartwig WC (ed) Primate fossil record. Cambridge University Press, Cambridge, pp 311–338

Harrison T (2005) The zoogeographic and phylogenetic relationships of early catarrhine primates in Asia. Anthropol Sci 113:43–51

Harrison T (2010a) Dendropithecoidea, Proconsuloidea and Hominoidea. In: Werdelin L, Sanders WJ (eds) Cenozoic mammals of Africa. University of California Press, Berkeley, pp 429–469

Harrison T (2010b) Apes among the tangled branches of human origins. Science 327:532–534

Harrison T (2013) Catarrhine origins. In: Begun DR (ed) A companion to paleoanthropology. Wiley-Blackwell, Oxford, pp 376–396

Harrison T, Delson E, Guan J (1991) A new species of Pliopithecus from the middle Miocene of China and its implications for early catarrhine zoogeography. J Hum Evol 21:329–361

Harrison T, Gu Y (1999) Taxonomy and phylogenetic relationships of early Miocene catarrhines from Sihong, China. J Hum Evol 37:225–277

Harrison T, Krigbaum J, Manser J (2006) Primate biogeography and ecology on the Sunda Shelf Islands: a paleontological and zooarchaeological perspective. In: Lehman SM, Fleagle JG (eds) Primate biogeography. Springer, New York, pp 331–372

Harrison T, Ji X, Zheng L (2008) Renewed investigations at the late Miocene hominoid locality of Leilao, Yunnan, China. Am J Phys Anthropol 135(S46):113

Harrison T, Jin C, Zhang Y, Wang Y (2014) Fossil Pongo from the early Pleistocene Gigantopithecus fauna of Chongzuo, Guangxi, southern China. Quatern Int 354:59–67

Harrison T, Rook L (1997) Enigmatic anthropoid or misunderstood ape? The phylogenetic status of Oreopithecus bambolii reconsidered. In: Begun DR, Ward CV, Rose MD (eds) Function, phylogeny, and fossils: Miocene hominid evolution and adaptations. Plenum, New York, pp 327–362

Harrison T, Sanders WJ (1999) Scaling of lumbar vertebrae in anthropoid primates: its implications for the positional behavior and phylogenetic affinities of Proconsul. Am J Phys Anthropol S 28:146

Hayashi S, Hayasaka K, Takenaka O, Horai S (1995) Molecular phylogeny of gibbons inferred from mitochondrial DNA sequences: preliminary report. J Mol Evol 41:359–365

Hooijer DA (1960) Quaternary gibbons from the Malay Archipelago. Zool Verhand Leiden 46:1–42

Hooijer DA (1962) Prehistoric bone: the gibbons and monkeys of Niah Great Cave. Sarawak Mus J 10:428–449

Hopwood AT (1933) Miocene primates from Kenya. J Linn Soc London Zool 38:431–464

Hürzeler J (1954) Contribution à l'odontologie et à la phylogénèse du genre Pliopithecus Gervais. Ann Paléontol 40:1–63

Ingicco T, de Vos J, Huffman OF (2014) The oldest gibbon fossil (Hylobatidae) from insular Southeast Asia: evidence from Trinil (East Java, Indonesia), lower/middle Pleistocene. PLoS ONE 9(6):e99531

Israfil H, Zehr SM, Mootnick AR, Ruvolo M, Steiper ME (2011) Unresolved molecular phylogenies of gibbons and siamangs (Family: Hylobatidae) based on mitochondrial, Y-linked, and X-linked loci indicate a rapid Miocene radiation or sudden vicariance event. Mol Phylogenet Evol 58:447–455

Jablonski NG, Chaplin G (2009) The fossil record of gibbons. In: Lappan S, Whittaker DJ (eds) The gibbons. Springer, Dordrecht, pp 111–130

Jablonski NG, Whitworth MJ, Roberts-Smith N, Qingqi X (2000) The influence of life history and diet on the distribution of catarrhine primates during the Pleistocene in eastern Asia. J Hum Evol 39:131–157

Jenkins PD (1990) Catalogue of primates in the British Museum (Natural History) and elsewhere in the British Isles. Part V: The apes, superfamily Hominoidea. Natural History Museum, London

Ji W, Jiang X (2004) Primatology in China. Int J Primatol 5:1077–1092

Jin CZ, Qin DG, Pan WS, Tang ZL, Liu JY, Wang Y, Deng CL, Zhang YQ, Dong W, Tong HW (2008) A newly discovered Gigantopithecus fauna from Sanhe Cave, Chongzuo, Guangxi, South China. Chinese Sci Bull 54:788–797

Larson SG (1998) Parallel evolution in the hominoid trunk and forelimb. Evol Anthropol 6:87–99

Le Gros Clark WE, Leakey LSB (1951) The Miocene Hominoidea of East Africa. Fossil mammals of Africa, No. 1. British Museum (Natural History), London

Le Gros Clark WE, Thomas DP (1951) Associated jaws and limb bones of Limnopithecus macinnesi. Fossil mammals of Africa, No. 3. British Museum (Natural History), London

Leakey LSB (1963) East African fossil Hominoidea and the classification of the superfamily. In: Washburn SL (ed) Classification and Human Evolution. Aldine, Chicago, pp 32–49

Matsudaira K, Ishida T (2010) Phylogenetic relationships and divergence dates of the whole mitochondrial genome sequences among three gibbon genera. Mol Phylogenet Evol 55:454–459

Matthew WD, Granger W (1923) New fossil mammals from the Pliocene of Szechuan, China. Bull Am Mus Nat Hist 48:568–598

McGraw WS, Sciulli PW (2011) Posture, ischial tuberosities, and tree zone use in West African cercopithecids. In: D'Août K, Vereecke EE (eds) Primate locomotion: linking field and laboratory research. Springer, Dordrecht, pp 215–245

Meldrum J, Pan Y (1988) Manual proximal phalanx of Laccopithecus robustus from the latest Miocene site of Lufeng. J Hum Evol 17:719–732

Meyer TJ, McLain AT, Oldenburg M, Faulk C, Bourgeois MG, Conlin EM, Mootnick AR, de Jong PJ, Roos C, Carbone L, Batzer MA (2012) An Alu-based phylogeny of gibbons (Hylobatidae). Mol Biol Evol 29:3441–3450

Midlo C (1934) Form of hand and foot in primates. Am J Phys Anthropol 19:337–389

Miller GS (1933) The classification of the gibbons. J Mammal 14:158–159

Miller RA (1945) The ischial callosities of primates. Am J Anat 76:67–91

Mittermeier RA, Rylands AB, Wilson DE (eds) (2013) Handbook of mammals of the world. Primates, vol 3. Lynx Edicions, Barcelona

Mootnick A, Groves C (2005) A new generic name for the hoolock gibbon (Hylobatidae). Int J Primatol 26:971–976

Moyà-Solà S, Köhler M, Alba DM (2001) Egarapithecus narcisoi, a new genus of Pliopithecidae (Primates, Catarrhini) from the late Miocene of Spain. Am J Phys Anthropol 114:312–324

Napier JR (1963) Brachiation and brachiators. Symp Zool Soc Lond 10:183–195

Napier JR, Davis PR (1959) The forelimb skeleton and associated remains of Proconsul africanus. Fossil mammals of Africa, No. 16. British Museum (Natural History), London

Nisbett RA, Ciochon RL (1993) Primates in northern Viet Nam: a review of the ecology and conservation status of extant species, with notes on Pleistocene localities. Int J Primatol 14:765–795

Ogawa H, Yoshikawa M, Idani G (2014) Sleeping site selection by savanna chimpanzees in Ugalla, Tanzania. Primates 55:269–282

Ortiz A, Pilbrow V, Villamil CI, Korsgaard JG, Bailey SE, Harrison T (2015) The taxonomic and phylogenetic affinities of Bunopithecus sericus, a fossil hylobatid from the Pleistocene of China. PLoS ONE 10(7):e0131206

Pan Y (1988) Small fossil primates from Lufeng, a latest Miocene site in Yunnan Province, China. J Hum Evol 17:359–366

Pan Y (2006) Primates Linnaeus, 1758. In: Qi G, Dong W (eds) Lufengpithecus hudienensis site. Science Press, Beijing, pp 131–148

Pan Y, Waddle DM, Fleagle JG (1989) Sexual dimorphism in Laccopithecus robustus, a late Miocene hominoid from China. Am J Phys Anthropol 79:137–158

Perelman P, Johnson WE, Roos C, Seuánez HN, Horvath JE, Moreira MAM, Kessing B, Pontius J, Roelke M, Rumpler Y, Scheider MPC, Silva A, O'Brien SJ, Pecon-Slattery J (2011) A molecular phylogeny of living primates. PLoS Genet 7(3):e1001342

Pilbeam DR (1969) Tertiary Pongidae of East Africa: evolutionary relationships and taxonomy. Yale Peabody Mus Bull 31:1–185

Pilbeam D (1996) Genetic and morphological records of the Hominoidea and hominid origins: a synthesis. Mol Phylogenet Evol 5:155–168

Pilbeam DR, Young NM (2004) Hominoid evolution: synthesizing disparate data. C R Palevol 3:303–319

Pruetz JD, Fulton SJ, Marchant LF, McGrew WC, Schiel M, Waller M (2008) Arboreal nesting as anti-predator adaptation by savanna chimpanzees (Pan troglodytes verus) in southeastern Senegal. Am J Primatol 70:393–401

Prouty LA, Buchanan PD, Pollitzer WS, Mootnick AR (1983) Bunopithecus: a genus-level taxon for the hoolock gibbon (Hylobates hoolock). Am J Primatol 5:83–87

Purvis A (1995) A composite estimate of primate phylogeny. Phil Trans R Soc Lond B 348:405–421

Qiu Z, Qiu Z (1995) Chronological sequence and subdivision of Chinese Neogene mammalian faunas. Palaeogeog Palaeoclimatol Palaeoecol 116:41–70

Qiu Z, Wu W, Qiu Z (1999) Miocene mammal faunal sequence of China: palaeozoogeography and Eurasian relationships. In: Rössner GE, Heissig K (eds) The Miocene land mammals of Europe. Verlag Dr. Friedrich Pfeil, Munich, pp 443–455

Raaum RL, Sterner KN, Noviello CM, Stewart C-B, Disotell TR (2005) Catarrhine primate divergence dates estimated from complete mitochondrial genomes: concordance with fossil and nuclear DNA evidence. J Hum Evol 48:237–257

Raza SM, Barry JC, Meyer GE, Martin L (1984) Preliminary report on the geology and vertebrate fauna of the Miocene Manchar Formation, Sind, Pakistan. J Vert Paleontol 4:584–599

Remane A (1965) Die Geschichte der Menschenaffen. In: Heberer G (ed) Menschliche Abstammungslehre. Gustav Fischer, Göttingen, pp 249–309

Roos C, Geissmann T (2001) Molecular phylogeny of the major hylobatid divisions. Mol Phylogenet Evol 19:486–494

Rose MD (1974) Ischial tuberosities and ischial callosities. Am J Phys Anthropol 40:375–384

Schlosser M (1924) Fossil primates from China. Palaeont Sinica (c) l, (2):1–16

Schultz AH (1930) The skeleton of the trunk and limbs of the higher primates. Hum Biol 2:303–438

Schultz AH (1936) Characters common to higher primates and characters specific for man. Quart Rev Biol 11:259–283

Schultz AH (1963) Relations between the lengths of the main parts of the foot skeleton in primates. Folia Primatol 1:150–171

Schwartz JH, Long VT, Cuong NL, Kha LT, Tattersall I (1994) A diverse hominoid fauna from the late Middle Pleistocene breccia cave of Tham Khuyen, Socialist Republic of Vietnam. Anthropol Papers Am Mus Nat Hist 73:1–11

Simons EL (1965) New fossil apes from Egypt and the initial differentiation of Hominoidea. Nature 205:135–139

Simons EL (1967) Fossil primates and the evolution of some primate locomotor systems. Am J Phys Anthropol 26:241–254

Simons EL (1972) Primate evolution: an introduction to man's place in nature. MacMillan, New York

Simons EL, Fleagle JG (1973) The history of extinct gibbon-like primates. Gibbon Siamang 2:121–148

Springer MS, Meredith RW, Gatesy J, Emerling CA, Park J, Rabosky DL, Stadler T, Steiner C, Ryder OA, Janeka JE, Fisher CA, Murphy WJ (2012) Macroevolutionary dynamics and historical biogeography of primate diversification inferred from a species supermatrix. PLoS ONE 7(11):e49521

Stewart FA, Pruetz JD (2013) Do chimpanzee nests serve an anti-predatory function? Am J Primatol 75:593–604

Storm P, de Vos J (2006) Rediscovery of the Late Pleistocene Punung hominin sites and the discovery of a new site Gunung Dawung in East Java. Senckenb Lethaea 86:271–281

Suteethorn V, Buffetaut E, Buffetaut-Tong H, Ducrocq S, Helmcke-Ingavat R, Jaeger J-J, Jongkanjanasoontorn Y (1990) A hominoid locality in the Middle Miocene of Thailand. CR Acad Sci Paris 311, Sér II:1449–1454

Szalay FS, Delson E (1979) Evolutionary history of the primates. Academic Press, New York

Takai M, Zhang Y, Kono RT, Jin C (2014) Changes in the composition of the Pleistocene primate fauna in southern China. Quatern Int 354:75–85

Takacs Z, Morales JC, Geissmann T, Melnick DJ (2005) A complete species-level phylogeny of the Hylobatidae based on mitochondrial ND3-ND4 gene sequences. Mol Phylogenet Evol 36:456–467

Thinh VN, Mootnick AR, Geissmann T, Li M, Ziegler T, Agil M, Moisson P, Nadler T, Walter L, Roos C (2010) Mitochondrial evidence for multiple radiations in the evolutionary history of small apes. BMC Evol Biol 10:74

Tougard (2001) Biogeography and migration routes of large mammal faunas in South-East Asia during the late Middle Pleistocene: focus on the fossil and extant faunas from Thailand. Palaeogeog Palaeoclimatol Palaeoecol 168:337–358

Tuttle RH (1969) Knuckle-walking and the problem of human origins. Science 166:953–961

Tyler DE (1991) The problems of the Pliopithecidae as a hylobatid ancestor. Human Evol 8:73–80

Tyler DE (1993) The evolutionary history of the gibbons. In: Jablonski NG (ed) Evolving landscapes and evolving biotas of East Asia since the mid-tertiary. Centre of Asian Studies, The University of Hong Kong, Hong Kong, pp 228–240

van Gulik RH (1967) The gibbon in China: an essay in Chinese animal lore. EJ Brill, Leiden

Vilensky JA (1978) The function of ischial callosities. Primates 19:363–369

von Koenigswald GHR (1935) Eine fossile Säugertierfauna mit Simia aus Südchina. Proc Koninkl Ned Akad Wetensch, Amsterdam 38:872–879

von Koenigswald GHR (1940) Neue Pithecanthropus-Funde 1936–1938. Wetensch Meded Mijnbouw Nederlands Indië (Batavia) 28:1–232

Wall JD, Kim SK, Luca F, Carbone L, Mootnick AR, de Jong PJ, Di Rienzo A (2013) Incomplete lineage sorting is common in extant gibbon genera. PLoS ONE 8(1):e53682

Wang XM, Wang BY, Qiu ZX (2008) Early explorations of Tabenbuluk region (western Gansu Province) by Birger Bohlin—reconciling classic vertebrate fossil localities with modern stratigraphy. Vert PalAs 46:1–19

Washburn SL (1957) Ischial callosities as sleeping adaptations. Am J Phys Anthropol 15:269–276

Westaway KE, Morwood MJ, Roberts RG, Rokus AD, Zhao JX, Storm P, Aziz F, van den Bergh G, Hadi P, Jatmiko, de Vos J (2007) Age and biostratigraphic significance of the Punung rainforest fauna, East Java, Indonesia, and implications for Pongo and Homo. J Hum Evol 53:709–717

Whittaker DJ, Morales JC, Melnick DJ (2007) Resolution of the Hylobates phylogeny: congruence of mitochondrial D-loop sequences with molecular, behavioral, and morphological data sets. Mol Phylogenet Evol 45:620–628

Wu R, Pan Y (1984) A late Miocene gibbon-like primate from Lufeng, Yunnan Province. Acta Anthropol Sinica 3:185–194

Wu R, Pan Y (1985) Preliminary observation on the cranium of Laccopithecus robustus from Lufeng, Yunnan with reference to its phylogenetic relationship. Acta Anthropol Sinica 4:7–12

Young NM (2003) A reassessment of living hominoid postcranial variability: implications for ape evolution. J Hum Evol 45:441–464

Zapfe H (1958) The skeleton of Pliopithecus (Epipliopithecus) vindobonensis Zapfe and Hürzeler. Am J Phys Anthropol 16:441–458

Zapfe H (1961) Die Primatenfunde aus der Miozänen Spaltenfüllung von Neudorf an der March (Devínská Nová Ves), Tschechoslowakei. Schweiz Palaeont Abh 78:4–293

Zeitoun V, Lenoble A, Laudet F, Thompson J, Rink WJ, Mallye J-B, Chinnawut W (2010) The cave of the Monk (Ban Fa Suai, Chiang Dao Wildlife Sanctuary, northern Thailand). Quatern Int 220:160–173
Acknowledgements
I am grateful to the Editors for inviting me to prepare a contribution for this volume, and to Ulrich Reichard and an anonymous reviewer for helpful suggestions that improved the manuscript. I thank the following institutions and their staff for allowing me access to the fossil specimens and comparative material in their care: American Museum of Natural History, New York; National Museums of Kenya, Nairobi; The Natural History Museum, London; Muséum National D'Histoire Naturelle, Paris; Institut Català de Paleontologia 'Miquel Crusafont', Sabadell; Naturalis Biodiversity Center, Leiden; Naturhistorisches Museum, Basel; Naturhistorisches Museum, Vienna; Landesmuseum 'Joanneum', Graz; Magyar Állami Földtani Intézet, Budapest; and Institute of Vertebrate Paleontology and Paleoanthropology, Beijing; Beijing Museum of Natural History, Beijing; Yunnan Cultural Relics and Archaeology Institute, Kunming; and Geological Survey, Bangkok. Numerous colleagues have contributed to the research and ideas presented here, but the following deserve special mention: Peter Andrews, David Begun, Ray Bernor, Eric Delson, John Fleagle, Ji Xueping, Jin Changzhu, Pan Yuerong, Martin Pickford, Bill Sanders, and Zhang Yingqi.
Copyright information
© 2016 Springer Science+Business Media New York
About this chapter
Cite this chapter
Harrison, T. (2016). The Fossil Record and Evolutionary History of Hylobatids. In: Reichard, U., Hirai, H., Barelli, C. (eds) Evolution of Gibbons and Siamang. Developments in Primatology: Progress and Prospects. Springer, New York, NY. https://doi.org/10.1007/978-1-4939-5614-2_4