Abstract

Pyrroloquinoline quinone (PQQ) is a quinone compound first identified in 1979. It has been reported that rats fed a PQQ-supplemented diet showed better learning ability than controls, suggesting that PQQ may be useful for improving memory in humans. In the present study, a randomized, placebo-controlled, double-blinded study to examine the effect of PQQ disodium salt (BioPQQ™) on cognitive functions was conducted with 41 elderly healthy subjects. Subjects were orally given 20 mg of BioPQQ™ per day or placebo, for 12 weeks. For cognitive functions, selective attention by the Stroop and reverse Stroop test, and visual-spatial cognitive function by the laptop tablet Touch M, were evaluated. In the Stroop test, the change of Stroop interference ratios (SIs) for the PQQ group was significantly smaller than for the placebo group. In the Touch M test, the stratification analyses dividing each group into two groups showed that only in the lower group of the PQQ group (initial score < 70), did the score significantly increase. Measurements of physiological parameters indicated no abnormal blood or urinary adverse events, nor adverse internal or physical examination findings at any point in the study. The preliminary experiment using near-infrared spectrometry (NIRS) suggests that cerebral blood flow in the prefrontal cortex was increased by the administration of PQQ. The results suggest that PQQ can prevent reduction of brain function in aged persons, especially in attention and working memory.
Keywords
PQQ

Brain

Memory

Attention

Supplement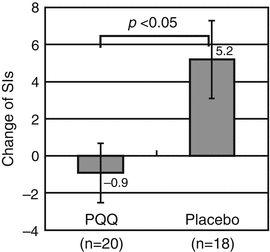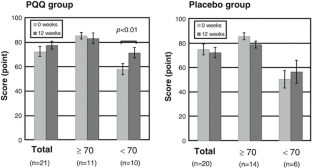 References
Salisbury SA, Forrest HS, Cruse WBT et al (1979) A novel coenzyme from bacterial primary alcohol dehydrogenase. Nature 280:843–844

Duine JA, Frank J, Van Zeeland JK (1979) Glucose dehydrogenase from acinetobacter calcoaceticus: a quinoprotein. FEBS Lett 108:443–446

Kumazawa T, Sato K, Seno H et al (1995) Levels of pyrroloquinoline quinone in various foods. Biochem J 307:331–333

Kumazawa T, Seno H, Urakami T et al (1992) Trace levels of pyrroloquinoline quinone in human and rat samples detected by gas chromatography/mass spectrometry. Biochim Biophys Acta 1156:62–66

Mitchell AE, Johnes AD, Mercer RS et al (1999) Characterization of pyrroloquinoline quinone amino acid derivatives by electrospray ionization mass spectrometry and detection in human milk. Anal Biochem 269:317–325

Rucker R, Chowanadisai W, Nakano M (2009) Potential physiological importance of pyrroloquinoline quinone. Altern Med Rev 14:268–277

Mukai K, Ouchi A, Nakano M (2011) Kinetic study of the quenching reaction of singlet oxygen by pyrroloquinolinequinole (PQQH2, a reduced form of pyrroloquinolinequinone) in micellar solution. J Agric Food Chem 59:1705–1712

Nunome K, Miyazaki S, Nakano M et al (2008) Pyrroloquinoline quinone prevents oxidative stress-induced neuronal death probably through changes in oxidative status of DJ-1. Biol Pharm Bull 31(7):1321–1326

Yamaguchi K, Sasano A, Urakami T et al (1993) Stimulation of nerve growth factor production by pyrroloquinoline quinone and its derivatives in vitro and in vivo. Biosci Biotechnol Biochem 57:1231–1233

Ohwada K, Takeda H, Yamazaki M et al (2008) Pyrroloquinoline quinone (PQQ) prevents cognitive deficit caused by oxidative stress in rats. J Clin Biochem Nutr 42:29–34

Hakoda Y, Sasaki M (1990) Group version of the Stroop and reverse-Stroop test –the effects of reaction mode, order and practice. Jpn J Educ Psychol 38:389–394 (Japanese)

Watanabe M, Hakoda Y, Matsumoto A (2011) Group version of the Stroop and reverse-Stroop test: an asymmetric development trait in two kinds of interference. Psychol Res Kusyu Univ 12:41–50

Hayashi Y, Kijima T, Satou K et al (2011) Examination of the evaluation method of visual-spatial cognitive function using the touch screen device. Jpn J Geriatr Psychiatry 22(4):439–447 (Japanese)

Clausen J, Nielsen SA, Kristensen M (1989) Biochemical and clinical effects on an antioxidative supplementation of geriatric patients. A double blind study. Biol Trace Elem Res 20:135–151
Acknowledgments

This research was supported in part by a Grant-in-Aid from the Ministry of Education, Culture, Sports, Science and Technology of Japan (Grant-in-Aid for Exploratory Research 25560356), and grants from Alpha Electron Co., Ltd. (Fukushima, Japan) and Iing Co., Ltd. (Tokyo, Japan).
Copyright information

© 2016 Springer Science+Business Media, New York
About this paper
Cite this paper
Itoh, Y. et al. (2016). Effect of the Antioxidant Supplement Pyrroloquinoline Quinone Disodium Salt (BioPQQ™) on Cognitive Functions. In: Elwell, C.E., Leung, T.S., Harrison, D.K. (eds) Oxygen Transport to Tissue XXXVII. Advances in Experimental Medicine and Biology, vol 876. Springer, New York, NY. https://doi.org/10.1007/978-1-4939-3023-4_40