Abstract
The most common cause of occlusive mesenteric artery disease is ostial atherosclerosis. Non-atherosclerotic causes account for 5–10 % of all cases of chronic mesenteric ischemia (CMI). The vasculitides consist in a varied group of conditions characterized by an inflammatory response of vessel wall, with or without associated necrosis and granulomas, affecting 20 individuals per million a year. These diseases have different etiologies and pathogenic mechanisms, albeit most of them are not completely understood. Chronic inflammation can weaken the media and thin the arterial wall leading to aneurysm, or it can cause thickening of the arterial wall, resulting in stenosis and occlusions.
Keywords
Non-atherosclerotic mesenteric arterial disease

Mesenteric arterial disease

Ostial atherosclerosis

Chronic mesenteric ischemia

Occlusive mesenteric artery disease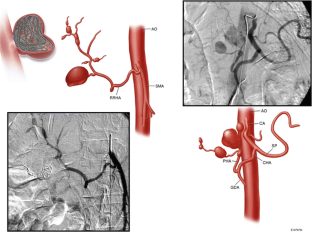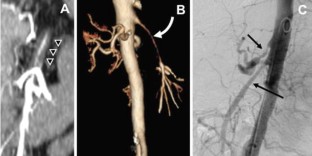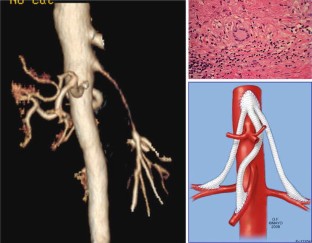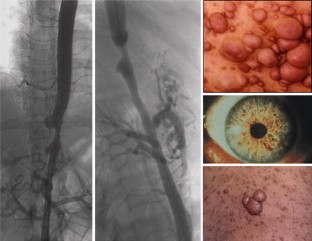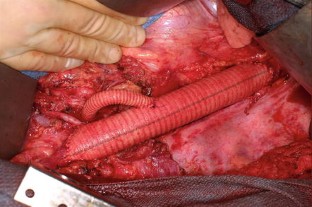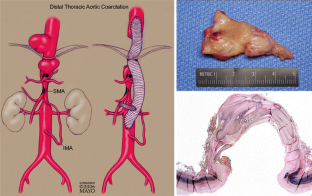 References
Rits Y, Oderich GS, Bower TC, Miller DV, Cooper L, Ricotta 2nd JJ, Kalra M, Gloviczki P. Interventions for mesenteric vasculitis. J Vasc Surg. 2010;51:392–400. e392.

Ragab G. Vasculitic manifestations in the gastrointestinal tract. In: Ball GV, Bridges Jr SL, editors. Vasculitis. New York: New York Oxford University Press; 2008. p. 181–98.

Pagnoux C, Mahr A, Cohen P, Guillevin L. Presentation and outcome of gastrointestinal involvement in systemic necrotizing vasculitides: analysis of 62 patients with polyarteritis nodosa, microscopic polyangiitis, wegener granulomatosis, churg-strauss syndrome, or rheumatoid arthritis-associated vasculitis. Medicine. 2005;84:13.

Ahn E, Luk A, Chetty R, Butany J. Vasculitides of the gastrointestinal tract. Semin Diagn Pathol. 2009;26:115–28.

Hunder C, Arend W, Bloch D. al. e. The american college of rheumatology 1990 criteria for the classification of vasculitis. Arthritis Rheum. 1990;33:1065–7.

Jennette J, Falk R, Andrassy K, Bacon P, Churg J, Gross W, Hagen E, Hoffman G, Hunder G, Kallenberg C. Nomenclature of systemic vasculitides. Proposal of an international consensus conference. Arthritis Rheum. 1994;37:187–92.

Watts R, Scott D. Vasculitis mimics. In: Watts RA, Scott DG, editors. Vasculitis in clinical practice. London: Springer; 2010. p. 143–54.

Ha H, Lee S, Rha S, Kim J, Byun J, Lim H, Chung J, Kim J, Kim P, Lee M, Auh Y. Radiologic features of vasculitis involving the gastrointestinal tract. Radiographics. 2000;20:15.

Casella G, Bonzino B, Cutrino L, et al. Vasculitis and gastrointestinal involvement. Minerva Gastroenterol Dietol. 2006;52:137–214.

Hassoun Z, Lacrosse M, Ronde T. Intestinal involvement in buerger's disease. J Clin Gastroenterol. 2001;31:85–9.

Sujobert P, Fardet L, Marie I, Duhaut P, Cohen P, Grange C, Gaultier JB, Arrive L, Cabane J. Mesenteric ischemia in giant cell arteritis: 6 cases and a systematic review. J Rheumatol. 2007;34:1727–32.

Tian XP, Zhang X. Gastrointestinal involvement in systemic lupus erythematosus: insight into pathogenesis, diagnosis and treatment. World J Gastroenterol. 2010;16:2971–7.

Krupski W, Selzman C, Whitehill T. Unusual causes of mesenteric ischemia. Surg Clin North Am. 1997;77:471–502.

Ryer E, Oderich G, Bower T, Macedo T, Vrtiska T, Duncan A, Kalra M, Gloviczki P. Differences in anatomy and outcomes in patients treated with open mesenteric revascularization before and after the endovascular era. J Vasc Surg. 2011;53:1611–8.

Siğirci A, Senol M, Aydin E, Kutlu R, Alkan A, Altinok M, Yoloğlu S, Baysal T, Saraç K. Doppler waveforms and blood flow parameters of the superior and inferior mesenteric arteries in patients having behçet disease with and without gastrointestinal symptoms: preliminary data. J Ultrasound Med. 2003;22:449–57.

Ripollés T, Simó L, Martínez-Pérez M, Pastor M, Igual A, López A. Sonographic findings in ischemic colitis in 58 patients. Am J Roentgenol. 2005;184:777–85.

Hokama A, Kishimoto K, Ihama Y, Kobashigawa C, Nakamoto M, Hirata T, Kinjo N, Higa F, Tateyama M, Kinjo F, Iseki K, Kato S, Fujita J. Endoscopic and radiographic features of gastrointestinal involvement in vasculitis. World J Gastrointest Endosc. 2012;4:50–6.

Ozdil E, Parikh D, Krajcer Z, Angelini P. Stent placement in a patient with takayasu's arteritis. Cathet Cardiovasc Diagn. 1996;38:373–6.

Kendirli T, Yuksel S, Oral M, Unal N, Tulunay M, Dilek US, Yalcnkaya F. Fatal polyarteritis nodosa with gastrointestinal involvement in a child. Pediatr Emerg Care. 2006;22:810–2.

Levine S, Hellmann D, Stone J. Gastrointestinal involvement in polyarteritis nodosa (1986–2000): presentation and outcomes in 24 patients. Am J Med. 2002;112:386–91.

Wang HL, Liu HT, Chen Q, Gao Y, Yu KJ. Henoch-schonlein purpura with intestinal perforation and cerebral hemorrhage: a case report. World J Gastroenterol. 2013;19:2574–7.

Janssens P, Arnaud L, Galicier L, Mathian A, Hie M, Sene D, Haroche J, Veyssier-Belot C, Huynh-Charlier I, Grenier PA, Piette JC, Amoura Z. Lupus enteritis: from clinical findings to therapeutic management. Orphanet J Rare Dis. 2013;8:67.

Lin YJ, Chen PC, Chen HA. Mesenteric vasculitis causing ileocecal intussusception as the initial presentation of systemic lupus erythematosus: a case report. Clin Rheumatol. 2013;32 Suppl 1:S37–40.

Yuan S, Ye Y, Chen D, Qiu Q, Zhan Z, Lian F, Li H, Liang L, Xu H, Yang X. Lupus mesenteric vasculitis: clinical features and associated factors for the recurrence and prognosis of disease. Semin Arthritis Rheum. 2014;43(6):759–66.

Yokota K, Akiyama Y, Sato K, Shindo Y, Yoshida Y, Miyoshi F, Akiba H, Nakajima K, Asanuma Y, Mimura T. Vasculo-behcet's disease with non-traumatic subcapsular hematoma of the kidney and aneurysmal dilatations of the celiac and superior mesenteric arteries. Mod Rheumatol/Japan Rheumatism Assoc. 2008;18:615–8.

Warrington K, Matteson E. Management guidelines and outcome measures in giant cell arteritis (gca). Clin Exp Rheumatol. 2007;25:137–41.

Hunder G, Sheps S, Allen G, Joyce J. Daily and alternate-day corticosteroid regimens in treatment of giant cell arteritis: comparison in a prospective study. Ann Intern Med. 1975;82:613–8.

Fields C, Bower T, Cooper L, Hoskin T, Noel A, Panneton J, Sullivan T, Gloviczki P, Cherry KJ. Takayasu's arteritis: operative results and influence of disease activity. J Vasc Surg. 2006;43:64–71.

Park W, Gloviczk IP, Cherry KJ, Hallett JJ, Bower T, Panneton J, Schleck C, Ilstrup D, Harmsen W, Noel A. Contemporary management of acute mesenteric ischemia: factors associated with survival. J Vasc Surg. 2002;35:445–52.

Tyagi S, Jolly N, Khalilullah M. Multivessel angioplasty in takayasu's arteritis. Indian Heart J. 1993;45:215–27.

Golden DA, Ring EJ, McLean GK, Freiman DB. Percutaneous transluminal angioplasty in the treatment of abdominal angina. Am J Roentgenol. 1982;139:247–9.
Copyright information
© 2015 Springer Science+Business Media New York
About this chapter
Cite this chapter
Correa, M.P., Oderich, G.S. (2015). Non-atherosclerotic Causes of Mesenteric Arterial Disease. In: Oderich, G. (eds) Mesenteric Vascular Disease. Springer, New York, NY. https://doi.org/10.1007/978-1-4939-1847-8_10
DOI: https://doi.org/10.1007/978-1-4939-1847-8_10

Published:

Publisher Name: Springer, New York, NY

Print ISBN: 978-1-4939-1846-1

Online ISBN: 978-1-4939-1847-8

eBook Packages: MedicineMedicine (R0)