Abstract

Performing music at a professional level is probably one of the most complex of human accomplishments. Extremely fast and complex temporo-spatially predefined movement patterns have to be learned, memorized, and retrieved with high reliability in order to meet the expectations of listeners. Performing music requires not only the integration of multimodal sensory and motor information and its precise monitoring via auditory and kinesthetic feedback but also emotional communicative skills for a "speaking" rendition of a musical masterpiece. To acquire these specialized auditory–sensory–motor and emotional skills, extensive training periods over many years are a prerequisite, starting in early infancy and passing through stages of increasing physical and strategic complexities. Performance anxiety, linked to high societal pressures, fear of failure, and heightened self-demands is a frequent accompaniment of these learning processes.

Motor disturbances in musicians are not uncommon and include mild forms, such as temporary motor fatigue with short-term reduction of motor skills, painful overuse injuries following prolonged practice, anxiety-related motor failures during performances, such as choking under pressure, and more persistent losses of motor control, here termed "dynamic stereotypes." Musician's dystonia, characterized by the permanent loss of control of highly skilled movements when playing a musical instrument, is the most grave manifestation of dysfunctional motor programs, frequently linked to a genetic susceptibility to develop such motor disturbances.

In this chapter, we propose a new classification of motor failures in musicians based on the different degrees of "motor" or "psychological" mechanisms involved in the development of these disturbances. We argue that motor failures in musicians develop on a continuum, starting with subtle transient degradations, due to fatigue, overuse, or performance stress, which by and by transform into more permanent, still fluctuating motor degradations, the dynamic stereotypes, until a more irreversible condition, musician's dystonia manifests. This new classification has implications for specific prevention strategies and for a client-tailored treatment.
Keyword
Musicians' dystonia

Dynamic stereotype

Classification of movement disorders

Choking under pressure

Treatment

Performing arts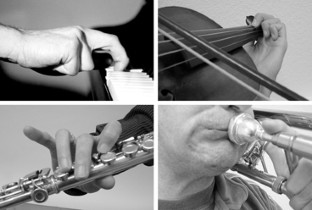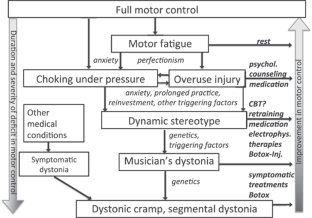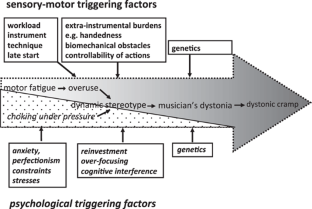 References
Adler CH, Crews D, Hentz JG, Smith AM. Caviness JN (Abnormal co-contraction in yips-affected but not unaffected golfers: Evidence for focal dystonia. Neurology 2005; 64: 1813–1814

Altenmüller E. Focal dystonia: Advances in brain imaging and understanding of fine motor control in musicians. Hand Clinics 2003; 19: 523–538.

Altenmüller E, Jabusch HC. Focal hand dystonia in musicians: Phenomenology, etiology, and psychological trigger factors. J Hand Ther 2009; 22: 144–155.

Altenmüller E, Jabusch, HC. Focal Dystonia in Musicians. Eur J Neurol 2010;17 Suppl 1:31–36.

Altenmüller E, Baur V, Hofmann A, Lim VK, Jabusch HC. Musician's cramp as manifestation of maladaptive brain plasticity: arguments from instrumental differences. Ann N Y Acad Sci 2012; 1252: 259–265.

Altenmüller E, Kopiez R, Grewe O. A contribution to the evolutionary basis of music: Lessons from the chill response. In: E. Altenmüller E, S. Schmidt, E. Zimmermann (eds.) Evolution of Emotional Communication From Sounds in Nonhuman Mammals to Speech and Music in Man. Oxford University Press, Series in Affective Sciences, Oxford: 13–335 (2013)

Aune TK, Ingvaldsen RP, Ettema GJ. Effect of physical fatigue on motor control at different skill levels. Percept Mot Skills 2008 Apr;106(2):371–86.

Bangert M, Schlaug G. Specialization of the spezialized in features of external brain morphology. Eur J Neurosci 2006; 24: 1832–1834.

Baumeister RF. Choking under pressure: Self-consciousness and paradoxical effects of incentives on skillful performance. J Personality Soc Psychol 1984; 46: 610–620.

Baumeister RF, Showers C J. A review of paradoxical performance effects: Choking under pressure in sports and mental tests. European Journal of Social Psychology, 1986; 16: 361–383.

Baur V, Jabusch HC, Altenmüller E. Behavioral factors influence the phenotype of musician's dystonia. Mov Disord 2011; 26: 1780–1781.

Beckmann J, Gröpel P, Ehrlenspiel F. Preventing motor skill failure through hemisphere-specific priming: cases from choking under pressure. J Exp Psychol Gen. 2013 Aug;142(3):679–91.

Brandfonbrener AG, Robson C. A review of 111 musicians with focal dystonia seen at a performing artist's clinic 1985–2002. Adv Neurol 2004; 94: 255–256.

Brugués AO. Music performance anxiety-part 1. A review of its epidemiology. Med Probl Perform Art. 2011a Jun; 26(2):102–5.

Brugués AO. Music performance anxiety-part 2. A review of treatment options. Med Probl Perform Art. 2011b Sep;26(3):164–71.

Byl NN, Merzenich MM, Jenkins WM. A primate genesis model of focal dystonia and repetitive strain injury: I. Learning-induced dedifferentiation of the representation of the hand in the primary somatosensory cortex in adult monkeys. Neurology 1996; 47: 508–520.

Byl, N.N., McKenzie, A. The effect of sensory discrimination training on structure and function in patients with focal hand dystonia: 3 case series. Arch Phys Med Rehab 2002; 84: 1505–1514.

Carver C S. Scheier MF. Attention and self-regulation: A control theory approach to human behavior. New York, NY: Springer; 1981

Cheng FP, Großbach M, Altenmüller E. Altered sensory feedbacks in pianist's dystonia: the altered auditory feedback paradigm and the glove effect. Front Hum Neurosci 2013 Dec 17;7:868. doi: 10.3389/fnhum.2013.00868.

Czarnecki K, Hallett M. Functional (psychogenic) movement disorders. Curr Opin Neurol. 2012 Aug;25(4):507–12

Dirnberger G, Duregger C, Trettler E, Lindinger G, Lang W. Fatigue in a simple repetitive motor task: a combined electrophysiological and neuropsychological study. Brain Res 2004 Nov 26;1028(1):26–30.

Elbert T, Candia V, Altenmüller E, Rau H, Rockstroh B, Pantev C, Taub E. Alteration of digital representations in somatosensory cortex in focal hand dystonia. NeuroReport 1998; 16: 3571–3575.

Enders L, Spector JT, Altenmüller E, Schmidt A, Klein C, Jabusch, HC. Musician's dystonia and comorbid anxiety: Two sides of one coin? Mov Dis 2012;26(3):539–542.

Ericsson KA, Krampe RT, Tesch-Römer C. The role of deliberate practice in the acquisition of expert performance. Psychol Rev 1993; 100: 363–406.

Eysenck M, Calvo M. Anxiety and performance: The processing efficiency theory. Cognition & Emotion 1992; 6: 409–434.

Flor H. New developments in the understanding and management of persistent pain. Curr Opin Psychiatry 2012 Mar;25(2):109–13.

Frucht SJ. Focal task-specific dystonia of the musicians' hand-a practical approach for the clinician. J Hand Ther 2009;22(2):136–143.

Furuya S, Nitsche MA, Paulus W. Altenmüller E Surmounting retraining limits in musicians' dystonia by transcranial stimulation. Ann Neurol 2014 Apr 7: doi: 10.1002/ana.24151. [Epub ahead of print]

Gärtner H, Minnerop M, Pieperhoff P, Schleicher A, Zilles K, Altenmüller E, Amunts K. Brain morphometry shows effects of long-term musical practice in middle-aged keyboard players. Front Psychol 2013 Sep 23; 4: 636. doi: 10.3389/fpsyg.2013.00636.

Gaser C, Schlaug G. Brain structures differ between musicians and non-musicians. Journal of Neuroscience, 2003; 23: 9240–9245.

Hallam S. Cultural perceptions of musicality and musical expertise. In: M. Barrett (ed.), A Cultural Psychology for Music Psychology. Oxford: Oxford University Press (in press)

Haslinger B, Altenmüller E, Castrop F, Zimmer C, Dresel C. Sensorimotor overactivity as a pathophysiologic trait of embouchure dystonia. Neurology 2010; 74: 1790–1797.

Helliwell PS Taylor WJ. Repetitive strain injury. Postgrad Med J. 2004 Aug;80(946):438–43.

Herrojo-Ruiz M, Jabusch HC, Altenmüller E. Detecting Wrong Notes in Advance: Neuronal Correlates of Error Monitoring in Pianists. Cerebral Cortex 2009; 19: 2625–39.

Hill DM, Hanton S, Fleming S, Matthews N. A re-examination of choking in sport. Eur J Sport Sci 2009; 9: 203–212.

Hill DM, Hanton S, Matthews N, Fleming S. Choking in sport: A review. Int Rev Sport Exerc Psychol 2010; 3: 24–39.

Ioannou CI, Altenmüller E. Psychological characteristics in Musician's Dystonia: A new diagnostic classification. Neuropsychol. 2014; 61: 80-88.

Jabusch HC, Altenmüller E. Anxiety as an aggravating factor during onset of focal Dystonia in musicians. Med Probl Perf Arts 2004; 19: 75–81.

Jabusch HC, Müller SV, Altenmüller E. High levels of perfectionism and anxiety in musicians with focal dystonia. Mov Disord 2004:19; 990–991.

Jabusch HC, Zschucke D, Schmidt A, Schuele S, Altenmüller E. Focal dystonia in musicians: treatment strategies and long-term outcome in 144 patients. Mov Disord. 2005; 20: 1623–1626.

Jankovic J, Ashoori A. (Movement disorders in musicians. Move Disord 2008;23(14):1957–1965.

Jensen KB, Srinivasan P, Spaeth R, Tan Y, Kosek E, Petzke F, Carville S, Fransson P, Marcus H, Williams SC, Choy E, Vitton O, Gracely R, Ingvar M, Kong J. Overlapping structural and functional brain changes in patients with long-term exposure to fibromyalgia pain. Arthritis Rheum 2013 Dec;65(12):3293–303.

Karni A, Meyer G, Rey-Hipolito C, et al. The acquisition of skilled motor performance: Fast and slow experience-driven changes in primary motor cortex (M1). Proc Natl Acad Sci U S A 1998; 95: 861–868.

Klämpfl MK, Lobinger BH, Raab M. How to detect the yips in golf. Human Mov Sci 2013; 32: 1270–1287.

Konczak J, Abbruzzese G. Focal dystonia in musicians: linking motor symptoms to somatosensory dysfunction. Front Hum Neurosci 2013, 25;7:297. doi: 10.3389/fnhum.2013.00297.

Lang AE, Voon V. Psychogenic movement disorders: past developments, current status, and future directions. Mov Disord 2011;26(6):1175–86.

Lederman RJ. Focal dystonia in instrumentalists: clinical features. Med Probl Perform Art 1991; 6: 132–136.

Lee A, Altenmüller E. Heavy-Metal-Curse: A task-specific dystonia in the lower limb of a professional percussionis Med Prob Perform Art (2014): in revision.

Lee A, Tominaga K, Furuya S, Miyazaki F, Altenmüller E. Task Specific Tremor in String Players: Evidence of Coactivation in a specific frequency range. Mov Disord 2013; Jul 12: doi: 10.1002/mds.25569.

Lim V, Altenmüller E. Musicians Cramp: Instrumental and Gender Differences. Med Probl Perform Art 2003; 18: 21–27.

Lobinger B, Klämpfl M, Altenmüller E. We are able, we intend, we act-but we do not succeed: A theoretical framework for a better understanding of paradoxical performance in sports. 2014. Submitted

McGaugh JL. Memory-a century of consolidation. Science 2000; 287: 248–251.

Mezaki T (2007) Dystonia redefined as central non-paretic loss of control of muscle action: a concept including inability to activate muscles required for a specific movement, or 'negative dystonia'. Med Hypotheses. 2007;69(6):1309–12.

Moore RD, Gallea C, Horovitz SG, Hallett M. Individuated finger control in focal hand dystonia: an fMRI study. Neuroimage 2012 Jul 16; 61(4):823–31.

Münte TF, Altenmüller E, Jäncke L. The musician's brain as a model of neuroplasticity. Nature Reviews Neuroscience 2002; 3: 473–478

Nakashima K, Kusumi M, Inoue Y, Takahashi K. Prevalence of focal dystonias in the western area of Tottori Prefecture in Japan. Mov Disord 1995; 10: 440–443.

Nutt JG, Muenter MD, Melton LJ, Aronson, A. Kurland LT Epidemiology of dystonia in Rochester, Minnesota. Advances in Neurology 1988; 50: 361–365.

Otten M. Choking vs. clutch performance: A study of sport performance under pressure. J Sport Exerc Psychol 2009; 31: 583–601.

Packard MG, Cahill L, McGaugh JL. Amygdala modulation of hippocampal-dependent and caudate nucleus-dependent memory processes. Proc Natl Acad Sci U S A 1994; 91: 8477–8481.

Paulig J, Jabusch, HC, Großbach M, Boullet L, Altenmüller E. Sensory trick phenomenon improves motor control in pianists with dystonia: prognostic value of glove-effect ". Frontiers in Cognitive Neuroscience 2014 (in revision).

Pavlov IP. Dinamicheskaya stereotipiya vysshego otdela golovnogo mozga [The dynamic stereotype of the higher section of the brain]. In: I. P Pavlov, polnoe sobraniie sochineniy (2d ed., enlarged, Vol. 3, Pt. 2, pp. 240–244). Moscow: Izdatel'stvo Akademii Nauk SSSR 1951.

Pesenti A, Barbieri S, Priori A. Limb immobilization for occupational dystonia: a possible alternative treatment for selected patients. Adv Neurol 2004; 94: 247–254.

Prinz, W. Modes of linkage between perception and action. In W. Prinz & A.-F. Sanders (Eds.), Cognition and motor processes (pp. 185–193). Berlin: Springer 1984.

Rosset-Llobet J, Candia V, Fàbregas S, Ray W, Pascual-Leone A. Secondary motor disturbances in 101 patients with musician's dystonia. J Neurol Neurosurg Psychiatry 2007 Sep;78(9):949–53.

Schmidt A, Jabusch HC, Altenmüller E, Hagenah J, Brüggemann N, Lohmann K, Enders L, Kramer PL, Saunders-Pullman R, Bressman SB, Münchau A, Klein C. Etiology of musicians dystonia: Familial or environmental? Neurology 2009;72(14):1248–1254.

Schmidt A, Jabusch HC, Altenmüller E, Kasten M, Klein C. Challenges of making music: What causes musician's dystonia? JAMA Neurol 2013;70(11):1456–9.

Schuele SU, Jabusch HC, Lederman RJ, Altenmüller E. Botulinum toxin injections of musician's dystonia. Neurology 2005; 64: 341–343.

Soeter M, Kindt M. High trait anxiety: a challenge for disrupting fear memory reconsolidation. PLoS One 2013 18;8(11):e75239. doi: 10.1371/journal.pone. 0075239.

Spence JT, Spence KW. The motivational component of manifest anxiety: Drive and drive stimuli. In C. Spielberger (Ed.), Anxiety and behavior (pp. 291–326). New York, NY: Academic Press 1966.

Sripanidkulchai K, Sripanidkulchai B, Wyss JM: The cortical projection of the basolateral amygdaloid nucleus in the rat: A retrograde fluorescentdye study. J Comp Neurol 1984;229:419–431.

Steele CJ, Bailey JA, Zatorre RJ, Penhune VB. Early musical training and white-matter plasticity in the corpus callosum: evidence for a sensitive period. J Neurosci. 2013 Jan 16;33(3):1282–90. doi: 10.1523/JNEUROSCI.3578-12.2013.

Steinmetz, A., Stang, A., Kornhuber, M., Röllinghoff, M., Delank. K.S., Altenmüller E. From embouchure problems to embouchure dystonia?—A survey of self-reported embouchure disorders of 585 professional orchestra brass players. Int Arch Occup Envi Health 2013; DOI: 10.1007/s00420-013-0923-4.

Steptoe A, Fidler H (1987) Stage fright in orchestral musicians: A study of cognitive and behavioural strategies in performance anxiety. Br J Psychol 1987; 78: 241–249.

Szeto GP, Lin JK. A study of forearm muscle activity and wrist kinematics in symptomatic office workers performing mouse-clicking tasks with different precision and speed demands. J Electromyogr Kinesiol. 2011;21(1):59–66.

van Vugt FT, Boullet L, Jabusch HC, Altenmüller E. Musician's dystonia in pianists: Long-term evaluation of retraining and other therapies. Parkinsonism Rel Disord 2014;20(1):8–12.

Vaquero L, Hartmann K, Ripollés P, Rojo N, Sierpowska J, Cámara E, Mohammadi B, Samii A, Münte TF, Rodriguez-Fornells A, Altenmüller E. The Earlier, the Smaller: Neuroplastic Changes in Professional Pianists Depend on Age of Onset 2014: (Submitted to cerebral Cortex).

Walter U, Buttkus F, Benecke R, Grossmann A, Dressler D, Altenmüller E. Sonographic Alteration of Lenticular Nucleus in Focal Task-Specific Dystonia of Musicians. Neurodegener Dis 2012; 9: 99–103.

Wan CY, Schlaug G. Music making as a tool for promoting brain plasticity across the life-span. The Neuroscientist 2010; 16: 566–577.

Wilson GD. Performance anxiety. In D.J. Hargreves & A.C. North (Eds.), The social psychology of music (pp 229–248). Oxford: Oxford University Press. 1997

Wilson M. From processing efficiency to attentional control: A mechanistic account of the anxiety-performance-relationship. Intern Rev Sport Exerc Psychol 2008; 1: 184–201.

Windholz H. Pavlov's conceptualization of the dynamic stereotype in the theory of higher nervous activity Am J Psychol 1996;109(2):287–295.

Wulf, G. (2007). Attention and motor skill learning. Champaign, IL: Human Kinetics.

Yerkes RM, Dodson JD. The relation of strength of stimulus to rapidity of habit-formation. J Comp Neurol Psychol 1908; 18: 459–482.

Yoshie M, Kudo K, Murakoshi T, Ohtsuki T. Music performance anxiety in skilled pianists: effects of social-evaluative performance situation on subjective, autonomic, and electromyographic reactions. Exp Brain Res 2009;199(2):117–26.

Zatorre RJ, Chen JL, Penhune VB. When the brain plays music: auditory-motor interactions in music perception and production. Nat Rev Neurosci. 2007 Jul;8(7):547–58.
Acknowledgments

The authors are grateful to the IMMM members for their beneficial feedback and insights, as well as to Martin K. Klämpfl from the German Sport University Cologne for his stimulating work on yips and the many discussions on the topic of classification.

This work has been funded by the German Research Foundation (DFG, AL269/8-1).
Copyright information

© 2014 Springer Science+Business Media New York
About this paper
Cite this paper
Altenmüller, E., Ioannou, C., Raab, M., Lobinger, B. (2014). Apollo's Curse: Causes and Cures of Motor Failures in Musicians: A Proposal for a New Classification. In: Levin, M. (eds) Progress in Motor Control. Advances in Experimental Medicine and Biology, vol 826. Springer, New York, NY. https://doi.org/10.1007/978-1-4939-1338-1_11