Abstract

Woolly monkeys (Lagothrix lagothricha), one of the largest primates in the neotropics, play important roles as seed dispersers in neotropical forests. All subspecies hold some kind of threatened status (VU, vulnerable, and CR, critically endangered) according to International Union for Conservation of Nature, mainly due to deforestation, subsistence hunting, and illegal wildlife trade. Therefore, a high number of animals are kept in rescue centers and zoos, where conditions tend to be poor and their survival is low. This study's main purpose was to compare the activity budget of free-ranging woolly monkeys, captive animals at a rescue center, and a group of rehabilitated and released monkeys. Results showed an important difference between the time budget of captive and wild monkeys, while showing an intermediate pattern for the released group. Our results suggest that rehabilitation and release imply high mortality rates, but may be an effective strategy for woolly monkey conservation.
Keywords
Woolly monkeys

Lagothrix lagothricha

Amazon

Rehabilitation

Behavior
References
Ange-van Heugten KD, Saskia T, Jansen WL et al (2008) Nutritional and health status of woolly monkeys. Int J Primatol 29:183–194

Botero S, Rengifo L, Bueno M et al (2010) How many species of woolly monkeys inhabit ­Colombian forests? Am J Primatol 72:1131–1140

Buchanan-Smith HM, Prescott MJ, Cross NJ (2004) What factors should determine cage size for primates in the laboratory? Animal Welf 13:197–201

Defler TR (2004) Primates of Colombia. Conservation International Colombia, Bogotá

Defler TR, Defler S (1995) Diet of a group of Lagothrix lagothricha lagothricha in Southeastern Colombia. Int J Primatol 17(2):161–190

Epiphanio SS, Catão-Dias JL (2003) Pathology of toxoplasmosis in captive new world primates. J Comp Path 129:196–204

Gonzalez M, Stevenson PR (2010) Comparación de los patrones de movimiento diario, actividad y dieta reportados para los micos churucos (Lagothrix lagothricha): Diferencias producto de la oferta de frutos y de la metodología. In: Pereira-Bengoa V, Stevenson PR, Bueno M, ­Nassar-Montoya F (eds) Primatología en Colombia: avances al principio del milenio. Fundación ­Universitaria San Martín, Bogotá, pp 3–18

Hancocks D (1980) Bringing nature into the zoo: inexpensive solutions for zoo environments. Int J Study Anim Probl 1(3):170–177

Hernandez-Camacho J, Cooper RW (1976) The nonhuman primates of Colombia. In: Thorington RWJ, Heltne PG (eds) Neotropical primates: field studies and conservation. National Academy of Sciences, Washington DC, pp 35–69

Hosey GR (2005) How does the zoo environment affect the behaviour of captive primates? Appl Anim Behav Sci 90:107–129

Jones CB (2005) Behavioral flexibility in primates: causes and consequences. Springer, New York, pp 17–29

Maple TL, Finlay TW (1989) Applied primatology in the modern zoo. Zoo Biol 1:101–116

Melfi V (2005) The appliance of science to zoo-housed primates. Appl Anim Behav Sci 90:97–106

Nuñez-Iturri G, Howe HF (2007) Bushmeat and the fate of trees with seeds dispersed by large primates in a lowland rain forest in western Amazonia. Biotropica 39:348–354

Peres CA (1994) Diet and feeding ecology of gray woolly monkeys (Lagothrix lagothricha cana) in central Amazonia: comparisons with other atelines. Int J Primatol 15(3):333–372

Peres CA, Palacios E (2007) Basin-wide effects of game harvest on vertebrate population densities in Amazonian forests: implications for animal-mediated seed dispersal. Biotropica 39(3):304–315

Redshaw ME, Mallinson JJC (1991) Environmental change in captivity. In: Box HO (eds) Primate responses to environmental change. Chapman & Hall, Melbourne, pp 139–238

Richard-Hansen C, Vié JC, de Thoisy B (2000) Translocation of red howler monkeys (Alouattaseniculus) in French Guiana. Biol Conserv 93:247–253

Rodríguez-Mahecha JV, Alberico M, Trujillo F et al (2006) Libro Rojo de los Mamíferos en ­Colombia. Serie Libros Rojos de Especies Amenazadas de Colombia. Conservación Internacional Colombia, Ministerio de Ambiente, Vivienda y Desarrollo Territorial, Bogotá, pp 220–224

Stevenson PR (2001) The relationship between fruit production and primate abundance in neotropical communities. Biol J Linn Soc 72:161–178

Stevenson PR (2004) Fruit choice by woolly monkeys in Tinigua National Park, Colombia. Int J Primatol 25(2):367–381

Stevenson PR (2006) Activity and ranging patterns of Colombian woolly monkeys in North-western Amazonia. Primates 47:239–247

Stevenson PR (2007) Estimates of the number of seeds dispersed by a population of primates in a lowland forest in western Amazonia. In: Dennis AJ, Schupp EW, Green RJ, Westcott DW (eds) Seed dispersal: theory and its application in a changing world. CABI, MA, pp 340–362

Stevenson PR (2011) Pulp-seed attachment is a dominant variable explaining legitimate seed dispersal: a case study on woolly monkeys. Oecologia 166(3):693–701

Stevenson PR, Aldana AM (2008) Potential effects of ateline extinction and forest fragmentation on plant diversity and composition in the western Orinoco Basin, Colombia. Int J Primatol 29:365–377

Stevenson PR, Quiñones MJ (1993) Vertical stratification of four New World primates, at ­Tinigua National Park, Colombia. Field Studies of New World Monkeys, La Macarena, Colombia 8:11–18

Stevenson PR, Guzman DC, Defler TR (2010) Conservation of Colombian primates: an analysis of published research. Trop Conserv Sci 3:45–62

Terborgh J, Nuñez-Iturri G, Pitman NCA et al (2008) Tree recruitment in an empty forest. Ecology 89:1757–1768

Texeira C, De Azevedo C, Mendl M et al (2007) Revisiting translocation and reintroduction programmes: the importance of considering stress. Anim Behav 73:1–13

Vargas SA, León JJ, Ramírez MA et al (2014) Population density and ecological traits of high land woolly monkeys at Cueva de los Guacharos National Park, Colombia. In: Krzton A, Gursky S, Grow NB (eds) High altitude primates. Developments in primatology. Springer, New York (in press)

Zarate D (2010) Primer estudio de estrategias ecológicas de monos churucos (Lagothrix ­lagothricha) en bosques fragmentados (Guaviare, Colombia). MSc Thesis, Universidad de los Andes
Acknowledgments

We would like to thank all the staff from Maikuchiga for their support and help during the long sampling hours, and the long days and nights during the rehabilitation process. We would especially like to thank the staff at PNN Amacayacu and to Parques Nacionales Naturales de Colombia for their support and the opportunity to carry out this project. We also thank Ana Ortega for her valuable advices, an anonymous reviewer and to everyone who has supported this project.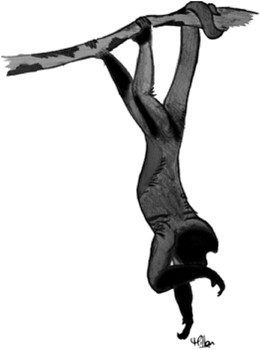 About this chapter
Cite this chapter
Millán, J., Bennett, S., Stevenson, P. (2014). Notes on the Behavior of Captive and Released Woolly Monkeys (Lagothrix lagothricha): Reintroduction as a Conservation Strategy in Colombian Southern Amazon. In: Defler, T., Stevenson, P. (eds) The Woolly Monkey. Developments in Primatology: Progress and Prospects, vol 39. Springer, New York, NY. https://doi.org/10.1007/978-1-4939-0697-0_14