Pharmacokinetics and Metabolism of Cardiovascular Therapeutic Proteins
Part of the Pharmaceutical Biotechnology book series (PBIO, volume 1)
Abstract
The blood coagulation pathway consists of a series of inactive and active enzymes (Fig. 1). In certain individuals, some of the elements, or factors, of this cascade may be inoperative or have reduced activity, and in some cases may be missing. Such cases give rise to the bleeding disorder hemophilia. There are three categories of patients with the deficiency: patients with normal amounts of factor that has reduced clotting activity; patients with factor and activity equally reduced; patients in whom the factor and its activity are undetectable. The existence of at least two forms of hemophilia was suggested by the results of experiments performed by Pavlovsky (1947) in which the mixing of the blood of two patients classified as hemophilics caused a correction of the clotting times of each blood sample. The more common hemophilia A, or classical hemophilia, and hemophilia B, or Christmas disease, occur as a result of factor VIII (FVIII) and factor IX (FIX) deficiency, respectively. These two diseases are X-linked recessive traits in which males are affected. Patients with severe hemophilia A or B have undetectable (less than 1% of normal) concentrations of FVIII or FIX and suffer from recurrent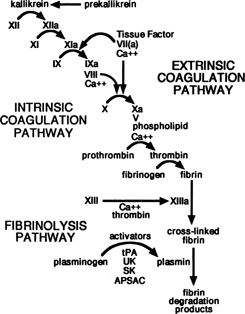 spontaneous hemarthroses and retroperitoneal bleeding. A related disorder is von Willebrand's disease which is caused by a lack of von Willebrand's factor (and also FVIII). von Willebrand's factor is essential for platelet aggregation. Other recognized hemophilias result from deficiencies in factors V, VII, X, XI, and XIII.
Keywords
Plasminogen Activator 
Factor VIII 
Mean Residence Time 
Anisoylated Plasminogen Streptokinase Activator Complex 
Roller Bottle 
These keywords were added by machine and not by the authors. This process is experimental and the keywords may be updated as the learning algorithm improves.
Copyright information
© Springer Science+Business Media New York 1992