Mechanism of Ca2+ Translocation as Studied by the use of Detergent-Solubilized and Membrane Preparations of Sarcoplasmic Reticulum Ca2+-ATPase
Part of the Ettore Majorana International Science Series book series (EMISS, volume 51)
Abstract
The sarcoplasmic reticulum (SR) forms a closed, membraneous network, consisting of tubules and terminal cisternae that surround the myofibrils of skeletal muscle. In these membranes the dominant protein component is a Ca2+-ATPase that is involved in the uptake of Ca2+ released from the terminal cisterna following neuromuscular excitation. The uptake occurs against a large concentration gradient of Ca2+, maintaining a low concentration of Ca2+ in the cytoplasma in the resting state of the muscle [1–4]. The sarcoplasmic reticulum Ca2+-ATPase serves as a prototype of other Ca2+-transporting ATPase's and is related to the family of EiP-E2P aspartylphosphorylated transport ATPase's, which in addition to Ca2+-ATPase comprises Na+, K+-ATPase, gastric and plasma membrane H+-ATPase, and bacterial K+-ATPases [5]. A minimal reaction scheme for sarcoplasmic reticulum Ca2+-ATPase is shown in Fig. 1. In this scheme E1 conformations denote enzyme with Ca2+ translocating sites oriented outwards, while E2 conformations denote conformations with Ca2+ oriented inwards towards the intravesicular space. In the first step enzyme reacts with 2 Ca2+ at the translocation sites on the cytoplasmic aspect of the membrane and then with MgATP to form phosphorylated enzyme, covalently modified at aspartate residue No. 351. The phosphorylation reaction is reversible, i.e. E1P can be dephosphorylated by addition of ADP (Ca2E1P or E1P in short hand notation).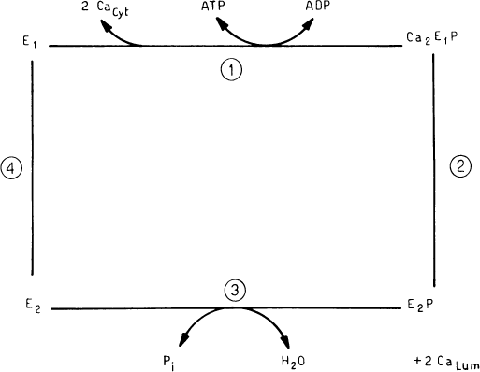 Keywords
Sarcoplasmic Reticulum 
Neck Region 
Intramembraneous Particle 
Kinetic Heterogeneity 
Terminal Cisterna 
These keywords were added by machine and not by the authors. This process is experimental and the keywords may be updated as the learning algorithm improves.
Copyright information
© Springer Science+Business Media New York 1990