Primitive Platyrrhines?
Perspectives on Anthropoid Origins from Platyrrhine, Parapithecid, and Preanthropoid Postcrania
Part of the Advances in Primatology book series (AIPR)
Abstract
Despite much effort over many years, we still have only a poorly resolved and hotly contended understanding of the relationships among major primate groups, both fossil and living (see recent review, Martin, 1993) (Fig. D. Anthropoids have long been assumed to have originated from a known North American Eocene group, either among the Omomyidae (e.g., MacPhee and Cartmill, 1986; Rosenberger and Dagosto, 1992; Rosenberger and Szalay, 1980; Szalay, 1975; Wortman, 1904) or the Adapidae (Gidley, 1923; Gingerich, 1980, 1984; Rasmussen, 1986, 1990; Rasmussen and Simons, 1992). New discoveries of early anthropoids, possible anthropoids, or preanthro-poids from middle Eocene to early Oligocene beds in North Africa, the Arabian peninsula, and Asia (de Bonis et al., 1988; Ciochon and Holroyd, Chapter 6, this volume; Ciochon et al., 1985; Godinot and Mahboubi, 1992; Pickford, 1986; Culotta, 1992; Sigé et al., 1990; Simons, 1990, 1992; Thomas et al., 1988, 1989; and perhaps the enigmatic new find from Jebel Chambi, Tunisia: Court, 1993), while exciting, have acutally raised more questions than they have answered, reopening in particular the possibility that the anthropoid lineage predates any of the known North American Eocene primate groups (Hershkovitz, 1974; Hoffstetter, 1974a,b, 1980).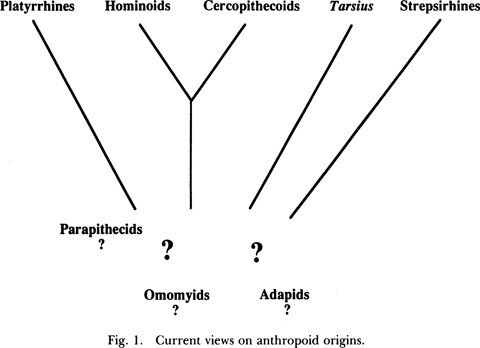 Keywords
Versus Versus Versus Versus 
Versus Versus Versus Versus Versus 
Articular Facet 
Early Primate 
Patellar Groove 
These keywords were added by machine and not by the authors. This process is experimental and the keywords may be updated as the learning algorithm improves.
Copyright information
© Springer Science+Business Media New York 1994