Positive-Ion—Molecule Reaction Studies in a Single Electron-Impact Source
Abstract
If a beam of electrons passing through the ion source of a mass spectrometer has sufficient energy, it will bring about the formation of positive ions along the path of the electron beam. A small, positive potential is normally applied to the repeller and causes the ions to drift toward the exit slit and into the ion gun and the analyzer. A typical source is shown in Fig. 1. Under ordinary operating conditions, the pressure in the ion source is of the order of 10-6 Torr and the voltage applied to the repeller is 1–10 V. At these conditions, the mean free path of the ions in the source is of the order of many meters and since the distance from the electron beam to the exit slit is usually between 0.2 and 0.5 cm, the probability that the ions will collide with a neutral molecule in passing out of the source is vanishingly small. If the pressure is increased to 10-3 Torr, however, the mean free path is greatly reduced and from 1 to 10% of the ions might be expected to undergo collision in passing out of the source. At 0.01 Torr, about one-half of the ions will undergo collision, and at 0.1 Torr, essentially all of them will do so. In fact, above 0.1 Torr, many can undergo several collisions before leaving the source. Thus, at pressures in the order of 10-3 Torr, collision reactions might begin to be observable. In fact, this is what has been experienced.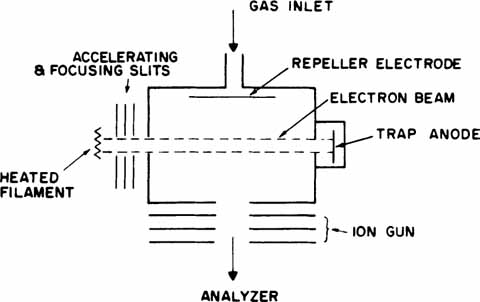 Keywords
Kcal Mole 
Proton Affinity 
Source Pressure 
Translational Energy 
Primary Spectrum 
These keywords were added by machine and not by the authors. This process is experimental and the keywords may be updated as the learning algorithm improves.
Copyright information
© Plenum Press, New York 1972