Abstract
In 1965 Axelrod and Daly (1) reported the presence of a methanol-forming enzyme in bovine pituitary gland. Subsequent reports by Liss et al. (2–4) and Kim and Paik (5,6) described a protein-carboxyl-O-methyltransferase (EC 2.1.1.24) which catalyzed the transfer of the methyl group from S-adenosylmethionine to the carboxyl side chain of glutamate and/or aspartate in various proteins (Scheme 1). This reaction results in the formation of protein-methyl esters which were first thought to undergo spontaneous hydrolysis to form methanol under physiological conditions. However, Gagnon et al. (7) found that various tissues from the rat contained a protein methyl esterase which would readily hydrolyze protein-methyl esters to produce methanol. Fetters et al. (8) came to similar conclusions. The protein methyl esters which resulted from the methylation of ACTH via a highly purified protein carboxyl methyl transferase from thymus were stable for several hours at pH 6.5 at 37°C. However, the resultant protein methyl esters were hydrolyzed rapidly upon the further addition of nucleoplasm or cytoplasm (Fig. 1). The resultant [3H]methanol was oxidized via an alcohol dehydrogenase or oxidase. Although alcohol dehydrogenase has been found to be primarily a liver enzyme, we found that alcohol was oxidized by extracts prepared from several different tissues, including thymus (8,9).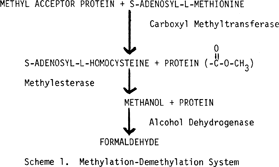 Keywords
Carboxyl Side Chain 
Pulmonary Alveolar Macrophage 
Methyl Acceptor 
Nonhistone Chromosomal Protein 
Protein Carboxyl 
These keywords were added by machine and not by the authors. This process is experimental and the keywords may be updated as the learning algorithm improves.
Abbreviations
dzAdo

3-deazaadenosine

Dari

3-deaza-(±)aristeromycin

Nep A

neplanocin

AAdoMet, S

adenosyl-L-methionine

AdoHcy

S-adenosyl-L-homocysteine

PCMT

Protein Carboxyl methyl transferase

MAP

methyl acceptor proteins

TPA

phorbol-12 myristate-13-acetate

NHCP

nonhistone chromosome proteins

ACTH

adrenocorticotropic hormone
Copyright information
© Springer Science+Business Media New York 1988