Geology of the Caribbean Crust
Abstract
The Caribbean presents several provocative geotectonic problems. Water depths are less than in the main ocean basins. Over most of the Caribbean Basin, seismic-refraction measurements reveal (Fig. 1) crustal thicknesses of 12 to 15 km, much greater than the 6 km crust generally observed beneath the main ocean basins (Officer et al., 1959; Ewing et al., 1960; Edgar et al., 1971). In addition, the seismic-velocity sequence of the Caribbean crust is varied and contrasts sharply with the simple velocity structure generally attributed to crust beneath the main ocean basins (Fig. 1). Correlatable magnetic anomalies of the type characteristic of oceanic crust generated at middle or low latitudes are absent in the Caribbean which is characterized by a relatively quiet field (Ewing et al., 1960; Pitman, personal communication). Recently, however, Christofferson (1973) has attempted to correlate a series of magnetic anomalies observed in the southern Colombia Basin with the Late Cretaceous sequences established for the deep-sea crust. Differences in geophysical character of the Caribbean and the main ocean basins suggest a fundamental difference in composition, origin, and history. Some investigators have suggested that the Caribbean is a former piece of the deep-sea floor in the process of becoming a continent (Ewing et al., 1957; Officer et al., 1959).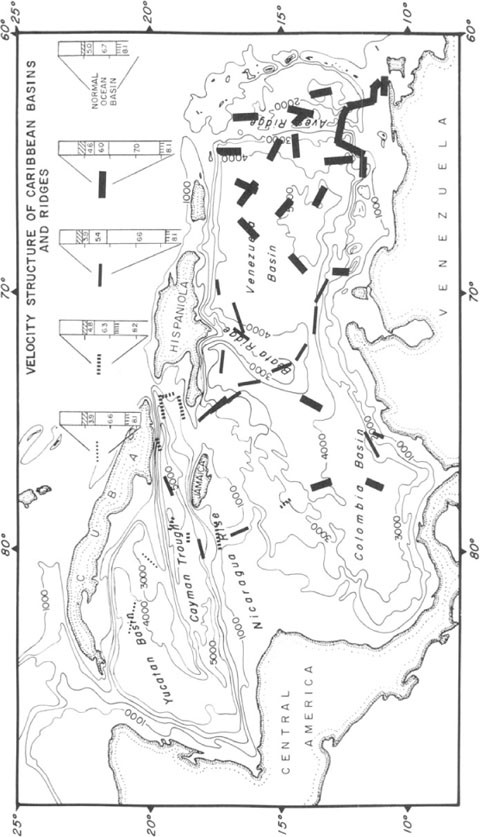 Keywords
Oceanic Crust 
Volcanic Center 
South Wall 
Virgin Island 
Compressional Wave Velocity 
These keywords were added by machine and not by the authors. This process is experimental and the keywords may be updated as the learning algorithm improves.
Copyright information
© Plenum Press, New York 1975