Stress Capability of G.E. Sintered Diamond as Observed in Opposed Piston UHP Apparatus
Abstract
Within recent years at General Electric, a high-pressure, high-temperature, process for sintering diamond powder into strong hard compacts was developed. This material has proved to have great industrial Utility when used in tips for cutting tools and for the cores of wire drawing dies. The commercial products take the forms shown in Fig. 1, in which the sintered diamond and cemented tungsten carbide are intimately bonded together in the manufacturing process. Figure la shows a full disc, as manufactured, consisting of a cemented tungsten carbide base with an "icing" of sintered dia­mond. Such discs may be cut into segments of two, four, or six as shown in Fig. lb. These are generally used as cutting tips for lathe tools and the like. Figure lc shows a typical wire drawing die blank which consists of a cemented tungsten carbide ring with a core of sintered diamond. After fabrication of the blank, the core is pierced to form an axial hole which is then shaped and sized to form wire of the desired gauge. Such dies have very long Service life because of their strength and resistance to wear. The diamond particles are randomly oriented so that on the average the wear surfaces contain a large percentage of diamond grains which present their "hard directions" to the wire sliding past them under great pressure.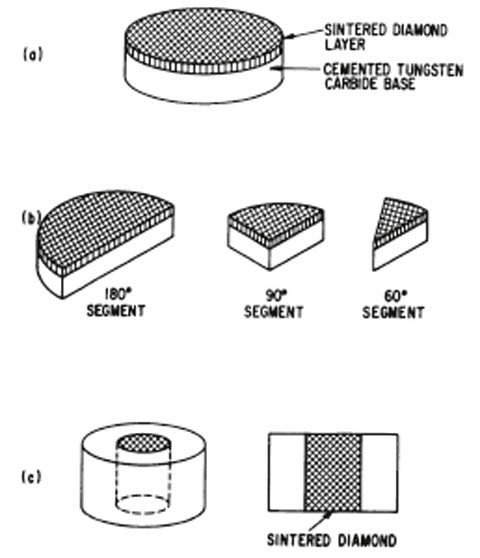 Keywords
Uniaxial Compressive Strength 
Hoop Stress 
Wire Drawing 
Face Pressure 
Axial Compressive Stress 
These keywords were added by machine and not by the authors. This process is experimental and the keywords may be updated as the learning algorithm improves.
Copyright information
© Springer Science+Business Media New York 1979