Relay Design and Construction
Characteristics—Choice of Measuring Units—Construction of Measuring Units—Construction of Timing Units—Details of Design—Cases—Panel Mounting—Operation Indicators—Finishes
Abstract
IN the design of a protective relay, the first stage is to select the characteristics which will give the clearest distinction between faults in the protected section and all other conditions. Fig. 2.1, for example, shows an R/X diagram on which the characteristic circle of a mho relay fits around a shaded area which includes the impedances (including arc resistance) for all positions of fault within the protected zone; with such a characteristic the relay will not trip during power swings, or on faults other than those in the protected section and involving the phase with which the relay is associated (47) (58).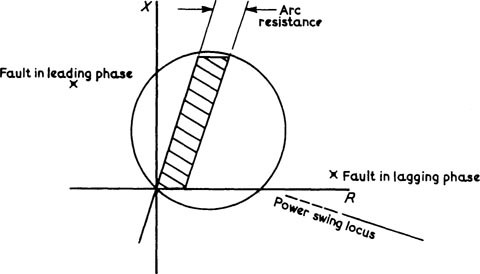 Keywords
Contact Pressure 
Static Relay 
Circuit Breaker 
Protective Relay 
Amplitude Comparator 
These keywords were added by machine and not by the authors. This process is experimental and the keywords may be updated as the learning algorithm improves.
Copyright information
© Albert Russell van Cortlandt Warrington 1968