Abstract
Several pathogenetic mechanisms have been suggested to account for acute gastric mucosal injury. Recently, Oxigen-derived free radicals and lipid peroxidation have been suggested to play a role in the pathogenesis of gastric mucosal injury1,2,3). Ischemia and reperfusion are of the greatest importance in the pathology of many diseases. There has been great interest in the possible role of oxygen radical species in ischemia-reperfusion in the gastric mucosa4). A synthetic seleno-organic compound, 2-phenyl-1, 2 benzoisoselenazol-3(2H)-one(Ebselen), shows a glutathione peroxidase(GSHPx)-like activity-5,6). This study was designed to examine the protective effects of the agent, Ebselen against the gastric mucosal injury induced by ischemia-reperfusion.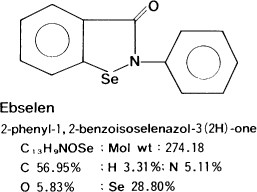 Keywords
Gastric Mucosa 
Gastric Acid Secretion 
Gastric Mucosal Injury 
Gastric Mucosal Lesion 
Oxygen Radical Species 
These keywords were added by machine and not by the authors. This process is experimental and the keywords may be updated as the learning algorithm improves.
Copyright information
© Plenum Press, New York 1990