Abstract
In 1961, Douglas and Rubin21 concluded that "the role of acetylcholine as a transmitter at the adrenal medulla is to cause some brief change in medullary cells which allows extracellular Ca2+ to penetrate them and trigger the catecholamine ejection process." The formation accumulated since then can be summarized in the diagram of the sequence of events taking place during the secretory cycle depicted in Fig. 1.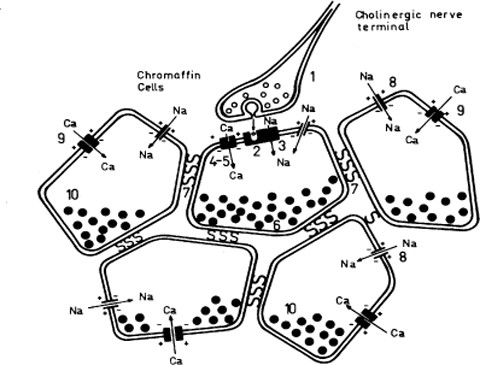 Keywords
Chromaffin Cell 
Adrenal Medulla 
Secretory Response 
Catecholamine Release 
Catecholamine Secretion 
These keywords were added by machine and not by the authors. This process is experimental and the keywords may be updated as the learning algorithm improves.
Copyright information
© Plenum Press, New York 1986