Passive Electrotonic Structure and Dendritic Properties of Hippocampal Neurons
Abstract
Most central nervous system (CNS) neurons possess a considerable spatial dispersion of structures specialized for postsynaptic reception. Variability in dendritic structure, as well as differing distributions of spines (Scheibel and Scheibel, 1968) and other synaptic specializations, confer unique capabilities on each cell type. Neurons in the hippocampus demonstrate a complexity of neuronal shape (Figure 1), and dispersion of spine synapses that are typical particularly of cortical tissue (Minkwitz, 1976; Wenzel et al., 1981). The various classes of hippocampal neurons also possess a distribution of nonsynaptic ionic conductances that can modify signal transfer from input sites to the summation or recording site (Jack et al., 1975; Rall, 1977), and thus complicate the interpretation of synaptic inputs. Such signal modification may occur according to both passive cable attenuation and nonlinear forms of distortion, neither of which are usually subject to intuition. Quantitative models of neurons have been developed both to enhance our ability to extrapolate from a recorded signal back to the original synaptic signal, and also to help us understand the signal's importance and role in the process of neuronal integration. Complex processing and multiple interactions can be approached in a model in a way that cannot be done experimentally.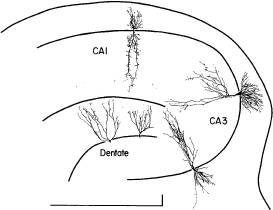 Keywords
Hippocampal Neuron 
Dendritic Spine 
Synaptic Input 
Dendritic Tree 
Dentate Granule Cell 
These keywords were added by machine and not by the authors. This process is experimental and the keywords may be updated as the learning algorithm improves.
Copyright information
© Plenum Press, New York 1984