Abstract
The Bunyaviridae are a relatively newly defined family of arthropod-borne viruses. Of the viruses that have been registered as of 1978 in the published and working
International Catalogue of Arboviruses
(Berge, 1975; Taylor, 1967; see Berge
et al
., 1970, 1971; Karabatsos, 1978), 95 have been proposed as members of the genus Bunyavirus (Table 1), formerly known as the "Bunyamwera supergroup of viruses" (Calisher
et al
., 1973; Casals, 1963, 1971; Fenner, 1976
a,b
; Murphy
et al
., 1973; Porterfield
et al
., 1973/1974, 1975/1976). Other genera of bunyaviruses have not yet been defined, although another 63 registered viruses are considered as possible members of the family. On serological criteria they have not been placed in the Bunyavirus genus (Table 2) (Porterfield
et al
., 1975/1976). In addition, there are currently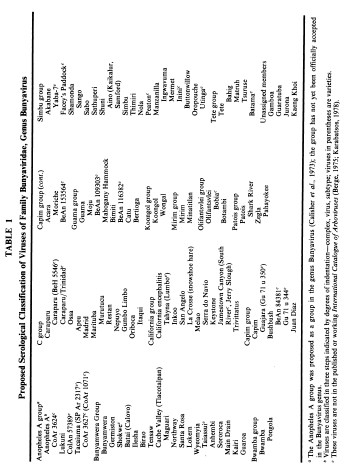 at least 34 viruses which are under study and consideration for candiacy (Tables 1 and 2).
Keywords
Rift Valley Fever 
Rift Valley Fever Virus 
Snowshoe Hare 
Akabane Virus 
Jamestown Canyon Virus 
These keywords were added by machine and not by the authors. This process is experimental and the keywords may be updated as the learning algorithm improves.
Copyright information
© Plenum Press, New York 1979